Brexit, bombs and Boris – life as a British Ambassador in 2017
Date: 2017-11-28
Time: 12:00 PM - 1:00 PM
Location: Teacher Education Building, Ljusgården
The event is for: students - anyone - employees
This is a unique opportunity to listen to an open lecture by the British Ambassador to Sweden, David Cairns.
Some of the questions in focus are:
• What is happening with Brexit?
• How do terrorist attacks affect European politics?
• What is it like to work with some of Europe's most colourful politicians?
These are just some of the subjects Ambassador Cairns will discuss and he will also welcome questions from the audience.
More about David Cairns
David Cairns took up his appointment as Ambassador to Sweden and Director for the Nordic Baltic Network in August 2015.
David joined the Foreign and Commonwealth Office in 1993. He has served in Tokyo, as the Director for Trade and Investment, and in Geneva in the UK's delegation to the WTO. Before moving to Sweden in London he was the FCO's Director for Estates, Security and Corporate Services.
His interests include family, exploring, sport, travel, music and cooking. Whilst in the UK he served as the Vice-Chair of the Japan Society and on his local village Parish Council.
His wife, Sharon, has worked variously in marketing for her family's interior design business, for the homeless charity Crisis, and as a Montessori teacher.
The couple have one daughter, Lucy, aged 16, and one son, Thomas, 14, both boarding in the UK. The family live in Cambridge.
David studied Japanese at Oxford (Pembroke), and before joining the FCO worked for Barclays in Tokyo and Nomura in London.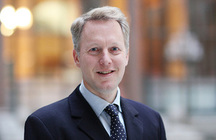 Lecturer: David Cairns
Organizer: Umeå University
Contact person: Communications Office
Event type: Lecture
Add to your Calendar
---
News about Events at Umeå University
---