"I instantly knew that coming to Sweden was a no-brainer."
Asanya Latoya Samuda studied on exchange during the spring 2016 semester.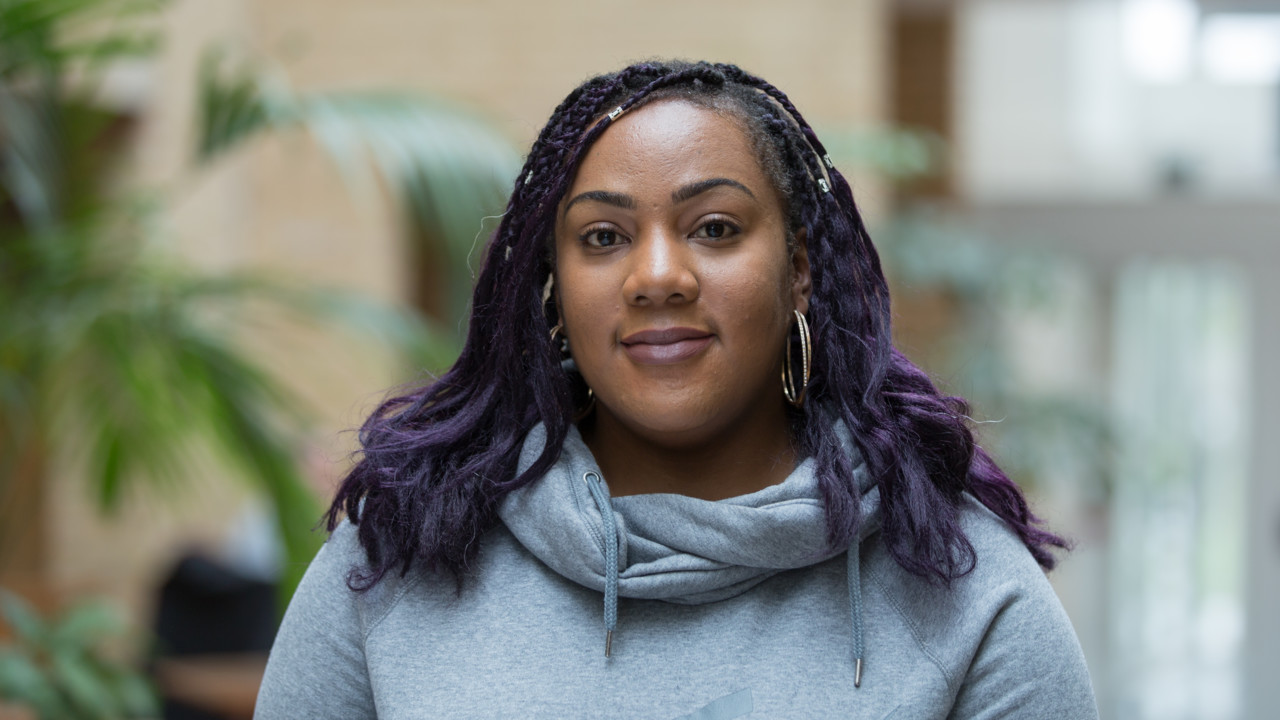 Photo
Ulrika Bergfors Kriström
Home University: Anglia Ruskin University, United Kingdom
Major subject of study: Law
Favourite thing about Umeå University: The scenery
Three words to best summarise your time in Umeå: Exciting, fika, refreshing
Why did you choose to study at Umeå University?
I always wanted to spend a semester to one year abroad studying, and when I had knowledge that my University allowed this I instantly signed up. Coming to Sweden was something that I always wanted to do, so when I was told I could either study in Italy or Sweden, I instantly knew that coming to Sweden (regardless of the city) was a no brainer. Despite the strange weather, I have enjoyed everything that there is to enjoy about Sweden. Also the fact that the university has a buddy programme really made up my mind on wanting to study at Umeå University.
What do you like most about your courses?
They are relaxed, whilst it is evident that we are there to learn, in some instances you don't feel pressured so to speak. The lecturers explain things well, and allowed me to develop not only a deeper understanding, but to remain motivated when it came to studying. I also enjoy the 15 minute fika break.
What do you do when you are not studying?
I go out with friends typically. I like to be social whenever I can be. Whether that involves shopping, drinking or eating. Being a part of the buddy programme for me allowed me to meet new people from different walks of life, and to engage in activities that I know I wouldn't usually do back home. For example, photo scavenger hunt, elk farm.
What has been your most memorable moment so far?
It is difficult to pin point because there is so many but the international dinner with my buddy group. I love food so being able to try different types of food from different cultures was a really lovely experience. Everyone had a great time. We laughed, talked and the energy was great.
What would you say or what advice would you give to another international student thinking of attending Umeå University?
To save prior to coming! Sweden is expensive and even if you get a grant from your university, it is also important to save a little beforehand. I would also encourage anyone to join the buddy programme because it puts you in a position to meet new people. It is fun and life changing in a way. You are open to new things that other universities do not necessarily offer.
Be open minded and trust in the journey. Swedes are nice and quite helpful. However, at times some of them do come across as less sociable which can be odd if you aren't used to that, but if you engage with them, it is easy to see that they are really nice and make for good people to be around.
If you coming here in the winter semester, purchase some ice grips for the bottom of your shoes. The snow is one thing, but when it turns into ice it isn't so nice. You will see old people walking faster than you, which will have you assessing your life for a minute but those ice grips will do the trick and hopefully prevent you from falling over.
Lastly. It's okay you are aren't a massive fika fan, they do have other drinks. And be sure to check out Skogis! (It's on campus). Attend the orientation as well, in particular the first one. A lot of useful information provided, and a chance to meet other international students.
Name
Asanya Latoya Samuda
Where are you from?
Birmingham, United Kingdom