"I really appreciated the high teaching standards, patience, and dedication of the lecturers."
Kyle Anthony Figueroa studied on exchange during the spring 2015 semester.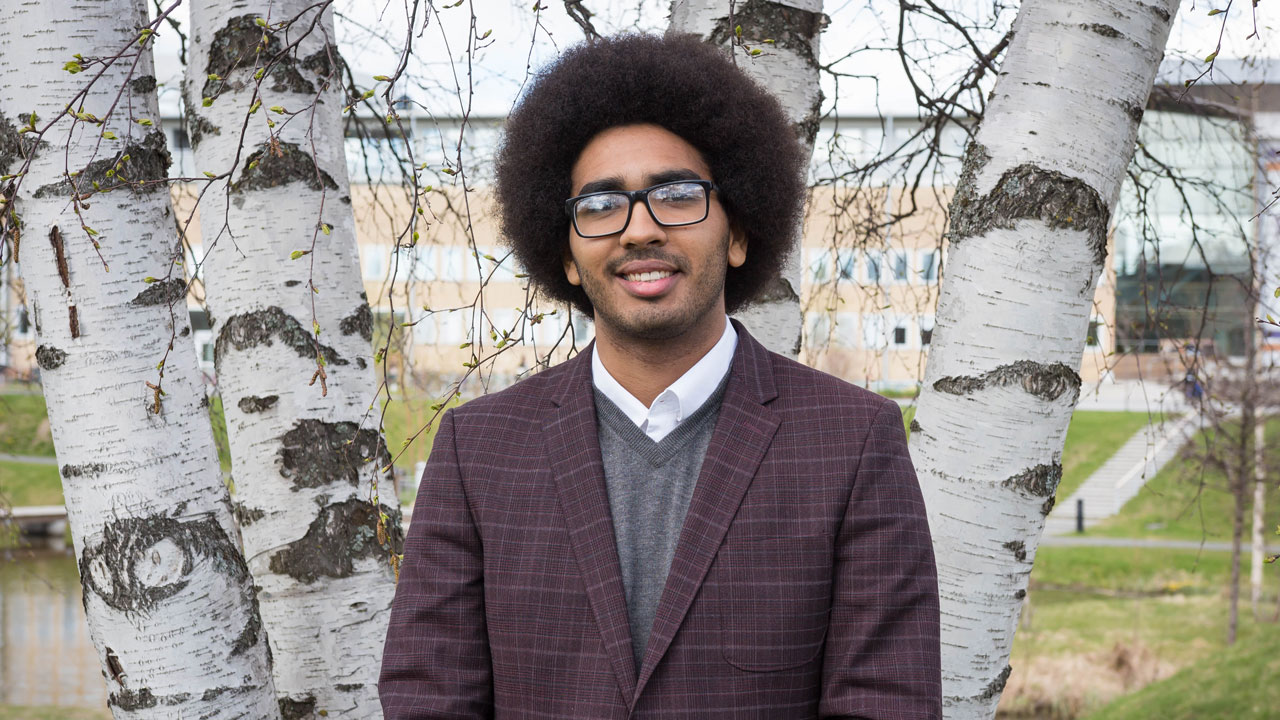 Home University: Anglia Ruskin University, UK
Field of Study: Social Policy
Favourite thing about Umeå University: The people
Favourite Swedish word or custom: Fika!!
Three words to summarise your time in Umeå: Beauty, Serenity, Welcoming
Why did you choose to study at Umeå University?
I chose to study at Umea because of recommendations by students from Umea University, which I met at my home university. These students were also taking part in the Erasmus Exchange. They spoke so highly of Umea; from its education and student life to its culture and welcoming atmosphere. I knew that when I had the opportunity to study abroad, Umea would be my first and only selection.
What do you like most about your courses?
I enjoyed all of my courses here at Umea. I really appreciated the high teaching standards, patience, and dedication of the lecturers. Furthermore, I loved the option of engaging in a more eclectic set of courses than at my home university, including psychology, and business, as well as an introductory Swedish language course.
What do you do when you are not studying?
I tend to spend the majority of my leisure time while in Umea at IKSU. Whether taking part in fitness classes, or just general training, I always find a friend or classmate to participate with me. Additionally, I spend a great deal of time having Fika with many of my Swedish and international friends.
What has been your most memorable moment so far?
My most memorable moment has surely been my participation in the Spring Prom. The combination of culture, tradition, and elegant beauty was captivating; it really felt like a fairy tale. I highly recommend all international students to participate during their exchange.
What is your impression of Umeå and the surrounding areas?
While the city itself is rather small, it holds everything you might need. Its surrounding areas are beautiful! Snow-tipped pine and white birch trees littered the landscape throughout winter, creating a genuine wonderland.
What do you find as the biggest cultural difference, both socially and educationally, from your country with Sweden?
The biggest cultural difference is surely the welcoming nature of the Swedish people. While my home country does provide a feeling of safety, Sweden has always felt more than just safe; it felt like home. Regarding education, the biggest difference has been the work-load, in addition to the semester and course structural differences, the required amount of work in Umea was far more intensive than my home university.
What would you say or what advice would you give to another international student thinking of attending Umeå University?
I would recommend their exchange as highly as possible; it has truly been a life changing experience. The joy, wonder, beauty, and knowledge I've gained throughout my journey here will surely prove to be an invaluable asset which I will carry with me for years. I'm grateful and humbled by this experience and I know that after they take advantage of this opportunity, they will be to.
Name
Kyle Anthony Figueroa
Where are you from?
Boston, USA