Internationalisation is a prioritised area in Umeå University's vision for 2020. Its aim is for Umeå University to have Sweden's best international educational environment by 2020.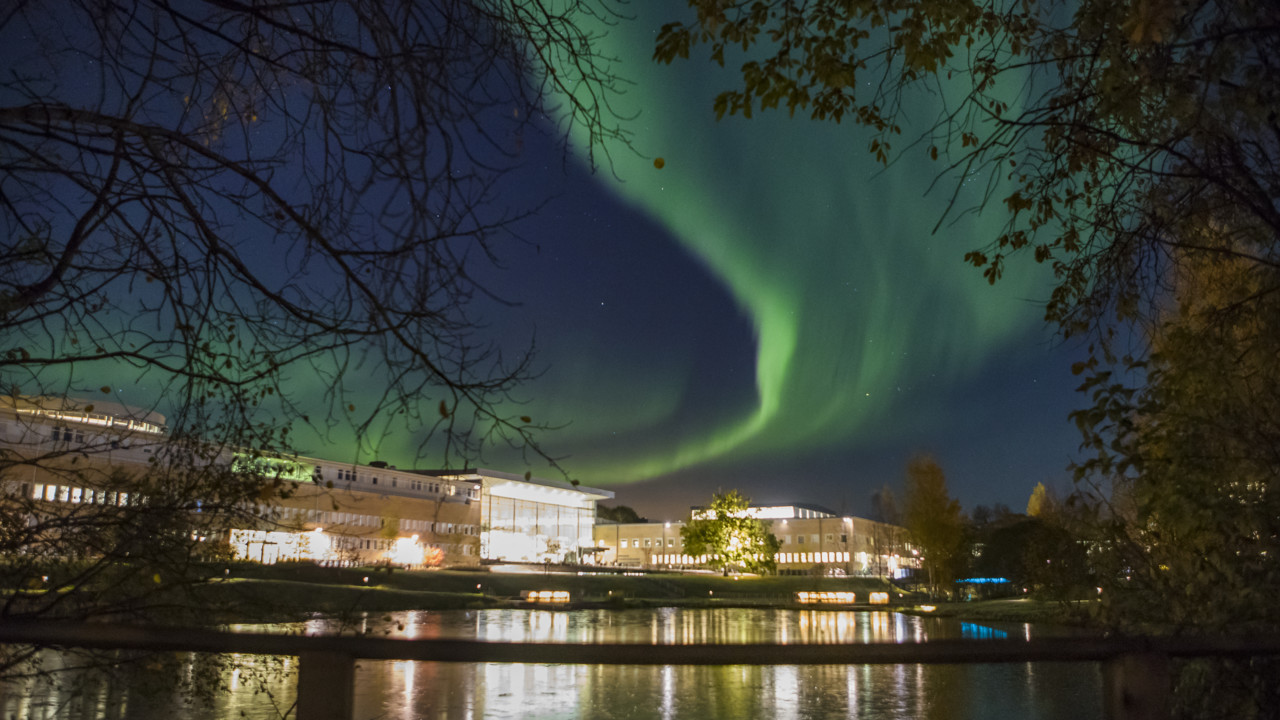 Northern Lights (Aurora Borealis) over Campus Umeå.
Our objective is to have a strong international position as one of Sweden's leading universities. Our courses and study programmes are in the lead nationally and are respected internationally; high-quality research shapes our courses and study programmes at all levels. All our students gain international perspectives in their education. Incoming international students can be found in all our degree programmes and the number of outgoing students has increased through several attractive exchange agreements.
International cooperations and networks
Exchange agreements
Umeå University has over 900 exchange agreements in 60 countries. Our partnerships with Nordic and European institutions of higher education are primarily managed within the Erasmus+ programme and the Nordplus programme. The agreements are anchored at departmental or faculty level.
The University has around 100 agreements with universities outside Europe. Half the agreements are university-wide, facilitating exchanges across the broad range of academic fields at our university.
In addition, Umeå University is a member of the University of the Arctic network which enables exchanges within north2north.
The exchange agreements we have can be found in Solemove.
Does your university want to sign an exchange agreement with Umeå University?
Exchange agreements are mainly signed at departmental level. If your university wants to sign an Erasmus+ or Nordplus agreement with our university, you need to contact the international contact person at the respective department. You find a list of contact persons at our student pages:
International Contact Persons
Nordic centres
Umeå University is a member of the Nordic Centre in India and the Nordic Centre in Shanghai, China. Through joint research projects and programmes, the centres aim to achieve closer links between the Nordic countries and China and India. From 1 January 2014 Umeå University took over the secretariat for the Nordic centre in India, which is located at the International Office.
Scholars at Risk
Scholars at Risk (SAR) is an international network that works to protect threatened scholars and to promote academic freedom around the world. Umeå University has been a member of the Swedish network (coordinated by Gothenburg University) since March 2016.
Student mobility
Around 300 domestic students study abroad through an exchange agreement every year and we annually welcome around 900 exchange students from all over the world.
More information about deadlines and the nomination procedure for incoming exchange students can be found here:
Exchange studies
Courses offered to our incoming exchange students can be found here:
Courses for exchange students