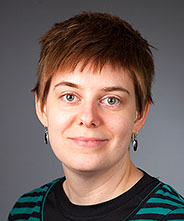 Anna Palmgren Vahlroos
Programme and Study Advisor at the Department of Political Science. Reception hours Tuesdays at 1-3 pm, appointments outside of reception hours.
Works at
Samhällsvetarhuset, plan 5, Umeå universitet, B5 18 37
Umeå universitet, 901 87 Umeå
I work as a Study Advisor concerning:
English courses in Political Science and Peace and Conflict Studies
I am the Programme Advisor for two Master's Programmes in English:
The Master's Programme in Political Science
The Master's Programme in Crisis Management and Peacebuilding
Furthermore, I work with the Swedish courses and programmes at the Department.
Contact me about issues concerning course and programme choices, study planning, study results, eligibility and admission, or other questions about your studies. I also work with students with disabilities, credit transfers, the Department's student web as well as course and programme administration.
I am on parental leave on Fridays and work partly away from the office during autumn - 19. Available via e-mail and telephone.
Reception hours: Tuesdays 1-3 pm. Book appointments outside of reception hours.
Schedule:
At the office Tuesdays (from ca. 10.30) and Wednesdays.
Work away from office Mondays and Thursdays.
Parental leave Fridays.
Exceptions:
W. 33: Work away Monday-Tuesday, Staff days Wednesday-Thursday. No reception.
W. 36: At the office Monday-Wednesday (start of the semester).