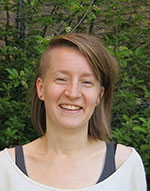 Maria Myrstener
PhD student focusing on ecology and biogeochemistry of stream ecosystems.
Works at
KB H3, Linnaeus väg 6, Umeå, A3.34.15
Umeå universitet, 901 87 Umeå
My research integrates ecology, physical geography and chemistry and to my delight - at some point a clever mind made up the subject of biogeochemistry. The focus of my PhD is nutrient dynamics and primary productivity of running waters in the Arctic. I study interactions of resource limitation and physical constraints for primary productivity along environmental gradients in the arctic. I am also interested in studying biogeochemical interactions between terrestrial and aquatic environments and how current climatic changes drives these interactions in different directions. All of this comes down to figuring out how our nature works today to be able to predict the future.
Research areas
Biogeochemistry
Arctic CIRC
Research groups
Group member
Research projects
1 April 2015 until 1 December 2020