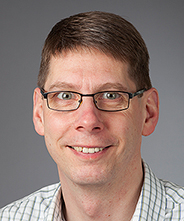 Patrik Johansson
Patrik Johansson works with allocation of teaching assignments, administration of education, and educational development. He teaches and conducts research in peace and conflict studies.
Works at
Samhällsvetarhuset, plan 5, Umeå universitet, B5 15 37
Umeå universitet, 901 87 Umeå

Since January 2017 I am the director of studies at the department of political science and most of my time is devoted to that assignment. This involves among other things manning the department's own courses in political science and peace and conflict studies, as well as courses at other programs where our teachers are involved, such as the study programme for social work, the teacher education, and bachelor of science in environmental health. I also work with administration of undergraduate education, often in cooperation with our study counsellor, Anna Palmgren Vahlroos. This involves development of courses and programs, planning and monitoring of the department's funding agreement targets, and guidelines for the management of various education-related issues. As director of studies, I also lead the pedagogical work at the department, which means that I try to initiate conversations about pedagogy as well as encourage others to work with pedagogical development.
Research
I have three main research interests.
The first is about peace and peacebuilding. I'm currently working with a number of colleagues in the research program Varieties of Peace, which looks at what peace is and how it can be perceived and manifested in different situations, as well as how it can be analysed and measured.
Secondly, I'm interested in how forced migration is affected by war and peace, and vice versa. I wrote my doctoral dissertation about this, and I have a contribution on the subject in the book Om krig och fred (On War and Peace), edited by Aggestam and Höglund, which we use at the entry-level course in peace and conflict studies.
I'm also interested in the UN, and in particular the Security Council and its work in relation to peace and war. I have written about the development over time of the Security Council's work, with a particular focus on its resort to chapter VII of the UN Charter.
Teaching
I teach mainly at the entry-level course in peace and conflict studies, but I also do some thesis supervision.
International experience
I have worked in two international observer missions in conflict areas: one year in Macedonia as a political analyst and liaison officer for the European Union Monitoring Mission (EUMM), and one year in the West Bank as an observer and public relations officer for the Temporary International Presence in Hebron (TIPH).
During 2014–2016 I spent two years as a postdoc at the National Centre for Peace and Conflict Studies, University of Otago, New Zealand.
Research groups
Group member
Research projects
1 January 2017 until 31 December 2024