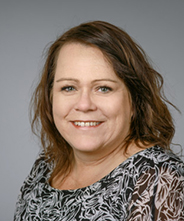 Sussi Mikaelsson
I work as a budget advisor at Grant's Office, where I mainly focus on projects financed by the EU and/or Wallenberg. I am also the Organisationkontoansvarig for Prisma here at Umeå University.
Works at
Universitetsledningshuset, plan 5, Universitetstorget 4/Petrus Laestadius väg
Umeå universitet, 901 87 Umeå
Grants Office - Forskningsfinansiering
Forskare vid Umeå universitet kan via Grants Office få ett kvalificerat stöd i frågor som rör forskningsfinansiering. Grants Office har information om aktuella utlysningar och kan hjälpa till med idéutveckling av projekt, skrivstöd under ansökningsprocessen samt budget och revision.
Läs mer på vår hemsida.
https://www.aurora.umu.se/utbildning-och-forskning/stod-till-forskning/forskningsfinansiering/