One problem in society today is the inactive lifestyle that older adults lead. This is rarely self-chosen. When it comes to dementia, most people are probably aware of the symptoms of failing memory and difficulties in finding places. But not to forget, dementia also effects the balance and muscles, which contributes to an increased need for help and a risk of costly falls.
- To achieve change, I'm suggesting that exercise is a preventative key. Unfortunately, people with dementia are often down-prioritised in both health care and research, which has led to a lack of knowledge of how this group should best exercise," says Erik Rosendahl, professor in physiotherapy at Umeå University.
Exercise improves well-being
This is something Erik Rosendahl has spent the last six years changing. Via a unique project called UMDEX (Umeå Dementia and Exercise Study), he has, together with physiotherapy and geriatrics researchers, studied the effects of functional training for people with dementia at nursing homes in Umeå.
- We developed individual exercise programmes for everyone, taking each individual's needs and difficulties into consideration. The participants then exercised in groups for 45 minutes two to three times per week at an intensity level appropriate depending on ability, he says.
Our bodies are more important to us than we think, even to our mental health
In only four months, the researchers were able to see results. The participants expressed enjoyment in training and said their fitness had improved. But beside that, they were also able to perform everyday activities better than those who did not exercise.
- Our bodies are more important to us than we think, even to our mental health. You feel stronger when you think that things are functioning and when you can manage things. To a person who is ill, it can be an incredible feeling to just be able to stand up.
Lack of resources obstructs
The study has attracted both domestic and international attention. In the hope of helping more people, the researchers from Umeå University have developed an exercise manual available in English, German and Swedish. A web page is also being developed. Nevertheless, managing to achieve several hours of personalised exercise every week can still pose a challenge. Not least in nursing homes that are already suffering from staffing problems.
- Even if there are physiotherapists available to support training, those are merely occasionally available as consultants. They are often responsible for hundreds of older adults with a wide span of illnesses and cannot possibly help everyone with preventative exercise and rehabilitation to the extent necessary. The lack of staff, also other than physiotherapists, unfortunately contributes to many older adults not getting enough physical activity.
Would speed exercise be a solution?
Erik Rosendahl and his team are now exploring a less time-consuming alternative. In a whole new study, they are using HIT, high-intensity training as a basis. This form of exercise, consisting of only a few minutes of exercise, has become very popular in recent years, particularly as it is said to improve fitness levels and reduce the risk of chronic diseases to the same extent as endurance training. At least for young, healthy individuals.
- We are now wanting to test if HIT can work also for untrained older adults. The good news is that we have just received a research grant to perform a large data collection this year.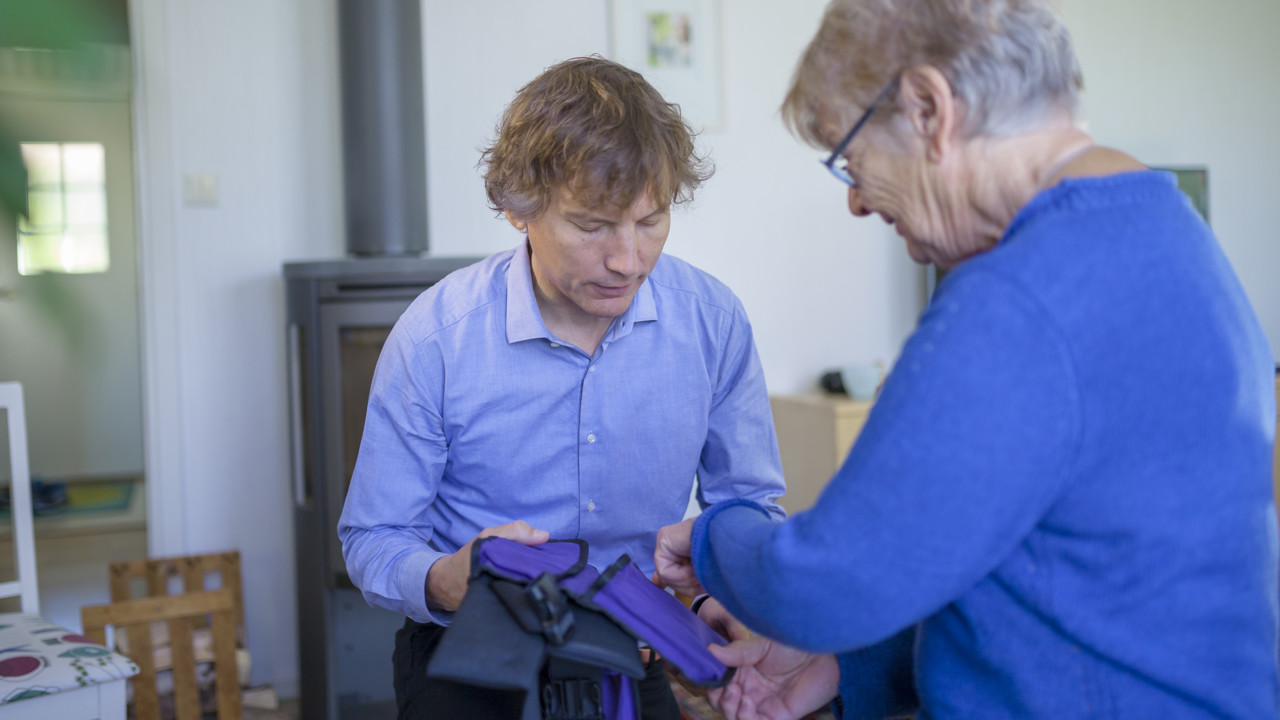 Exercise for everyday life. Erik Rosendahl explains that useful exercises could be anything from standing up frequently to stepping onto a stool wearing a weighted belt.
Photo
Mattias Pettersson
The idea is to let around 60 inactive pensioners participate in a form of controlled spinning class. For three months and twice per week they should perform very short, but intense intervals on an indoor bike. In that time, the Umeå researchers are not only expecting to be able to progress the exercise, but also to see potential effects.
- We will be evaluating the effects on muscles, heart and brain. It would be cool if HIT would work on older adults, not least on functions such as memory and cognition. If that would be the case, we would take this study forward by testing the method also on people with chronic illnesses, he explains.
Breaking the trend is crucial
Erik Rosendahl is hoping that they will be able to reach some conclusions towards the end of 2019. Much obviously depends on the participants actually having enough energy for HIT training and enjoy doing it. Another uncertainty is if the exercise will lead to the expected health benefits – and that the exercise can be performed safely. Because pushing oneself too hard can have medical risks as well.
- At the same time, our research is indicating that older adults certainly have a lot to gain from intensive exercise. And through UMDEX, we have managed to prove that older adults both enjoy and can perform high-intensity training, even when they are severely ill.
Improved quality of life is also a potential gain. Savings through reduced need of help and fewer hospital visits are some other benefits. Statistics from the Swedish National Board of Health and Welfare (Socialstyrelsen) show that dementia care alone currently costs over SEK 60 million, which exceeds the joint cost of cancer and cardiovascular diseases. And the prognosis is distressing with the increasing life expectancy.
- The fact that many older adults are physically inactive is not at all desirable. It increases the risk of chronic diseases, and those who are already ill risk being subjected to further complications. Therefore, it's important to try and find ways of breaking this trend in society and in health care.