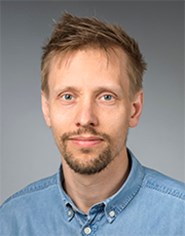 Andreas Hörnblad
Works at
MBC, vån 4, B-flygeln, Johan Bures väg 12, B-417
Umeå universitet, 901 87 Umeå
Biosketch:
Andreas Hörnblad obtained his PhD in Molecular Medicine at the Umeå Centre for Molecular Medicine (UCMM) in 2012, studying the biology of the developing and adult mouse pancreas using 3D microscopy (Optical Projection Tomography). During this period, he developed tools for spatial and quantitative analysis of protein expression and applied this to mouse models of the developing and diseased pancreas.
After his thesis work, he was awarded a postdoctoral grant within the Marie Curie/EIPOD program to join the European Molecular Biology Laboratory (EMBL) in Heidelberg (Germany). This work focused on investigating the function of putative regulatory enhancers in the development of the limb and the brain using extensive in vivo genome editing approaches (CRISPR/Cas9).
In 2017 he joined the lab of Prof. Helena Edlund (UmU) for a second postdoc investigating mechanisms of ß-cell stress in obesity and type 2 diabetes. From late 2018 he is a principal investigator at UCMM and is currently focusing his research on enhancer function in development and disease, in particular their role in obesity associated liver cancer.
Ask me about: mouse models, genome editing, enhancer function, long-distance gene regulation, optical projection tomography, mouse genetics