Publication date: 2022-06-10
Challenging fossil fuels in agriculture
MFA TD student Fanny Jonsson's grad project, CAKE Kibb, is an autonomous ATV safeguarding the ecosystem of farms.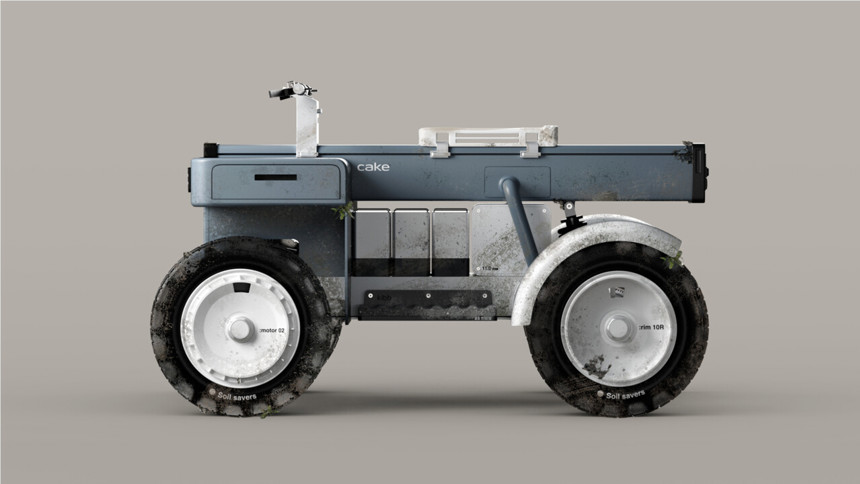 Image:
Umeå Institute of Design
From a sustainability perspective, it is important to develop regenerative agriculture. Currently, the access to non-pollutant transportation and machines is limited. Based on this, the idea of CAKE Kibb was born. The first part of the name comes from a collaboration with CAKE, a company that manufactures electric motorcycles. The word Kibb means ox in Gutniska, a dialect from the Swedish island Gotland. The name is meant to represent the strength of the vehicle as well as the limited mark an animal has on nature, irrelevant of its size.
agriculture is one of the industries that contributes the most to greenhouse emissions
fanny jonsson, MFA TD graduate
"Agriculture is one of the industries that contributes the most to greenhouse emissions and therefore it could slowly lead to its own demise unless new solutions for regenerative farming can be reached", says Fanny who grew up on a farm herself.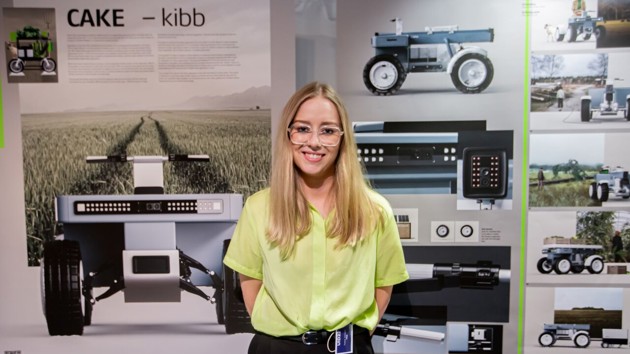 Fanny Jonsson presenting CAKE Kibb at the UID22 Degree Show.
Image
Frida Henfridsson
The healing power of the earth must be harnessed to regenerate healthy growth. For example, it is important to nurture the soil long-term to maximize crop diversity. When running a farm, it is also crucial to be able to move freely across the land. Livestock need to be moved regularly so that the grass and crop are disturbed as little as possible.
A vehicle with special requirements
Many things on a farm are monitored remotely nowadays, and therefore the need for smaller, more efficient vehicles, has increased. CAKE Kibb is a small electrical all-terrain vehicle (ATV). It features tires that automatically adapt to the ground by increasing and decreasing air pressure. This means that it is gentle on the ground, a key demand in regenerative agriculture.
"It is equipped with soil savers - a tire that will inflate and deflate and be able to regulate the tread to be as gentle as possible in any location", Fanny says when presenting the project at the UID22 event.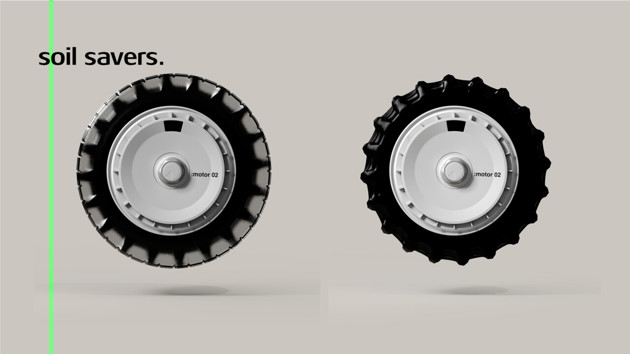 The CAKE Kibb soil saver tires, designed to move lightly across the varying farm landscapes.
Image
Umeå Institute of Design
The modularity of the ATV was an important aspect throughout the design. The flexible characteristics allow Kibb to tackle various tasks that requires different equipment at a ranch or farm, which could be anything from a plough and winch to watering tanks. The Kibb can then, with its level of autonomy, drive around and do many of these tasks by itself.
Holistic approach on sustainability
The Kibb concept employs a holistic approach to material choices, by utilizing what can already be found in the countryside. Its tires are made from dandelions which are widespread across Scandinavia and its plastics are made from linseed plants grown locally in Sweden. Aluminium is the main material used for the main frame as well as other details on the ATV. As a material, aluminium is a sustainable choice due to its recyclability without material degradation through multiple lifecycles.
A lot of the work on a farm requires heavy fossil-driven machinery, but on smaller regenerative ranches there is a possible way of introducing a fossil-free solution that can cover many of the needs. The use of fossil-driven solutions could be viewed as contradictory to long term farming objectives, since the biggest focus on a farm is to take care of the animals and their surroundings, and in order to do that many farmers are today using vehicles that disturb and destroy its surroundings.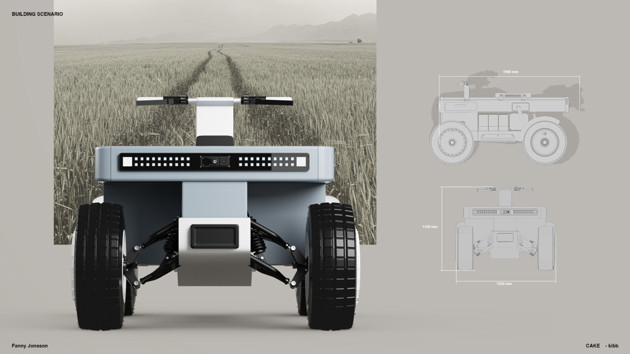 The CAKE Kibb soil saver tires, designed to move lightly across the varying farm landscapes.
Image
Umeå Institute of Design
with this project I really think that design can inspire agriculture to develop towards more sustainable solutions
fanny jonsson, MFA TD graduate
This is not the first time Fanny is getting up on stage to present a graduation project of her own. The fact is, she also got her bachelor's degree at Umeå Institute of Design, graduating in 2019.
"This is my second time attending the Design Talks & Degree Show. I graduated from my bachelor's degree just before the outbreak of the pandemic and the show had to go digital", Fanny says and continues.
"Even though it is my second time, presenting my project still makes me nervous whilst, at the same time, it is very rewarding to connect with all these amazing people."
Looking back
Fanny describes her personal journey within the school as a wonderful experience with a large and strong community.
"I think this school is fantastic. I see many people here today who graduated several years ago. It really says it all - it is such a wonderful community".
At Umeå Institute of Design, students from all over the world come together and work as a team. It gives students different perspectives and contributes to their personal growth.
"For me, getting to know people from different countries and places is what I learn the most from. Also, Umeå as a city is great. I feel that there is an overall appreciation for innovation and sustainability which of course is something I value. I would definitely choose this school all over again if I could!"