Facilities
Umeå School of Architecture (UMA) started in 2009 and the building, divided into four floors with an open floor plan, was inaugurated in the fall of 2010. Here, all students receive their own workplace situated within their design studio. In the building there are also several spaces in various sizes for lectures, seminars and for hosting exhibitions, as well as a computer lab. UMA students also have access to the school's workshops and machines with support from our technicians.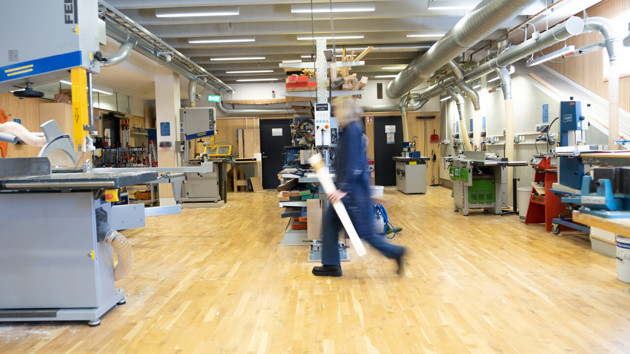 Workshops and Labs
UMA's Workshops mainly consist of three different spaces; a wood workshop, a space for assembly and a room for digital processing with our laser and cutting machines. At UMA, we are interested in all possible types of materials and techniques and if we happen to come across something that we cannot handle in our own premises, we collaborate with the other schools at the Arts Campus to provide access to other techniques, knowledge and equipment. We give a lot of freedom in terms of access to the workshop and the school, even in the evenings and weekends, with the aim of creating an environment with as few restrictions as possible, without compromising safety and health.
Facilities
Wood workshop
A complete wood workshop for mechanical and manual production of models and other things in different sizes and materials such as wood, cardboard, foam material, plastic and more. Arriving as a new student to the school, you will get an introduction to the Workshop and its equipment.
The assembly
In the assembly space, we work with materials that do not fit in the wood workshop. Here you can build larger scale models as well as cast objects in plaster and concrete. There is also capacity to do some metal work and we have a ventilated spray box for painting and gluing. The assembly room is equipped with several rolling workbenches and temporal storage of working models in shelves.
Laser and cutting machine
Currently we have two laser and engraving machines at UMA. These machines use vectorized files in 2D to create cutting paths or for engraving images/patterns. There is also a cutting machine for softer materials with a vacuum table that uses an oscillating knife to cut out the shape.
NC Milling machine
We have a milling machine to carve out smaller objects in soft materials. For larger models, we usually collaborate with other schools. Technical staff at the school CAM prepares the files and handles the machines, but you as a student are of course welcome to take part in the process if you want.
Computer lab
We have a larger computer room with about 45 machines. In addition, there are several tools available such as scanners and various types of printers. All students have access to internet and receive their own e-mail address via Umeå University.
Digital manufacturing (3D printer, 3D scanner, software)
If you have created 3D files in a CAD software, it is possible to print the object in either plaster, alternatively in some plastic material. This takes place in close collaboration with the school's technicians. We currently have three 3D printing machines at the school. There is also a possibility to access the school's scanning equipment for 3D objects. This allows one to scan an existing shape, process the digital file and then print it in a 3D printer, NC mill or use it in a digital environment for presentations.
Photo studio
It is possible to borrow cameras and photograph objects in the school's photo corner. Here you have the possibility to change the background color (black, white, green, etc.) and illuminate the models using the provided photo lamps. In the area, you will also find a large-format scanner for digitalizing sketches, drawings and so on.
Studio workplace
Every year, each student at the School of Architecture is assigned their own workplace with a height-adjustable desk, office chair, desk lamp, lockable cabinet and access to limited storage of work materials in shelves and archive cabinets. Each design studio has its own designated area, which creates a sense of togetherness within each studio. Thanks to the school's open floor plan, exchange and contact between the school's various design studios and years is also possible.
Common spaces
At UMA there are several different halls and rooms for lectures, presentations, tutorials and for hosting exhibitions.
Library (UB Art Campus)
The University Library (UB) has a branch at the Umeå Arts Campus. The library is located on the ground floor, right in the middle of the three schools. The library offers books, journals and electronic resources in contemporary art, architecture and design that are available to students, staff and to the public.
Find the UB Art Campus Library.
Visit Umeå University's main library.

Latest update: 2023-09-05