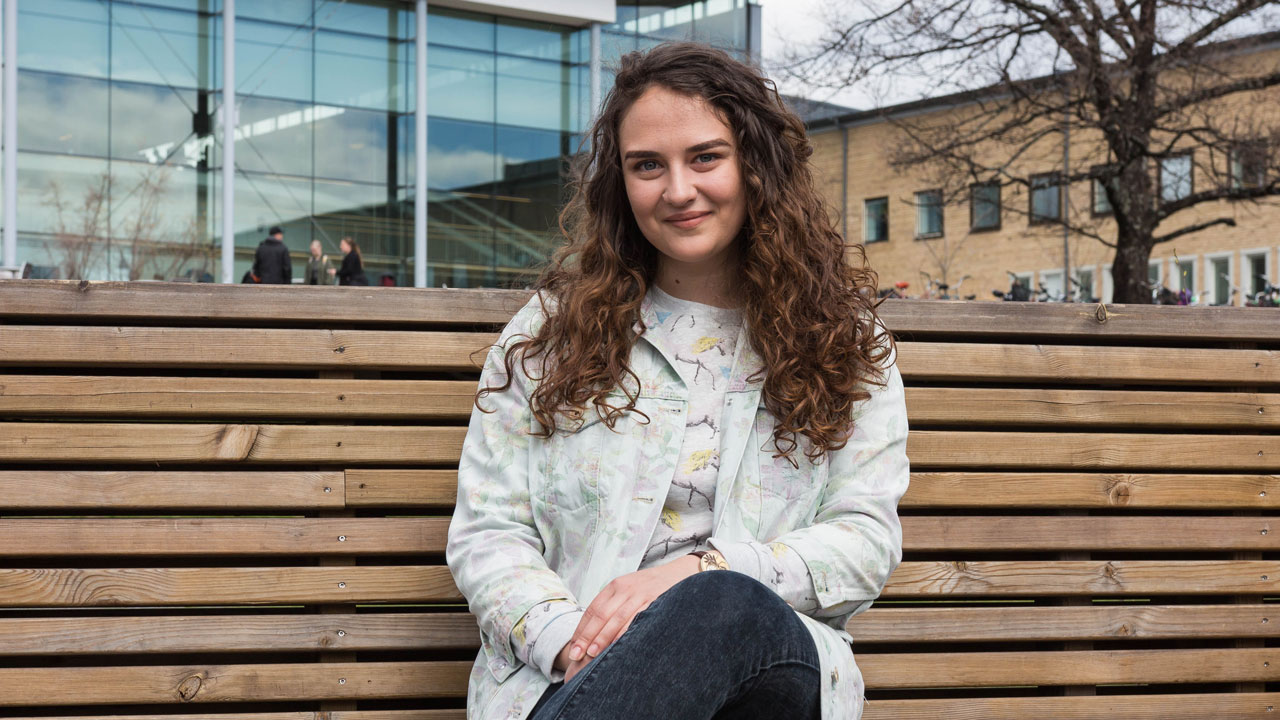 Why did you choose to study at Umeå University?
I wanted to go abroad to study for my master's programme and I was thinking about the Scandinavian countries. I was listening to a lot of music from Sweden and noticed that a lot of it came from the same city: Umeå. It was something about this city that I felt like I needed to discover, so I did some research and also found this master's programme in Chemistry that caught my eye even more.
What do you like most about your programme?
The thing I mostly appreciate in this programme is the interest the teachers show regarding your education and comfort during the classes. They make you feel like an equal and treat you with the uttermost respect. Also, they take interest in what you have to say and make your opinion matter, taking in consideration your needs as a student.
What do you do when you are not studying?
I spend most of my free time with the friends I made here, going for a fika, a walk, barbecuing now that it is spring! In the weekend there is always a corridor party or an event downtown to go to. I was lucky and got to go to some pretty cool concerts as well! There are a lot of cultural events going on here so there is always something interesting to do. IKSU is also a nice way to get some exercise and play fun sports with your friends.
What has been your most memorable moment so far?
I guess the most memorable moment so far was volunteering to Umeå Open festival, I've been to many festivals before but never as a volunteer. It was nice to give a hand to the non-profit organization that helps the festival happen every year. The music was great, the volunteers and the people working there as well. All in all, it was an exciting and memorable experience!
What is your impression of Umeå and the surrounding areas?
Umeå is a small but beautiful city. The best part is that it's a student city, and as a student, it is the best place to be. The city centre is very nice and it gives you a warm, cosy feeling when you are there. It has a lot of nice places to eat or have a fika, and the river is really close too, it gives a good vibe whenever you walk along it.
Another thing that I like about Umeå is the nature. Sometimes it feels like you're in the woods when you take the walk to campus, it's amazing, you're surrounded by trees everywhere!
What do you find as the biggest cultural difference, both socially and educationally, from your country with Sweden?
It is pretty different but not that much. Socially speaking, I guess Swedes are a bit more reserved comparing to where I come from but if you get to know them, they turn out to be maybe the best people you have ever met. Educationally, I could feel the difference more. You can see the hard work and interest they put in to make all the students satisfied and remain with some information after every class. The school schedules I've had so far worked smoothly, giving me time to study and have free time.
What would you say or what advice would you give to another international student thinking of attending Umeå University?
If you want to study in a small town but full of life, filled with nature but still urban and cultural, have fun but also get good education, Umeå is definitely your next stop!
___________________
Favourite thing about Umeå University:
The people!
Favourite Swedish word or custom:
Tjena
Three words to summarise your time in Umeå:
Best move ever!
Name
Flavia Cornea
Where are you from?
Romania, Constanța