Published: 17 Sep, 2010
4618 m² with a unique river view – Opening of Umeå School of Architecture!
NEWS On Friday 24 September, Umeå University proudly inaugurates its newly built Umeå School of Architecture, designed by Henning Larsen Architects and White architects.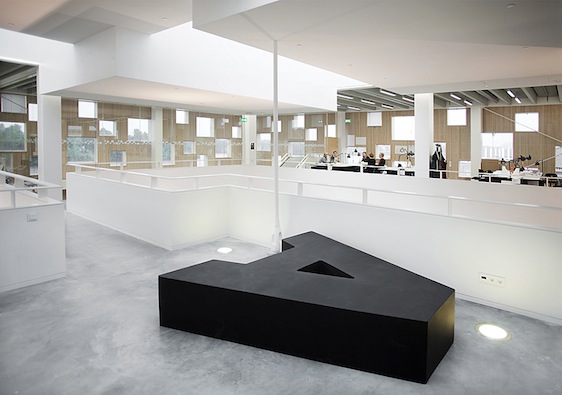 Photo: Johan Gunséus
Journalists and invited guests will be attending this special inauguration event. Viewings for other interested parties will arranged later this autumn.
The new building has an open and flexible plan to create a close interaction between students and teachers. It is designed to accommodate 250 students and above that researchers, teachers and administrators. It includes workshops, an auditorium, seminar rooms, exhibition spaces and studios with a workplace for each student.
In the autumn of 2009, Umeå University started the fourth school in Sweden which provides a full architectural degree. It is the first architectural school in Sweden with an artistic profile. Central aspects of the education are sustainability, resource awareness and an international perspective. During the first year students and staff have been temporarily situated in a landmark building called Tullkammaren (Customs House) in central Umeå. We have relocated this autumn to the newly constructed building at Umeå Arts Campus, an area by the Umeå River that will be a meeting place and a creative melting pot for design, art and architecture.
During the grand opening on the 24th of September, students at Umeå School of Architecture will be exhibiting their new and innovative works. Guided tours of the new premises will also be given. In addition, there will be speeches by Peter Kjær, rector of Umeå School of Architecture; Per Ebbe Hansson, Henning Larsen Architects and Staffan Ling, Balticgruppen. Umeå University's new vice-chancellor Lena Gustafsson will formally inaugurated the Umeå School of Architecture.
Related articles:
Plusmood: Umeå School of Architecture | Henning Larsen Architects + White Arkitekter BauNetz: Glückliches Schweden: Neue Architekturfakultät in Umea eröffnetContemporist: Umeå School of Architecture by Henning Larsen Architects

For further information please contact:Thomas Olofsson Director, Umeå School of ArchitecturePhone: + 46 (0)90-786 67 10
E-mail: thomas.olofsson@arch.umu.sePeter KjærRector, Umeå School of ArchitecturePhone: + 46 (0)70-559 46 96
E-mail: peter.kjaer@arch.umu.se
For practical information about the opening event, please contact:Karin Wikman, Information OfficerPhone: +46 (0)90-786 60 24Mobile: +46 (0)70-610 08 05
E-mail: karin.wikman@adm.umu.se
Editor: Karin Wikman