EcoChange participates in worldwide contaminant monitoring
NEWS Persistent organic pollutants, POPs, can be harmful to living organisms even in low concentrations. They are stable and persistent, and can be found far away from their sources. Until recently the systematic monitoring of these substances has been done mainly in air. Focus is now gradually moving towards aquatic environments, and the first worldwide passive sampling campaign of POPs in oceans and fresh water was initiated in 2017. A group of EcoChange researchers from Umeå University will take part in the global network.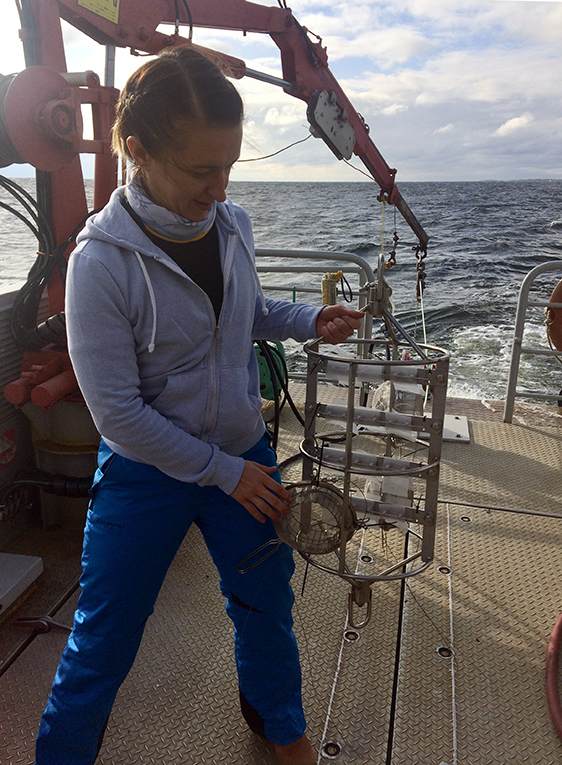 Darya Kupryianchyk is a researcher at the Department of Chemistry at Umeå University. This fall she has been working with deploying strips of polyethylene and silicon in the coastal area just outside Umeå Marine Sciences Centre, 40 kilometres south of Umeå. The strips are a form of passive samplers on which pollutants can adhere. The method is used worldwide for monitoring of pollutants in air. Now is the time to systematically do it in aquatic environments.
Global project advances
For more than ten years researchers from Canada have been testing the feasibility of using passive samplers to assess the spatial distribution of persistent organic pollutants on a worldwide basis within the Global Atmospheric Passive Sampling study (GAPS). Much progress in developing passive samplers for water has been achieved, and first worldwide passive sampling campaign of POPs in ocean and fresh water was initiated in 2017. Called "Aqua-GAPS", the proof-of-concept study is being conducted in lakes and coastal and off-shore ocean sites in the Northern and Southern Hemispheres.  The programme includes many research groups from the whole world, but the chemical analyzes for Aqua-GAPS will be performed at a laboratory in Czech Republic. A group of EcoChange researchers from Umeå University has been invited to be responsible for the first and only sampling station in the Baltic.
Challenging environment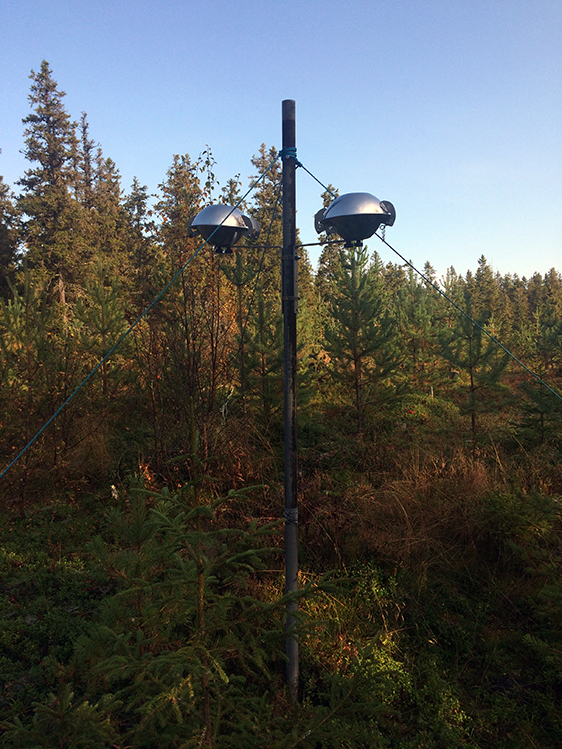 Sampling of coastal and off-shore sites is logistically the most challenging, and often requires longer deployment times compared to air passive sampling. Moorings are required to keep the samplers in the right position even in hard weather and difficult ice conditions. Boats are needed to be able to work with the samplers and collect them at certain times. There are also a lot of other practical issues to address. Still, the researchers are convinced that the trouble will be worthwhile. The increase in knowledge on distribution and temporal trends of organic contaminants will be an important part of the work towards reducing persistent organic pollutants in the environment.
Important cooperation
For long we have been aware of the fact that these types of pollutants are spread all over the world, even to the most remote and clean areas. Earlier it has been believed that the contaminants mainly have been transported by air. Lately there has been a growing awareness that water can be an important transporter of some of the more water-soluble chemicals, even if this way of transportation is slower, says Darya Kupryianchyk. She has worked with developing passive samplers for aquatic environments since 2010, and she is very satisfied with the opportunity to take part in the Aqua-GAPS programme.
-It is so exciting to work with these issues, and to get the opportunity to be a part of such a large, global network. I am sure the contacts with other researchers will allow us to get new experience and will lead to new collaborations in the future.
Suitable area
The geographical area where the EcoChange researchers have placed the passive samplers is suitable from several points of view. There is a lot of background data available for the immediate surroundings, and the station is close to the facilities of Umeå Marine Science Centre. Furthermore, this part of the Baltic is particularly exposed to organic pollutants.
Supports important convention
Aqua-GAPS fits well in with the agreement among many countries addressing how these substances should be handled, the so called Stockholm Convention. The Stockholm Convention is a global treaty to protect human health and the environment from chemicals that remain intact in the environment for long periods, become widely distributed geographically, accumulate in the fatty tissue of humans and wildlife, and have harmful impacts on human health or on the environment. Sweden is, together with 178 other countries, a party to the convention. Hopefully the work within Aqua-GAPS will contribute with important knowledge to the global work aiming towards an environment free from persistent organic pollutants.
For more information, please contact:
Darya Kupryianchyk, researcher at the Department of Chemistry, Umeå University
darya.kupryianchyk@umu.se
Scientific article about Aqua-GAPS
Editor: Kristina Viklund