Published: 21 May, 2013
Jacob Hashimoto / Superabundant Atmosphere
NEWS On Sunday 2 June at 14:00 Bildmuseet opens the exhibition Jacob Hashimoto / Superabundant Atmosphere. Welcome to the press preview Thursday 30 May at 10:00.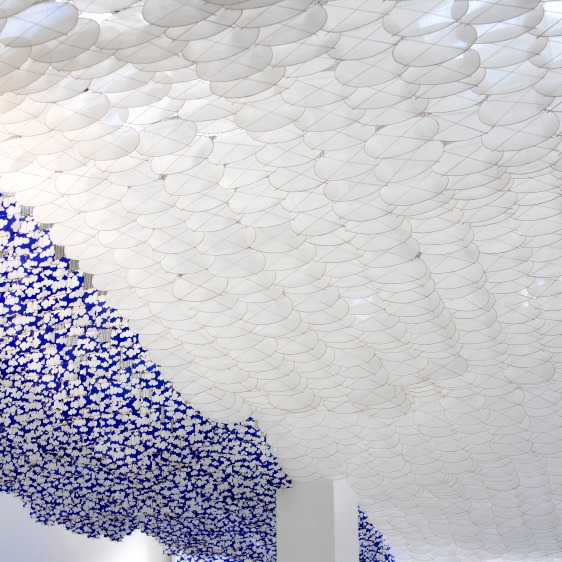 Jacob Hashimoto's installations consist of several small objects made from bamboo and silk or paper, which are joined together in larger compositions. These works embody his long-time fascination with the intersections of painting and sculpture; abstraction and landscape.
Bildmuseet presents Superabundant Atmosphere, which is an installation consisting of thousands of ellipses of bamboo and silk hanging from the ceiling by distinctly black threads. The installation fills the entire exhibition hall and creates a cloud-like formation that appears to permeate through the ceiling.
Parts of another work, Infinite Expanse of Sky, are displayed in the exhibition hall's north and west window niches. The installation is constructed of rectangular paper kites with a sky blue and white cloud print. The kites are also visible from the outside, through the museum windows.
The American artist Jacob Hashimoto (b. 1973) lives and works in Brooklyn, New York. Bildmuseet's exhibition is the first presentation of his work in Sweden.
For further information
Sofia Johansson, Curator Bildmuseet
sofia.johansson@bildmuseet.umu.se
+46 90 786 93 53
Editor: Helena Vejbrink