Published: 14 May, 2014
Liselotte Wajstedt / The Lost One
NEWS In the film installation The Lost One, which premieres at Bildmuseet on Sunday 25 May at 14:00, Liselotte Wajstedt creates a tender narrative about her grandmother. She examines a personal history and discovers connections to her own life.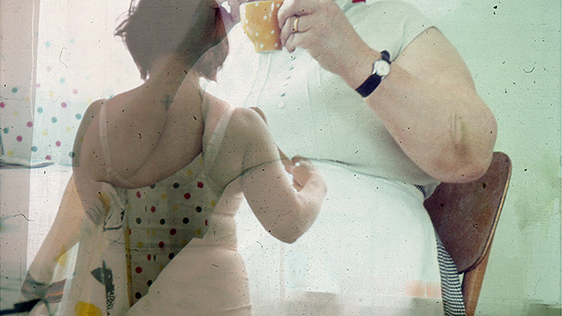 The work also reflects several profoundly universal questions and ideas about life. The piece consists of a film, an oral narrative, a photograph and a kolt.
The narrative tells the story of a beloved grandmother and her revolutionary life choices. Despite her Laestadianistic faith and the disapproval of her community, she left what appeared to be the perfect marriage to live with another man. Liselotte Wajstedt starts with her own recollections and contemplates them. As an adult she begins to understand connections she had never thought about before.
The film weaves together family photographs and recent pictures. They are accompanied by a newly composed piece of music by Hanna Nutti, who has interpreted the story through text and music. In the film, Liselotte Wajstedt sews a white kolt for her grandmother using the sewing machine she inherited from her. Along the hem she has printed a row of images from th e grandmother's life, which are then joined together, piece by piece.
Elle Máret Valkeapää has created ornaments for the kolt that also contain photographs from the life of Liselotte Wajstedt's grandmother. The kolt and the ornaments are shown in the exhibition together with a photograph of Liselotte Wajstedt wearing them. The photograph is taken by Lisa Kejonen.
Liselotte Wajstedt (b. 1973) is an artist and filmmaker. She lives and works in Kiruna. Her films exist in the borderland between documentary and experimental arthouse movie. Her films include Jorindas resa, 2014; Kiruna - Rymdvägen, 2013; A Soul of a City, 2012; I am in Lavvu, 2011; Àrvas, music video, 2009; Faces, 2009; A sami in the city, 2007; The sami and her body, 2007 and A city sami in the woods, 2007.
The exhibition is produced by Bildmuseet with funding support from Umeå2014 and Kulturkontakt Nord.
Editor: Helena Vejbrink