New chipping method leads to more efficient use of wood material
NEWS There is increased demand for products from the forest. Thus it becomes increasingly important that forest raw material is used as efficiently as possible. The first steps can be important to increase the yield from forest raw material, says Jessica Gard Timmerfors, who has researched wood chipping. Jessica is a doctoral student at the Department of Chemistry within the framework of the Industrial Doctoral School for Research and Innovation, Umeå University. She defended her thesis on August 21.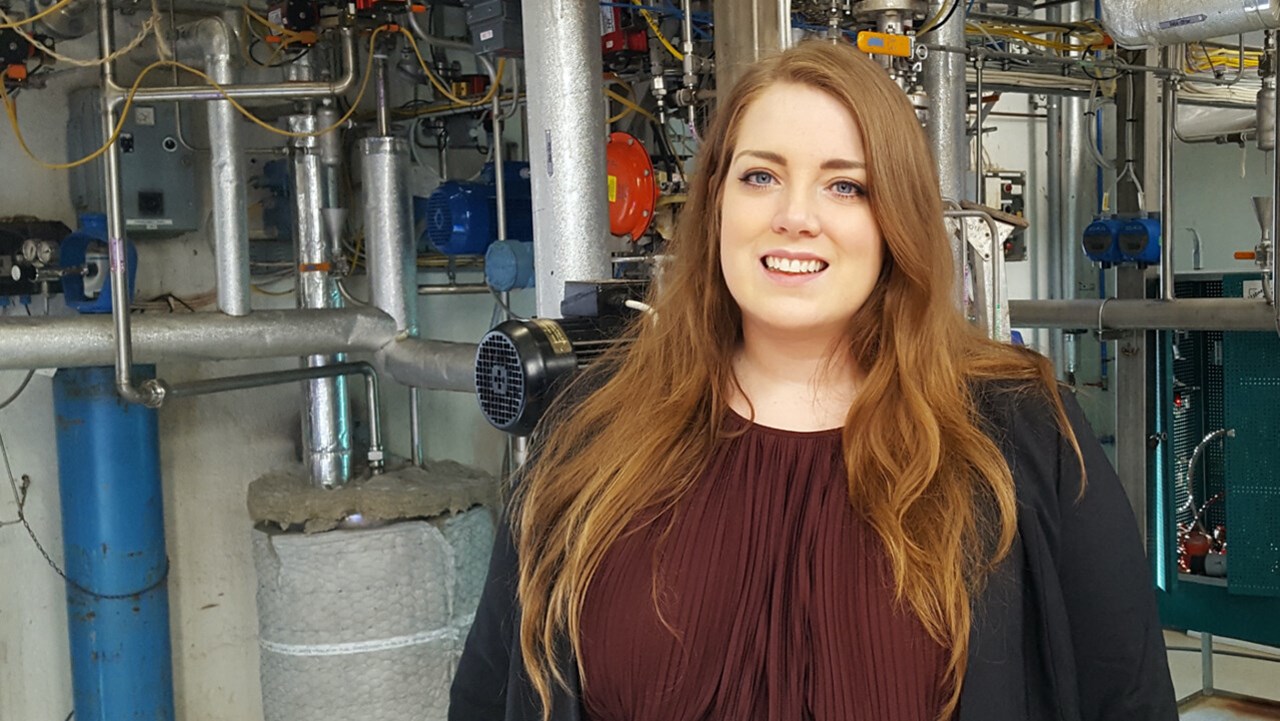 Jessica Gard Timmerfors.
Image
Sören Back
The main focus of Jessica Gard Timmerfors' project has been a new type of drum chipping, which has been developed by Multi Channel Sweden AB. She has studied chipping both on a full scale at a pulp mill and on a pilot scale at the Domsjö development area in Örnsköldsvik.
In the experiments on a pilot scale, she herself has been able to control the choice of raw materials and settings.
The quality of the chips affects how good the pulp will be in the end. Chips that has more even properties gives better pulp and you get a higher yield.
Part of the project has been to compare the chips from the new chipper with chips used in industry today. This has been done in full-scale experiments and with a focus on the chip's length, thickness and width. The industry has a standard for which chips are considered acceptable or too large, too thick or too small. The chips that are too small or too large are sometimes sorted out before the chips are boiled to pulp, which leads to poorer yield.
"A strong reason why I started this project is that I want to contribute to our forest resources being used as efficiently as possible. That up to five percent of a wooden log is made into chips that are not suitable for pulp production, I think is unsustainable. It made me happy when my data started to come and showed that the hypothesis was correct and that the chip content had been halved" says Jessica Gard Timmerfors.
What dimensions a piece of wood chip should have in terms of thickness and length differ between different processes. Therefore, Jessica has tried to make a shorter chip without the size fraction that the industry wants, the acceptance fraction, becoming unreasonably small. There have also been studies of impregnation of shorter chips with cooking chemicals. On a pilot scale, Jessica has conducted studies with varying raw materials to investigate whether the same variations that affect traditional wood cutters also affect the new technology.
One variation that Jessica took a closer look at is differences in chip quality if hardwood and softwood are cut with the same setting. She has also looked at variations within the same tree species, such as logs that are frozen, have dried, or that have an unusually high moisture content.
"It has been fun to work practically with preparing the logs, be involved in chipping and to visit different pulp mills" she says.
The new drum chipping technology created chips that visually resembled the ones used in industry today. The new drum chipper gave a share of acceptance chips of 85 percent immediately after chipping on a demonstration scale, a value that is usually only achieved after screening chips. In particular, the proportions of the fractions that can be seen as losses decreased, namely wood chips and shavings. These small fractions disrupt the pulping process and can be seen as a loss of raw materials, although they can still be used as fuel.
Jessica Gard Timmerfors' supervisor has been Professor Leif Jönsson, Umeå University, and Dr. David Blomberg, at the external partner RISE Processum. The research activities have been supported by the Kempe Foundations, Processum's R&D Council, the Swedish Energy Agency and the strategic research environment Bio4Energy. Other parties involved in the project are MoRe Research, RISE Processum and SLU.
Press image. Photo: Sören Back
About the dissertation:
On Friday 21 August, Jessica Gard Timmerfors, Department of Chemistry at Umeå University and the School of Business Studies, defended her dissertation entitled: Wood Chips for Kraft and Sulfite Pulping - Evaluation of Novel Forest-Industrial Drum Chipping Technology. Svensk titel: Flis för sulfatmassa- och sulfitmassaprocesserna - Utvärdering av ny skogsindustriell trumhuggningsteknik.
For more information, please contact: