Sara Jordenö – Diamond People: Instructions for a Film
NEWS Diamond People tells a story of three synthetic diamond factories in Sweden, South Africa and China. Artist Sara Jordenö uses photography, drawing and poetry to work her way through historical and contemporary narrations of Robertsfors, a small factory community in northern Sweden. The exhibition opens at Bildmuseet Sunday 21 November.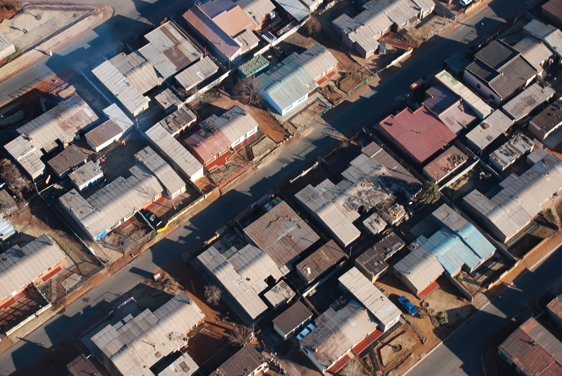 Bildmuseet Nov 21, 2010 – Jan 30, 2011
Press conference Friday, Nov 19th, 10 am.Opening Sunday, Nov 21th, 2 pm.
Artist talk Tuesday, Nov 23rd, 6.30 pm.
Jordenö examines the small factory community's close relationship to – and, at the same time, great distance from – Kwa Thema, South Africa and Suzhou Industrial Park, China. What begins as an investigation of these interconnected 'diamond communities', soon becomes an inquiry into the processes of documentary writing and artistic practice informed by anthropological fieldwork.
Above: Sara Jordenö, Diamond People (Kwa-Thema), C-print, 2007.
Sara Jordenö's recent body of work, Diamond People, traces the processes of globalization through a specific material: the synthetic diamond, a material that points to the contradictions that lie in the construction as well as abstraction of value. The project takes as it's starting point Sara Jordenö's first place of work, the synthetic diamond factory in Robertsfors. As a former factory employee and resident in the community, the artist is performing – and shifting between – the roles of the participant and the observer, insider and outsider. Rather than reaching a consensus, the project attempts to allow the tension between multiple viewpoints as well as between text and image. Diamond People reflects on the possibilities and limitations of artistic fieldwork and adopt a critical approach to documentary narration.
The grounding element of Diamond People is the image of carbon, an element capable of producing both graphite, among the softest of materials, and diamond, the hardest on the planet. These elements take on allegorical relationships to the subject matter: diamonds come to represent the material conditions of labour, politics and reality at large, while graphite stands in for note-taking, writing and representation in general. But as the texts and images explore the progress of the diamonds, we are subtly reminded of the ways in which this element's materials, which appear at first as stark contradictions, are in fact mutually constitutive. Representation and reality are as allotropic as graphite and diamond.
Sara Jordenö (b. 1974 in Umeå) is based in New York. She talks about her work as 'performative investigations' and her research projects usually grow over extended periods of time and result in several works. Jordenö has a background in creative writing and text is a crucial part of her artistic practice. In her projects she often use methods borrowed from sociology and anthropology. She is continually exploring what it means – as an artists – to take the role of an observer, and how that type of action can be documented and presented in the context of cultural production.
Taking their starting point from Jordenö's project, contributing writers in the complementing publication The Strange Case of Carbon (2011) Jill Magi, Johan Lundh, Steven Lam, Erin Lee and Katarina Pierre, allow their texts to unfold into directions at once personal and universal. Threading together writing, image-making and sound recording, we are brought to self-reflexive apertures looking at the constitution of these various fields.
Diamond People: Instructions for a Film has been realized in collaboration with Film i Västerbotten, Lower Manhattan Cultural Council, Konstnärsnämnden and Västerbottens museum.
One version of Diamond People is presently part of the group exhibition The Crude and the Rare curated by Saskia Bos and Steven Lam at The Cooper Union Gallery in New York. Sara Jordenö is also represented in the Moderna Exhibition 2010, a mayor survey of Swedish art at Moderna museet in Stockholm.
For more information please contact
Acting Director Katarina Pierre, Bildmuseet,+46-90-786 5225,
katarina.pierre@bildmuseet.umu.se
Editor: Helena Vejbrink