Umeå University EC Jubilee Award 2015
NEWS Umeå University honours Professor Emmanuelle Charpentier for her pioneering research with the powerful discovery of CRISPR-Cas9, which has already been of great importance by providing new opportunities for Life Science research and its applications in Biology and Medicine. Umeå University will present a special Jubilee Award to Emmanuelle Charpentier at the University's Annual Celebration Ceremony in 2015: The MIMS Excellence by Choice Programme.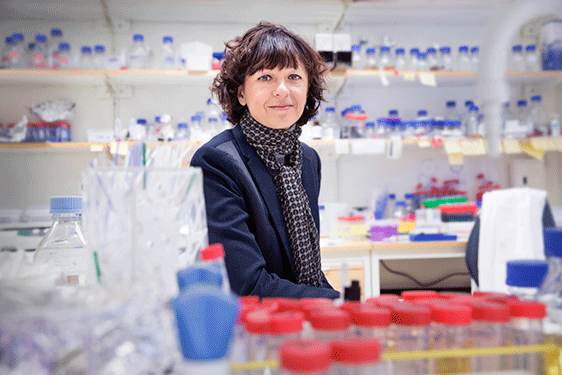 "Excellence is never an accident. It is always the result of high intention, sincere effort, and intelligent execution; it represents the wise choice of many alternatives – choice, not chance, and determines your destiny."
Aristotle (384-322 BC)
"It is a pure joy to honour Emmanuelle Charpentier for her ground-breaking research during our Anniversary Year. We are glad to have Emmanuelle affiliated to Umeå University and for being able to offer young researchers attractive settings. We hope for this prize to inspire and contribute to new opportunities for present and future generations of researchers," says Lena Gustafsson, Vice-Chancellor of Umeå University.
Umeå University celebrates its 50th anniversary in 2015 and clearly expresses in its Vision and Strategies an objective to create the conditions for outstanding research, which requires long-term opportunities and allows high-risk research.
The research environment MIMS (Molecular Infection Medicine Sweden), where Emmanuelle Charpentier made her discovery, and where she is still affiliated, offers excellent conditions – in particular to young scientists. This is something Emmanuelle Charpentier herself emphasises as a prerequisite for her pioneering work.
With SEK 6 million in joint donation from the Kempe Foundations and the Knut and Alice Wallenberg Foundation, the programme will, during 2016-2019, offer young foreign researchers an opportunity to conduct post-doctoral research for two years at Umeå University in connection with the research groups led by Emmanuelle Charpentier and other scientists at MIMS.
MIMS is the Swedish node in a Nordic EMBL Partnership for Molecular Medicine, which was established together with the EMBL (European Molecular Biology Laboratory).
Umeå University's EC Jubilee Award 2015 will be presented during the University's Annual Celebration Ceremony on 17 October 2015.
For more information, please contact:
Lena Gustafsson, Vice-Chancellor of Umeå UniversityPhone: +46 73 079 42 91
Email: lena.gustafsson@umu.se
Bernt Eric Uhlin, Professor, MIMS at Umeå UniversityPhone: +46 70 675 73 44
Email: bernt.eric.uhlin@umu.se
Läs detta pressmeddelande på svenska
Editor: Anna Lawrence