Light Microscopy Instruments and Workstations
Leica SP8 FALCON Confocal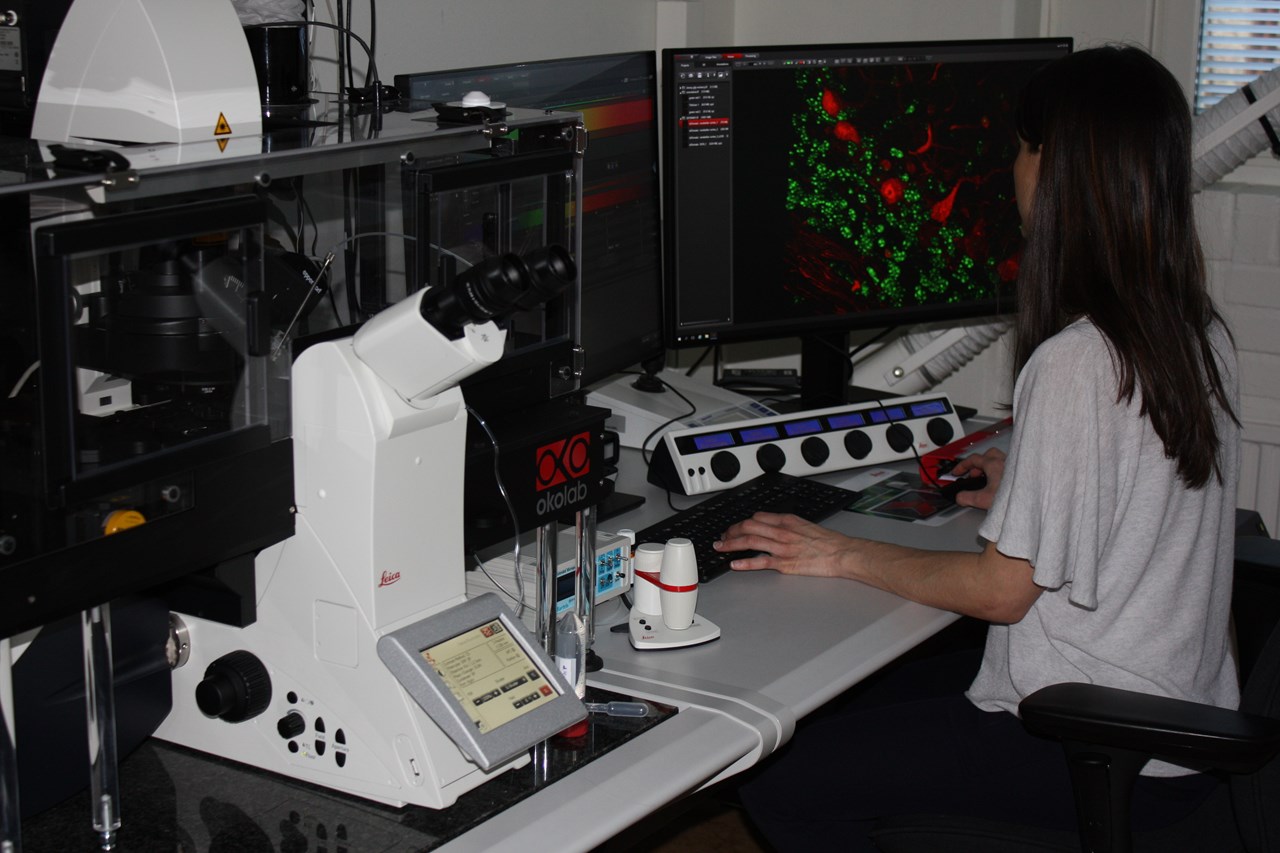 More Details
Location:
Chemistry Department 4th floor corridor A4
Room number:
A4.41.01
Price:
250kr/hr - Driver's license 2000kr
Objectives:

HC PL FLUOTAR 10x/0.30
HC PL APO 20x/0.75 CS2
HC PL APO 63x/1.20 Water motCORR CS2
HC PL APO 63x/1.40 OIL CS2

Laser Lines:

Diode 405nm
Argon Laser (458nm, 476nm, 488nm, 496nm and 514nm)
WLL (White light laser). Tunable excitation from 470 to 670nm in steps of 1nm

Techniques:

Confocal Imaging
FLIM (biosensing, species separation, FLIM-FRET)
FRAP

Other specifications:

One PMT detector, two HyD SP GaAsP detectors and one HyD SP generation2 detector optimized for FLIM
Motorized Focus with AFC
Resonant Scanner 12 kHz
Live cell incubation
Microinjector
Leica SP8 Confocal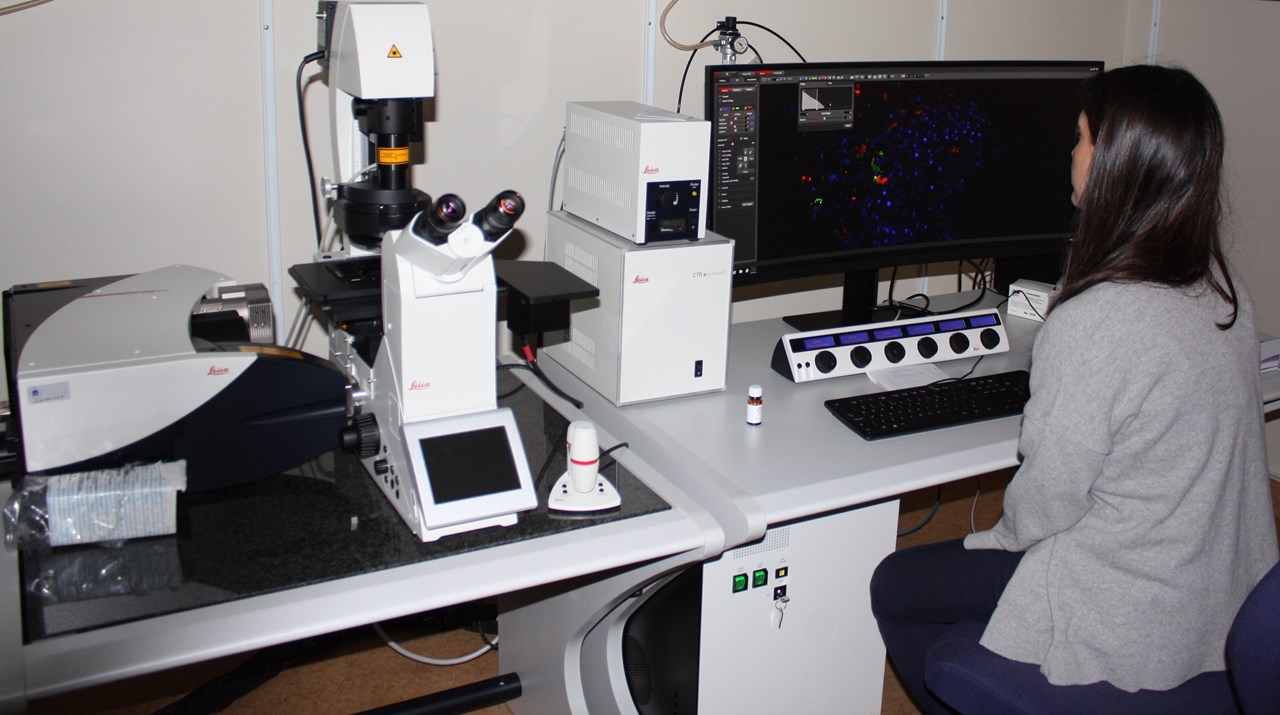 More Details
Location:
Molecular Biology
Room number:
6L-021
Price:
250kr/hr - Driver's license 2000kr
Objectives:

HC PL APO 20x/0.75 IMM CORR CS2
HC PL APO 40x/1.30 Oil CS2
HC PL APO 63x/1.40 OIL CS2

Laser Lines:
Diode 405nm, Diode 638nm, OPSL 488nm, OPSL 552nm
Techniques:

Confocal Imaging
Resonant Scanner 8 kHz
Zeiss Spinning Disk Confocal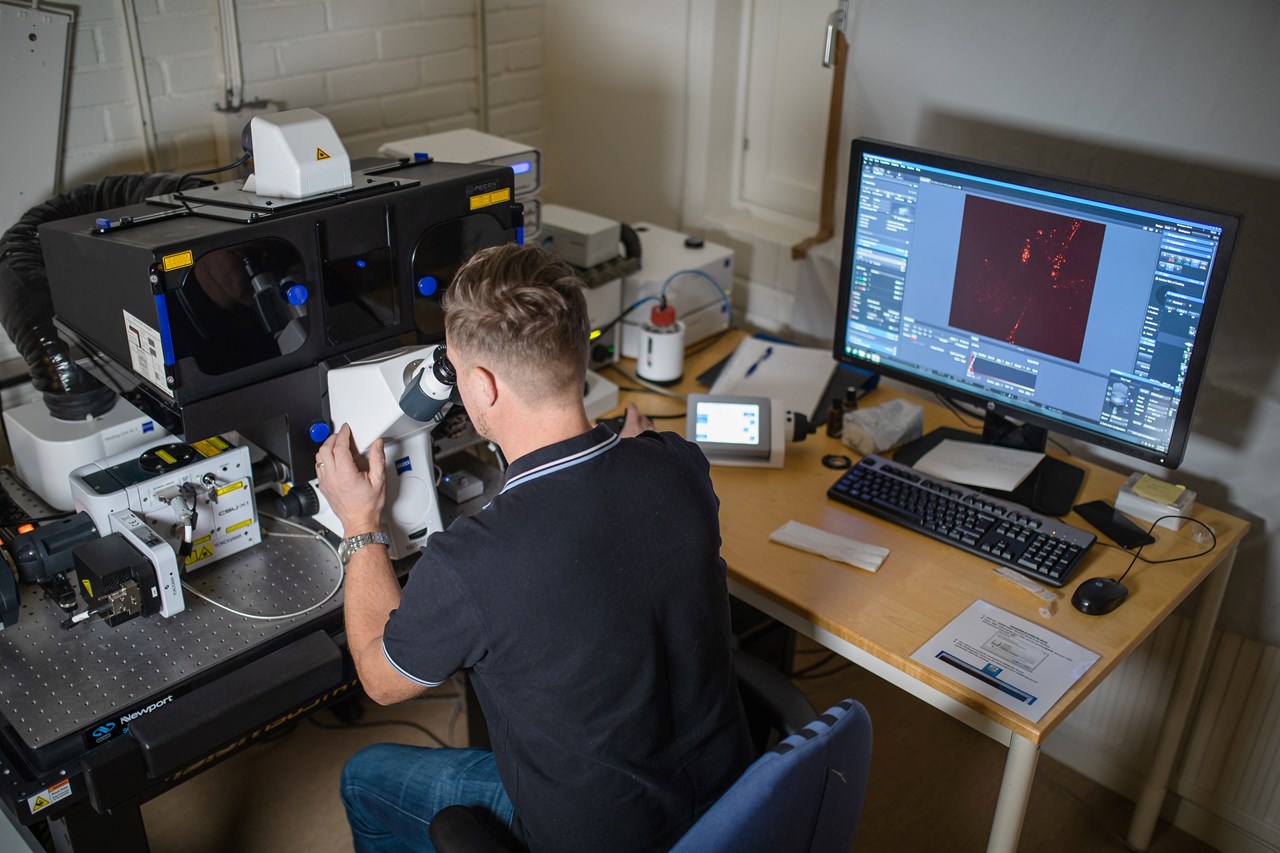 More Details
Zeiss Cell Observer Spinning Disk Confocal, equipped with two EMCCD cameras to perform confocal and TIRF microscopy.
Location:
IMB: Department of IntegrativeMedical Biology. 4thfloor
Room:
C4 15 17
Price:
250kr/hr - Driver's license 2000kr
Objectives:
20X (NA 0.8); 40X W (NA 1.2); 63X oil (NA 1.40) DIC; 100X Tirf oil (NA 1.46) DIC
Laser lines:
405nm, 488nm, 561nm and 647nm
Techniques:

Confocal imaging (1000 frames/sec)
TIRF microscopy
Other specifications:

Live cell incubationDefinite Focus system
Direct FRAP
Microfuidics

Manual for Download:
Zeiss LSM 710 Confocal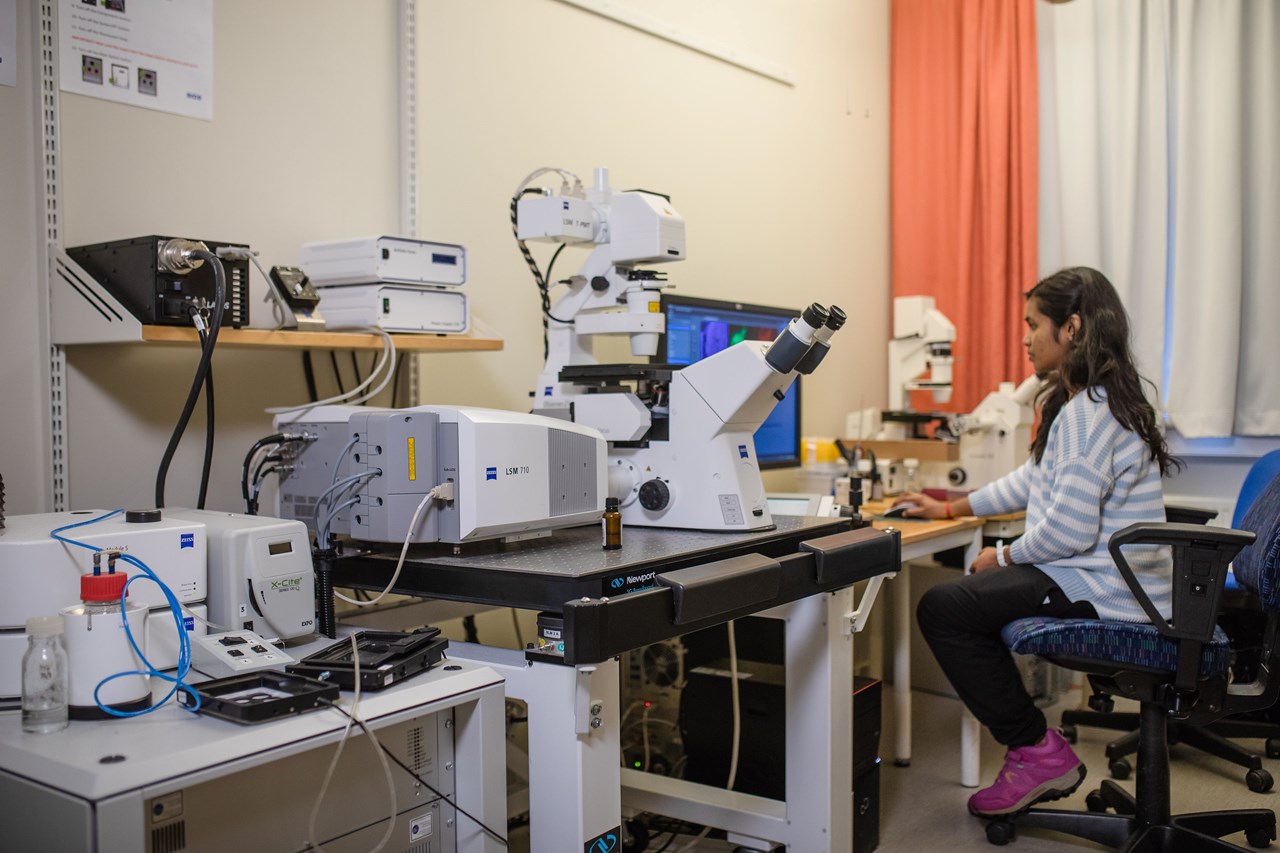 More Details
Location:
Oncology Department. Hospital Building 6M, 3rd floor
Price:
250kr/hr - Driver's license 2000kr
Objectives:

Fluar 5x/0.25
Plan Apochromat 10x/0.45
Plan Apochromat 20x/0.8
C-Apochromat 40x/1.2 W
Plan Apochromat 63x/1.4 Oil DIC III

Laser Lines:
405nm, Argon Laser (458nm, 488nm, 514nm), 561nm and 633nm
Techniques:
Confocal Imaging
Nikon A1R Confocal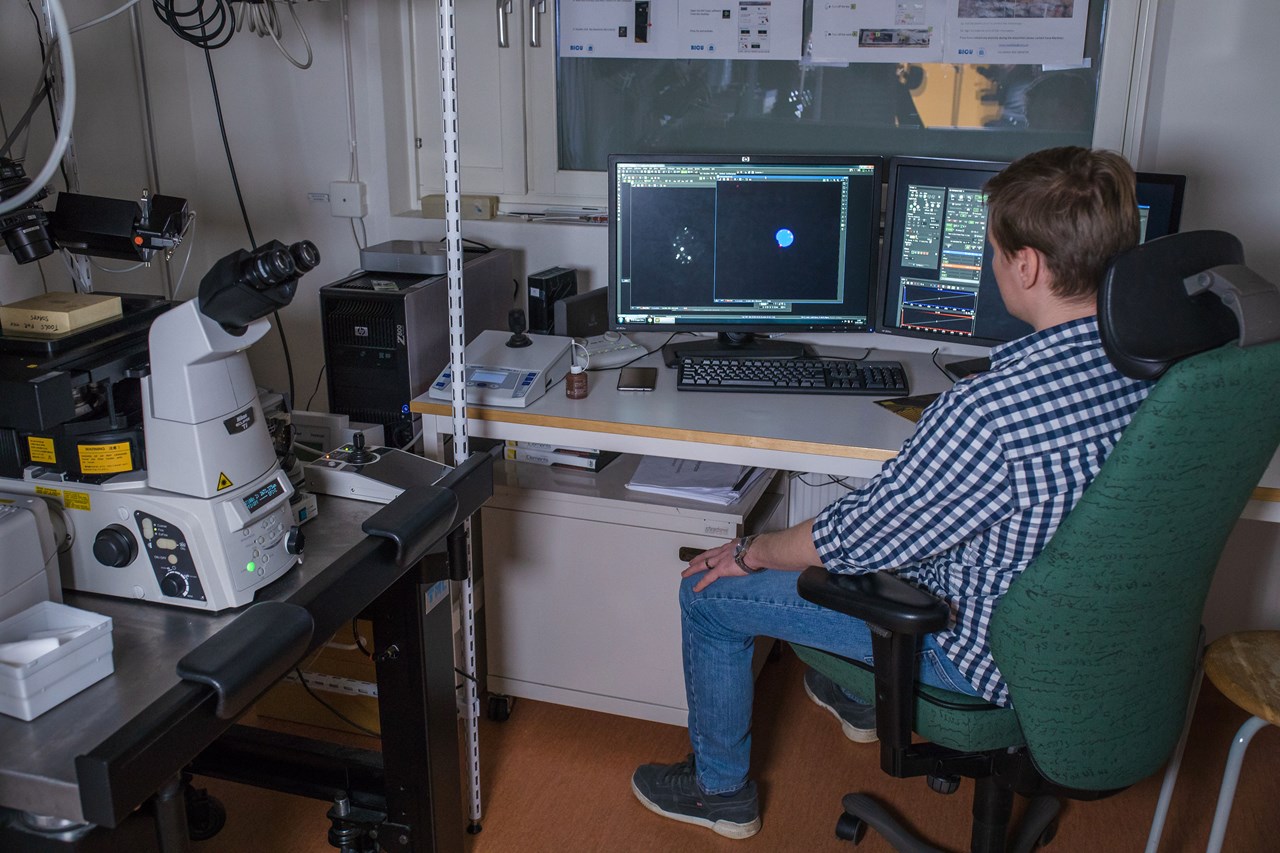 More Details
Nikon A1R confocal (LSM) controlled by Nikon NIS Elements interface with a Nikon Eclipse Ti-E inverted microscope.
Location:
KBC Building 6thfloor Department of of Medical Biochemistry and Biophysics.
Room:
A6 44 15
Price:
250kr/hr - Driver's license 2000kr
Objectives:
10X (NA 0.45) DIC 20X (NA 0.75) DIC 60X oil (NA 1.40) DIC 100X Tirf oil (NA 1.49) DIC
Laser lines:
405nm, 457, 477, 488, 514nm, 561nm and 647nm
Techniques:

Confocal microscopy (30 frames/sec)
Full spectral resolution (spectral and conventional detectors)
STORM microscopy
TIRF microscopy
Epifluoresence microscopy

Other specifications:

Live cell incubation
Micromanipulators
Perfect focus system

Manuals for Download:
Leica Widefield Thunder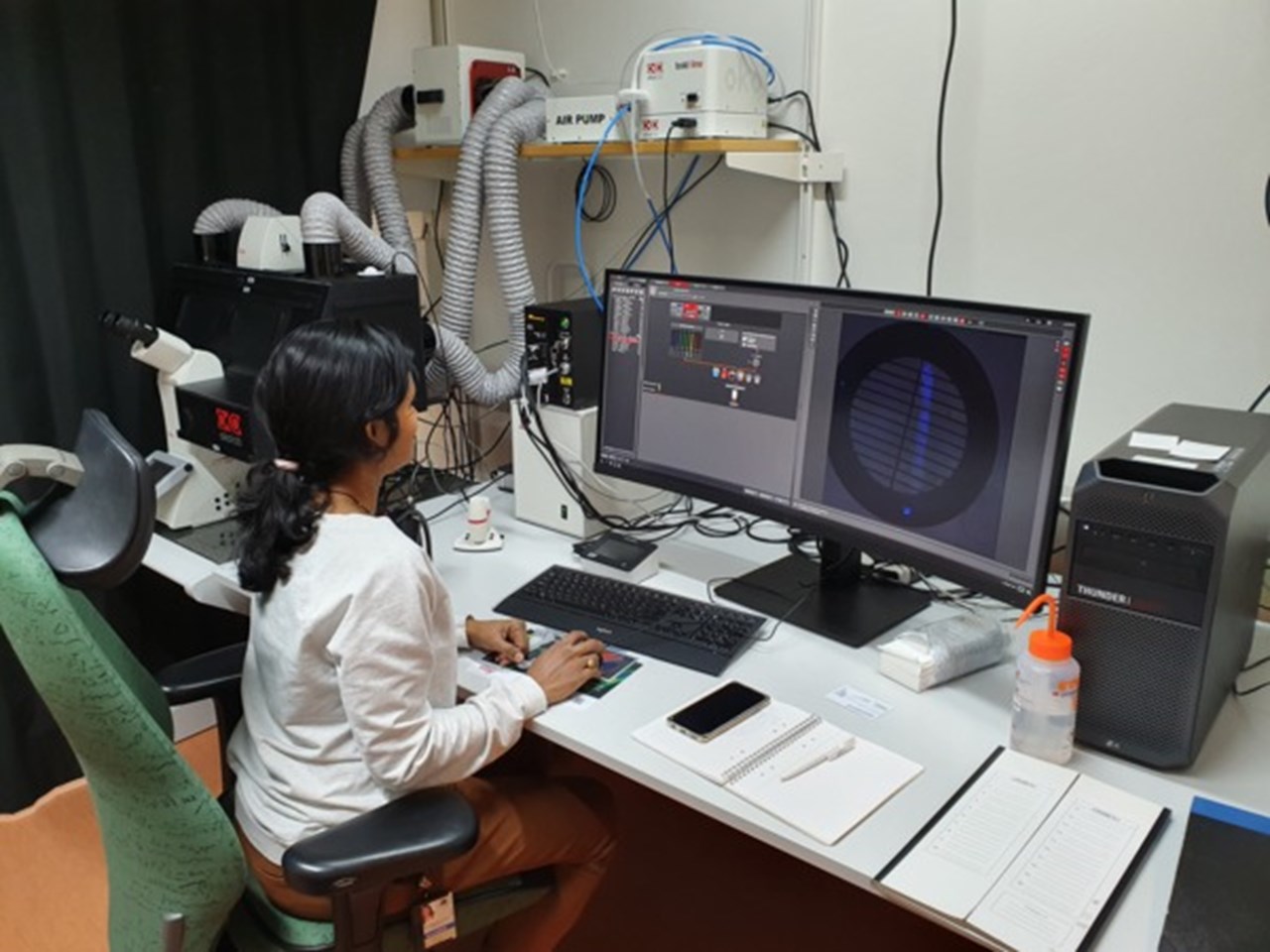 More Details
Location:
KBC Building 6th floor Department of of Medical Biochemistry and Biophysics.
Room:
A6 44 15
Price:
150kr/hr - Driver's License 2000kr
Objectives:

N PLAN 5x/0.12 PH0
HC PL FLUOT AR 10x/0.32 PH1
HC PL FL L 20x/0.40 CORR PH1
HC PL APO 20x/0.80
HC PL FLUOTAR L 40x/0.60 CORR
HC PL APO 40x/0.95 CORR
HC PL APO 63x/1.40-0.60 OIL
HC PL FLUOTAR 100x/1.32 OIL PH3

Techniques:

Widefield
Live cell imaging
Computational clearance: Thunder
Nikon Widefield/Tirf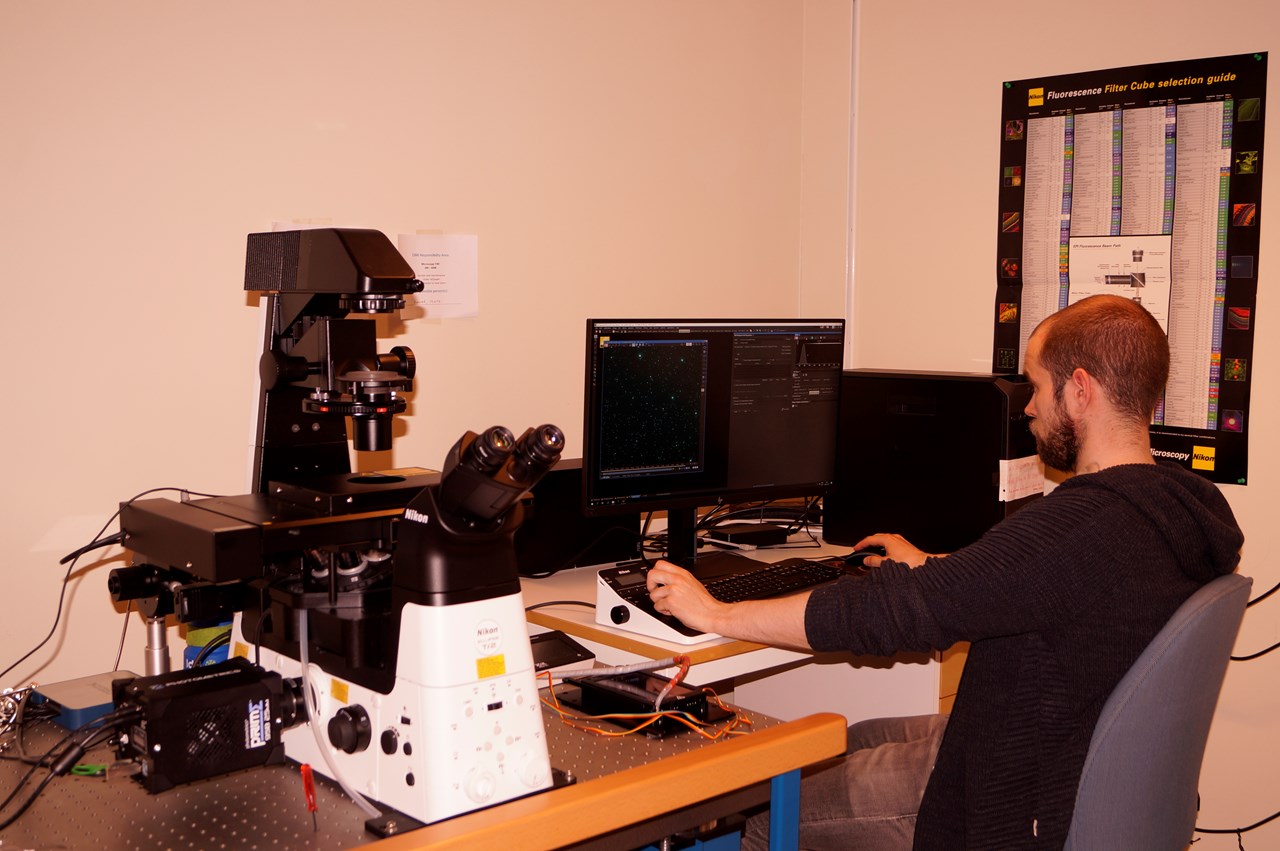 More Details
Location:
NUS, building 6M
Room:
06M-RUM-6098
Price:

Wide field: 150kr per hour. Driver's license: 2000kr
TIRF unit: 200kr per hour. Driver's licence: 2000kr
FRAP unit: 200kr per hour. Driver's licence: 2000kr

Objectives:

Plan Apo λ 4x/0.20
Plan Apo λ 20x/0.75
S Plan Fluor RLWD 40x/0.60
Apo TIRF 60x/1.49 Oil

Illumination:

LED (390, 475, 510, 555, 575, and 635)
Lasers (Tirf microscopy) 488nm (50mW) and 561nm (50mW)

Filter cubes currently installed:

DAPI Filter Cube (32mm) (EX 392/23, DM 409, BA 447/60)
FITC Filter Cube (32mm) (EX 474/27, DM 495, BA 525/45)
mCherry Filter Cube (32mm) (EX 562/40, DM 593, BA 640/75)
Cy5 Filter Cube (32mm) (EX 635/18, DM 652, BA 680/42)
TIRF-Quad Filterset 405/488/561/640 Nikon

Techniques:

Widefield
Live cell imaging
Tirf microscopy

Other specifications:
Supporting Documents:
IncuCyte Live-cell Analysis System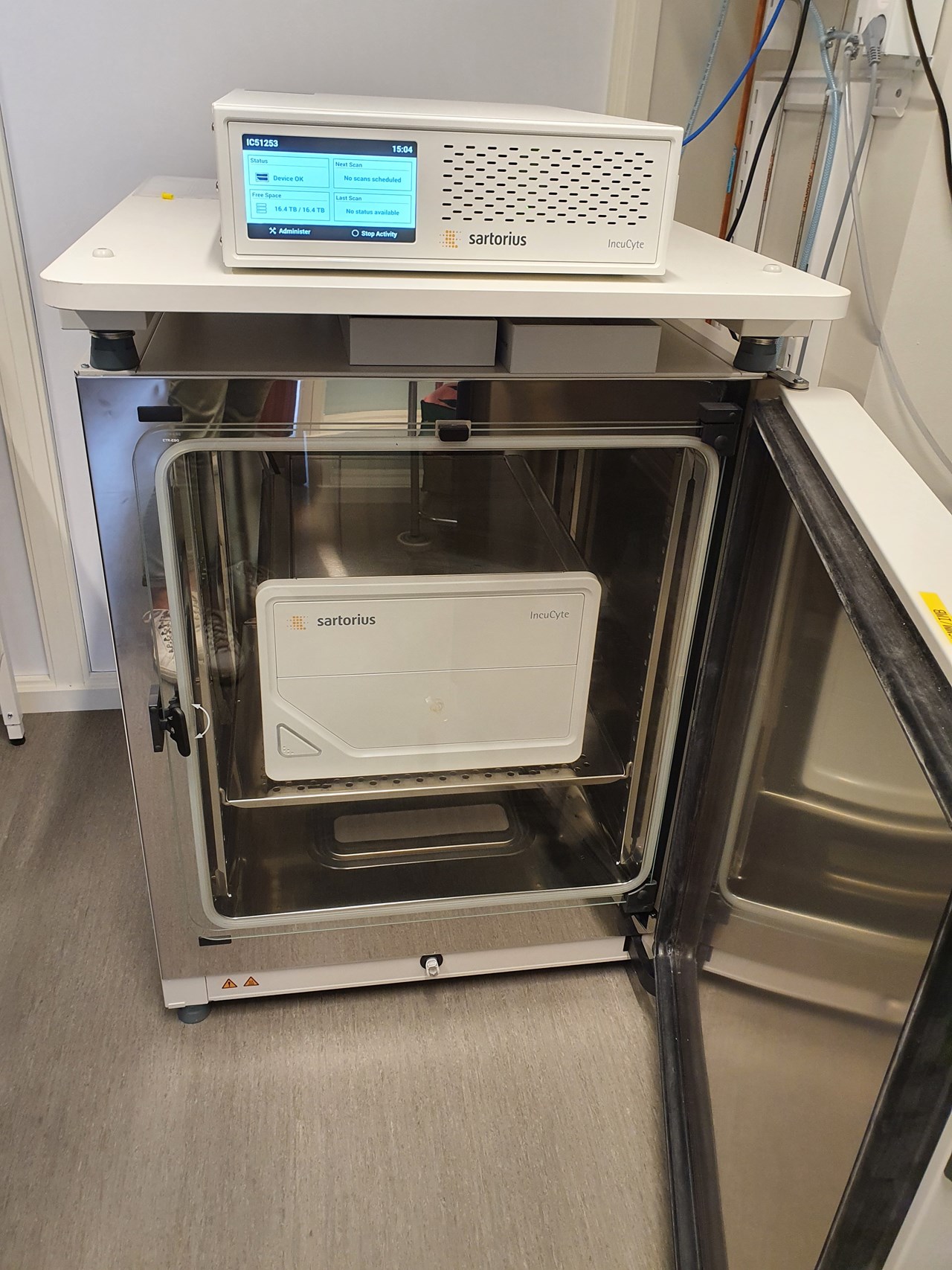 More Details
Location:
IMB, D2 wing 5th floor

Room:
D2-524

Objectives:
10x, 20x

Techniques:
Live cell imaging: Angiogenesis, Antibody internalization, Apoptosis, Cell cycle, Chemotaxis, Cytotoxicity, Immune cell killing and clustering, Immunocytochemistry, NETosis, Neurite analysis, Phagocytosis, Proliferation, Scratch wound migration and invasion, Spheroids.

More information:
https://www.essenbioscience.com/en/products/incucyte/incucyte-s3/
Imaris Workstation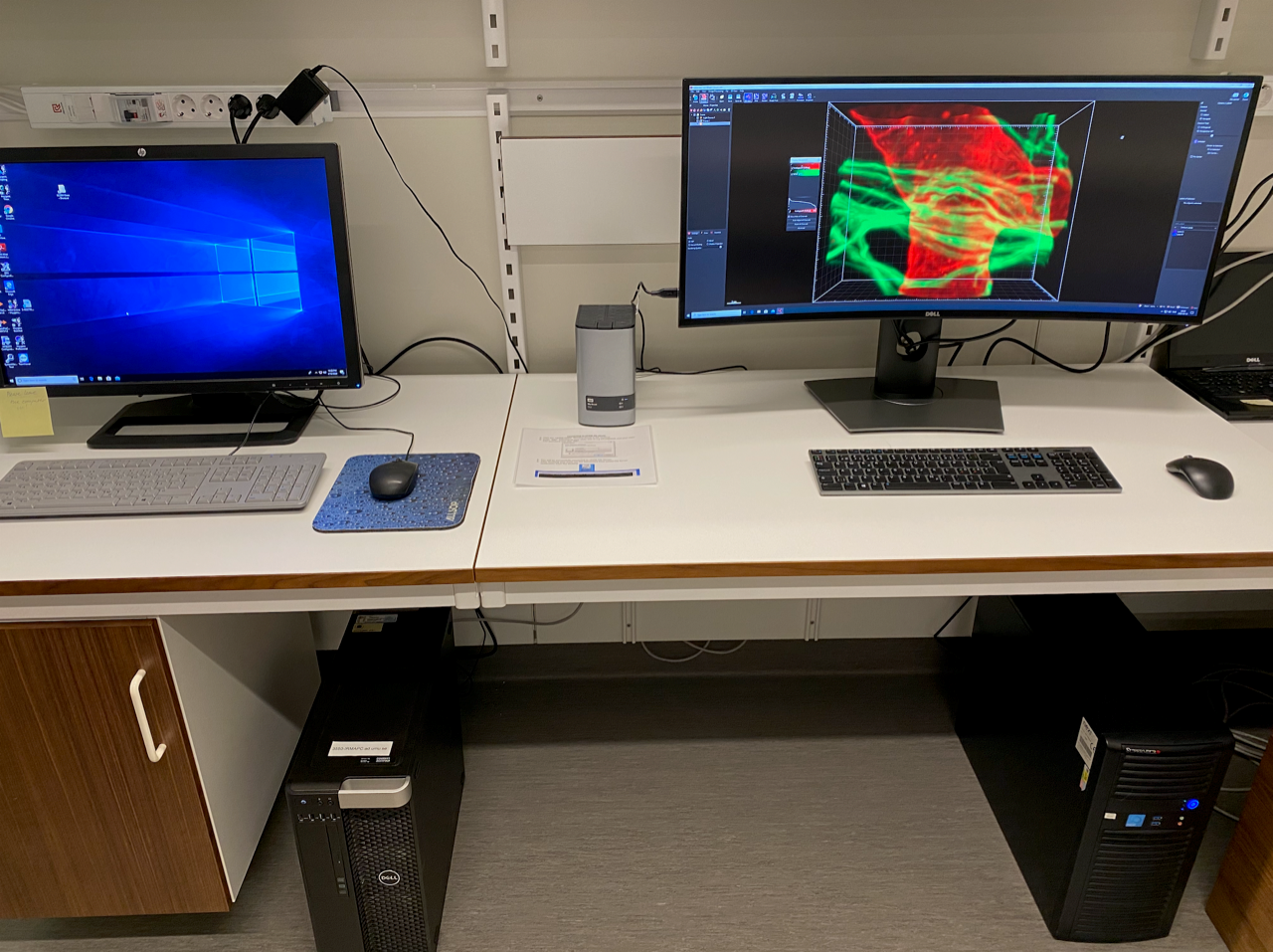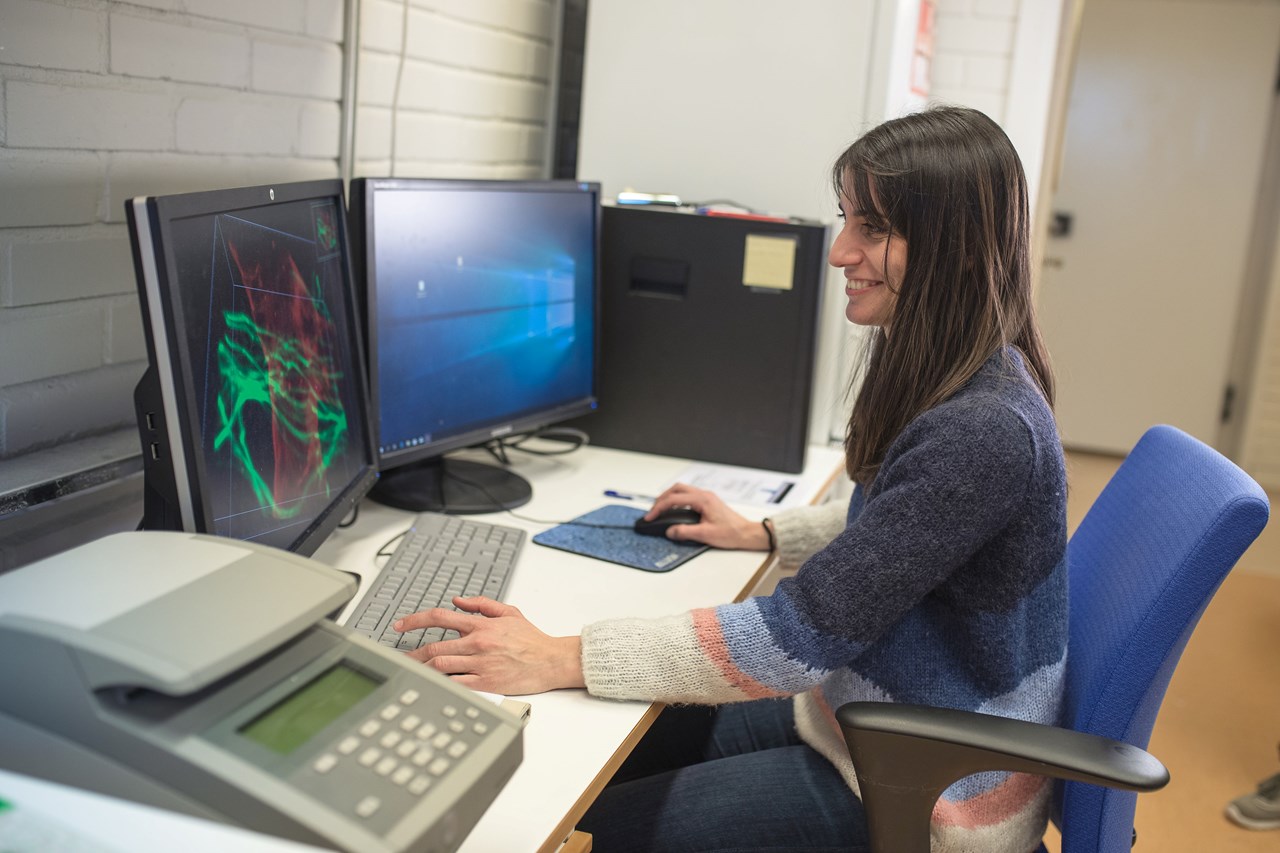 More Details
Location:
IMB, D2 wing 5th floor
Room:
D2-524