Transmission Electron Microscopy (TEM)
UCEM has three Transmission Electron Microscopes:
Jeol 1230 TEM
JEOL 1230 Transmission Electron Microscope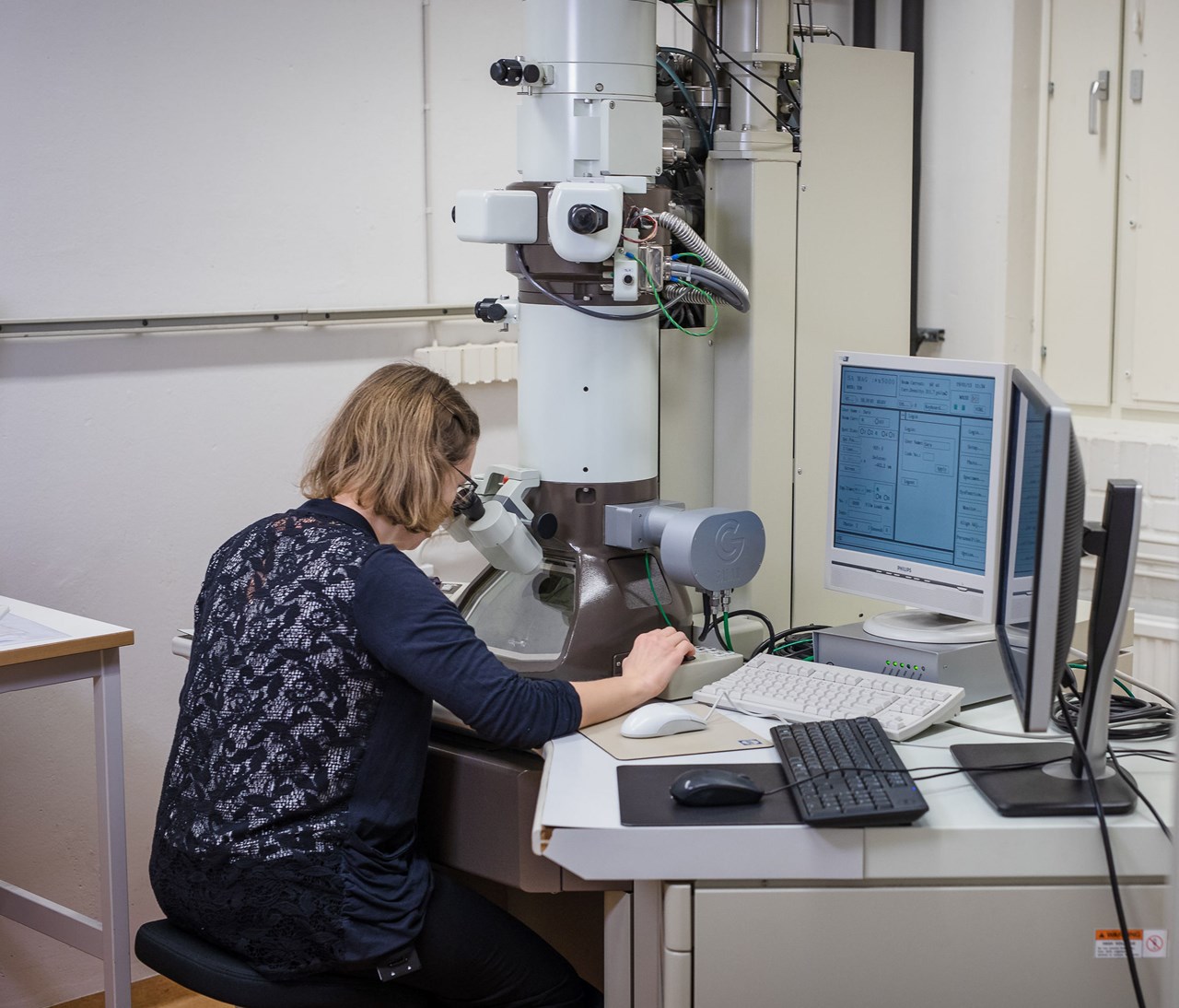 More Details
Level 6 KBC - C Building - Map to KBC can be found here
Technical Specification:




Accelerating voltage: Operating at 80 kV
Electron source: Tungsten filaments
Detector: Gatan Orius 2k x 2k pixel CCD camera
Data acquisition software: Gatan Digital Micrograph
FEI Talos L 120C
Talos L120C Transmission Electron Microscope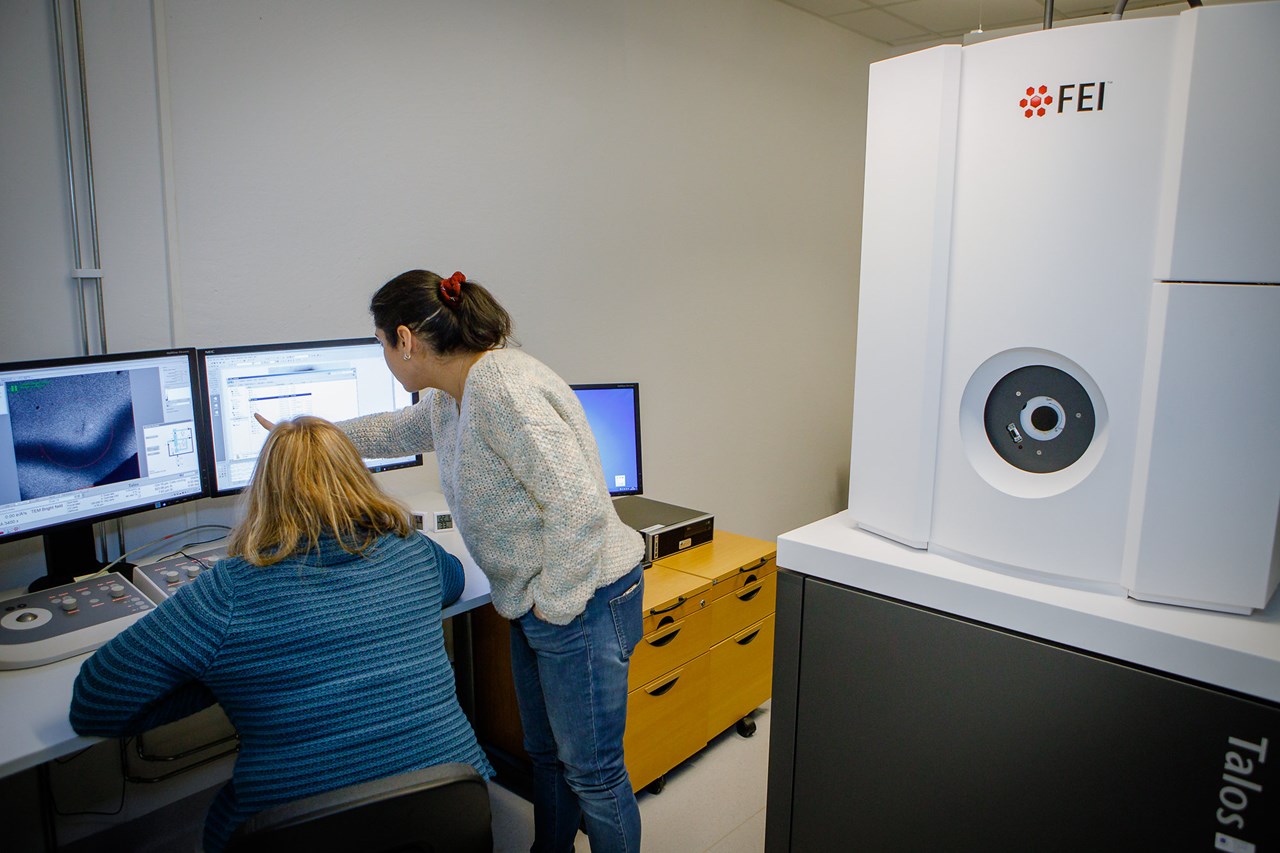 More Details
UCEM facility in KBC building - Map to UCEM can be found here
Technical Specification:


Accelerating voltage: Operating at 120 kV
Electron source: LaB6 filament
Detector: Ceta 4k x 4k CMOS
Data acquisition software: TIA, Tomography, Maps and SerialEM
Tomography high tilt holder -70 to 70
Gatan 626 cryo holder
FEI Titan Krios TEM

Titan Krios Transmission Electron Microscope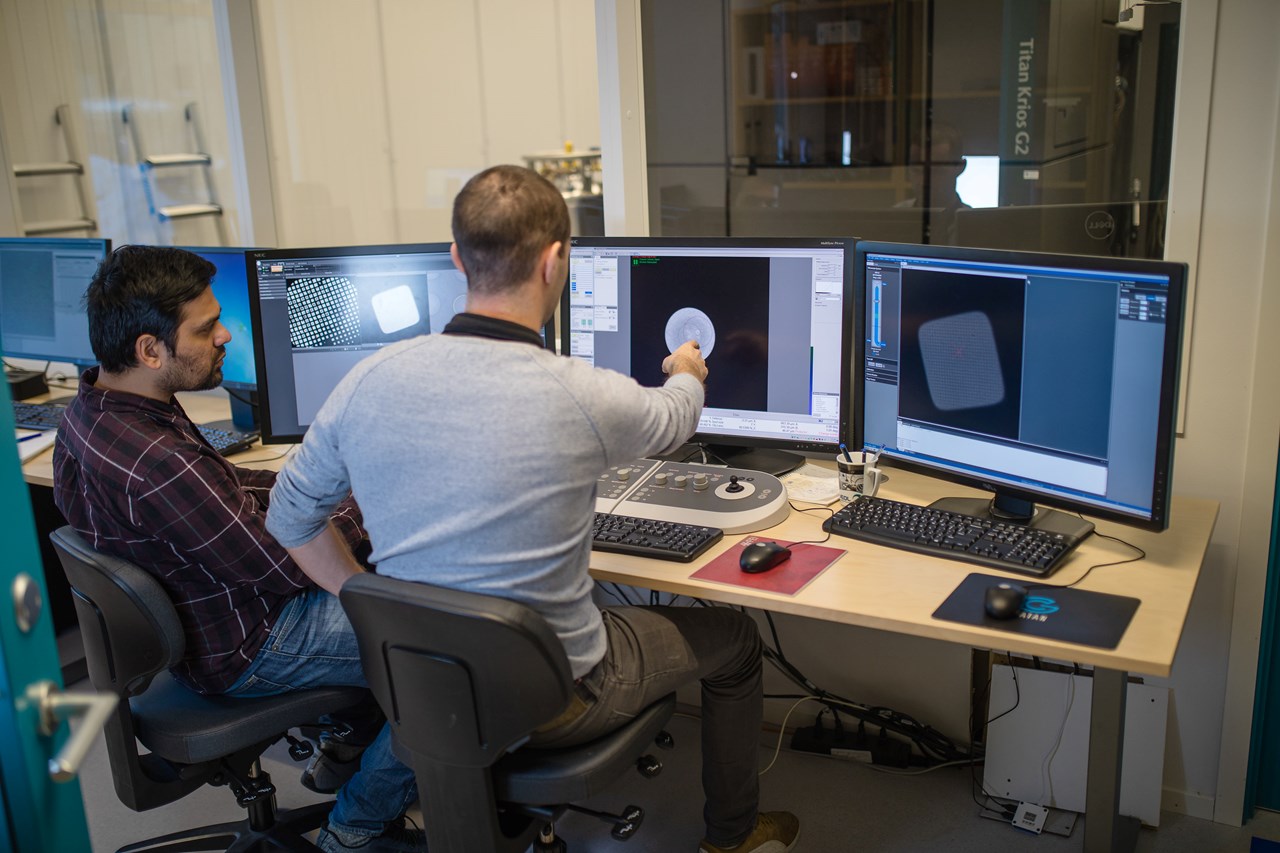 More Details
UCEM facility in KBC building - Map to UCEM can be found here
Technical Specification:




Accelerating voltage: Operating at 300 kV
Electron source: X-FEG
Detector: Ceta 4k x 4k CMOS, Falcon3 4k x 4k direct electron detector, Gatan K2 BioQuantum (energy filter) 4k x 4k direct electron detector
Configurations: Autoloder for 12 grids, Volta phase plate, data collection at cryo conditions
Data acquisition software: TIA, EPU, Tomography, Gatan Digital Micrograph, SerialEM
TEM Preparation Equipment
Ultra microtomes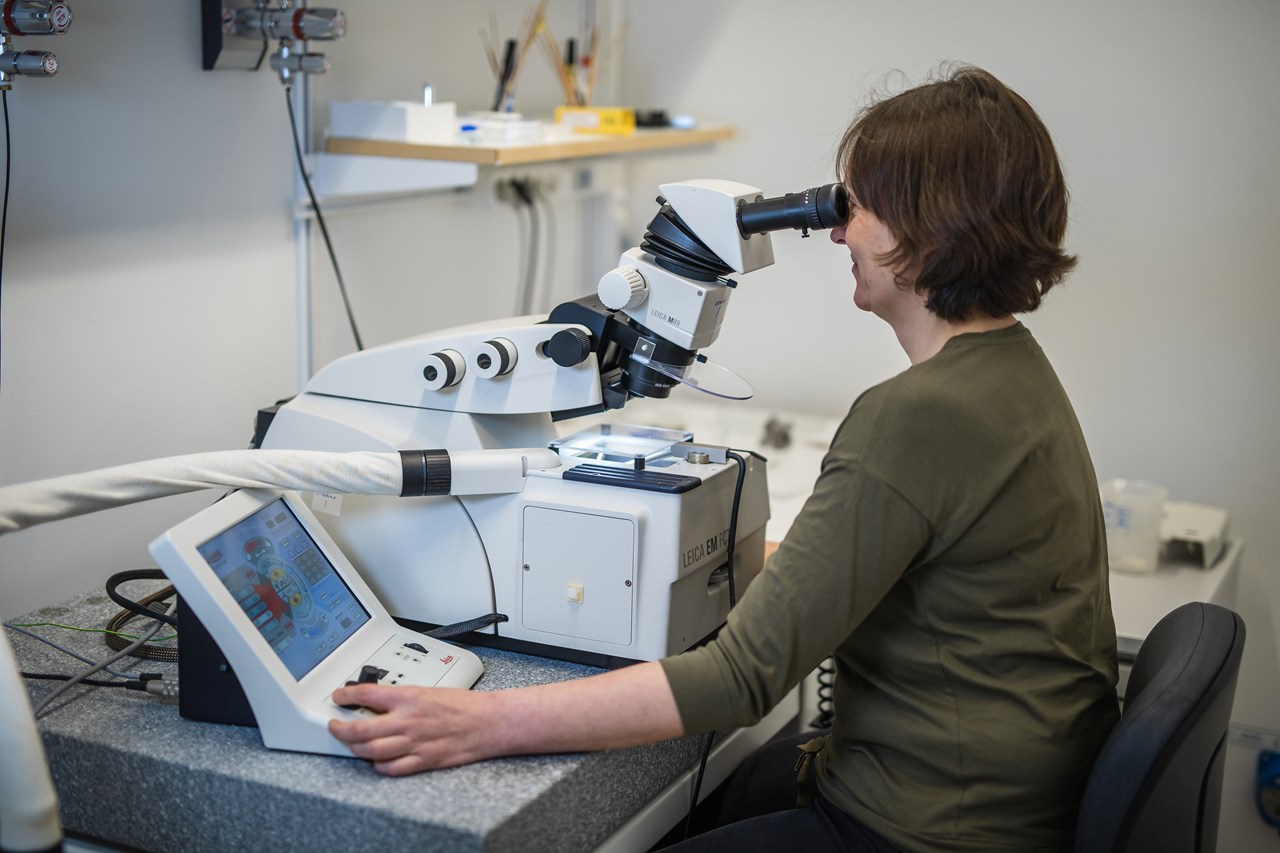 More Details
Provides easy preparation of semi- and ultrathin sections as well as perfect, smooth surfaces of biological and industrial samples.
- Paper-free reporting Easy download of user-, sample-, knife- and storage parameters, via USB, to Excel (with 10.4" Controller only)
- Improved visibility of knife-specimen area Three independent, built-in, brightness-controlled LED light sources and the additional LED Spotlights provide outstanding illumination
- More workspace on your table Ioniser and EM FC7 control is integrated into the Leica EM UC7 Unit - no additional controller is necessary
- Knife use information Dividing the diamond knife into segments with the 10.4" High End Controller ensures optimum usage of the complete length of the knife edge
High Pressure Freezer (HPF): Leica EM HPM 100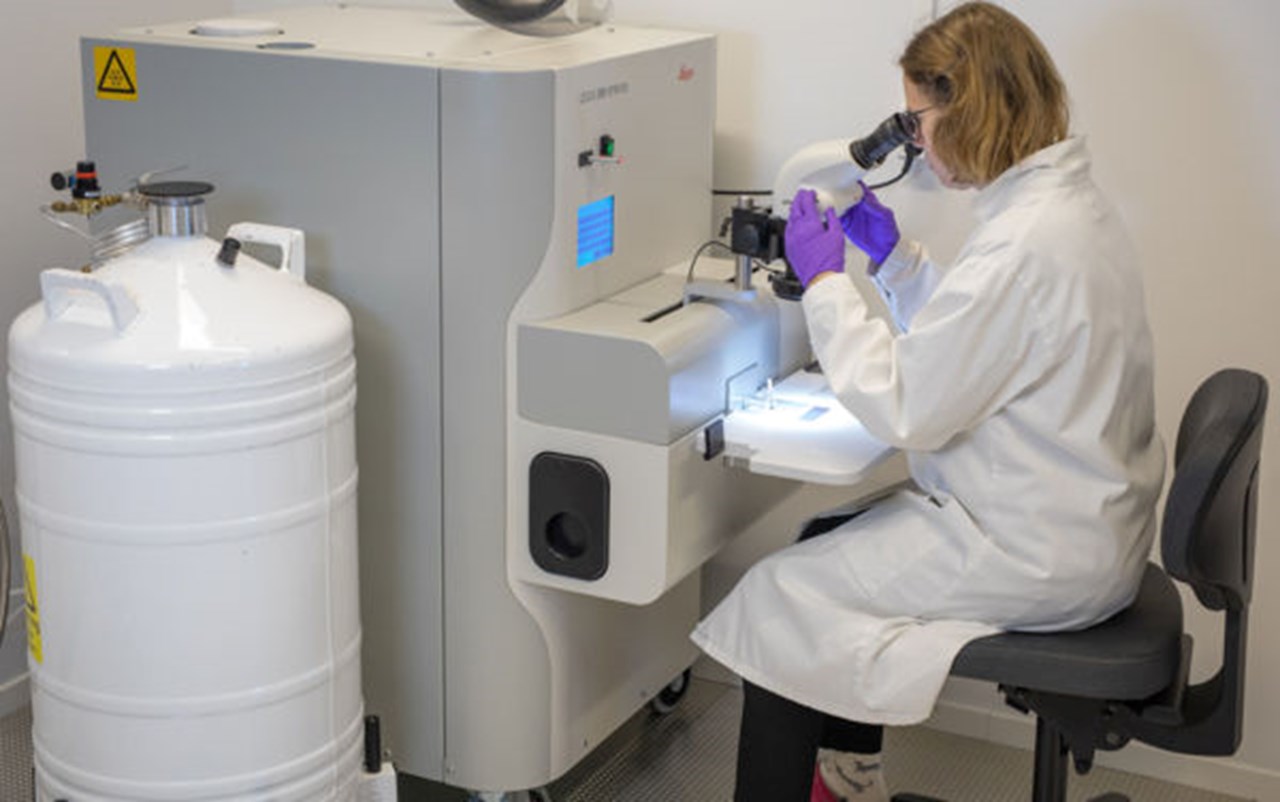 More Details
- The Leica EM HPM100 is a high pressure freezing system for vitrifying samples up to 200µm in thickness.
- The unique 6 mm diameter carrier system of the Leica EM HPM100 allows even more sample area to be frozen, like no other high pressure freezing instrument.
- The state-of-the-art design of the Leica EM HPM100 enables express sample handling and easy use with excellent freezing results.
FEI Vitrobot Plunge Freezing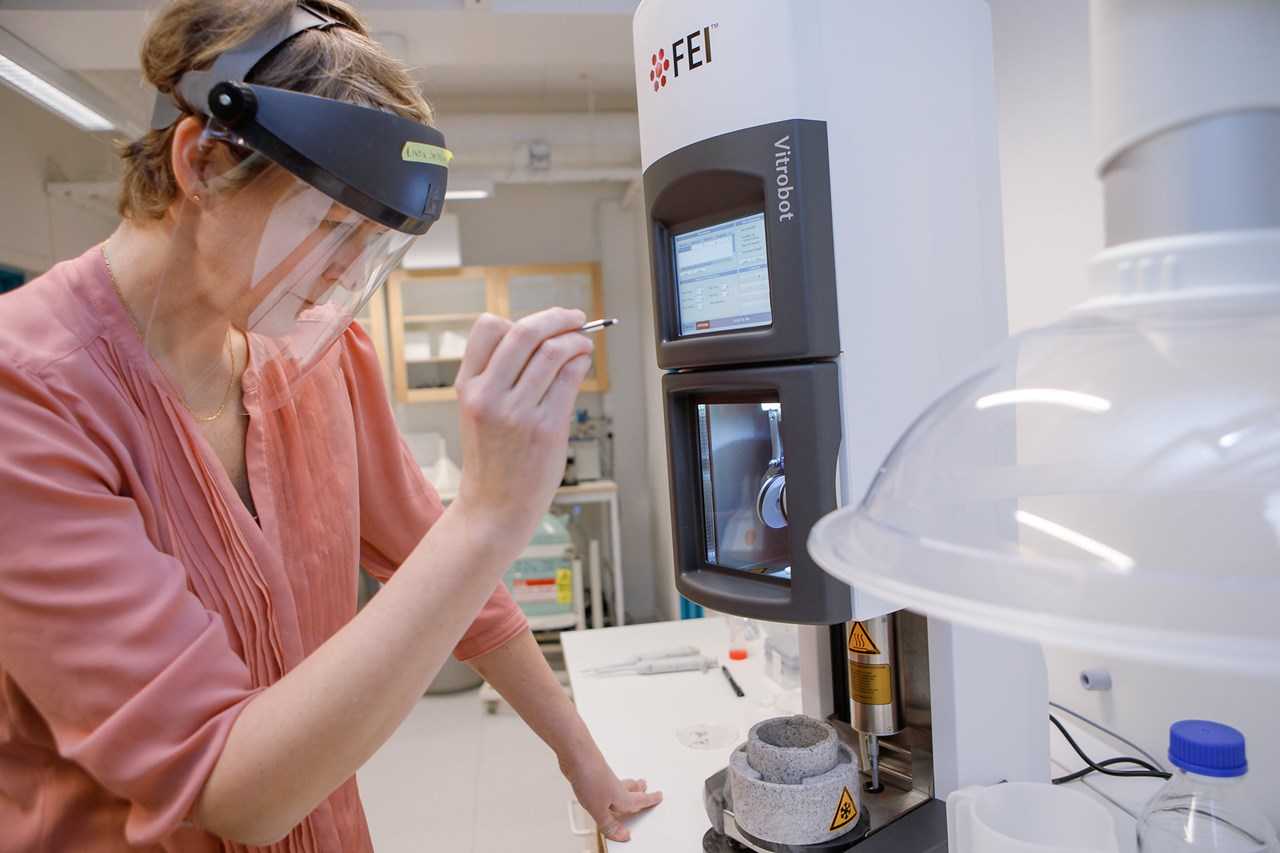 More Details
Vitrobot completely automates the vitrification process to provide fast, easy, reproducible sample preparation - the first step in obtaining high quality images and repeatable experimental results.

- User-defined settings ensure maximum flexibility
- Fully automated and reproducible vitrification of suspensions
- High vitrification quality through controlled environment
- High sample throughput
- An effective user interface assures easy and flexible instrument control
PELCO easiGlowTM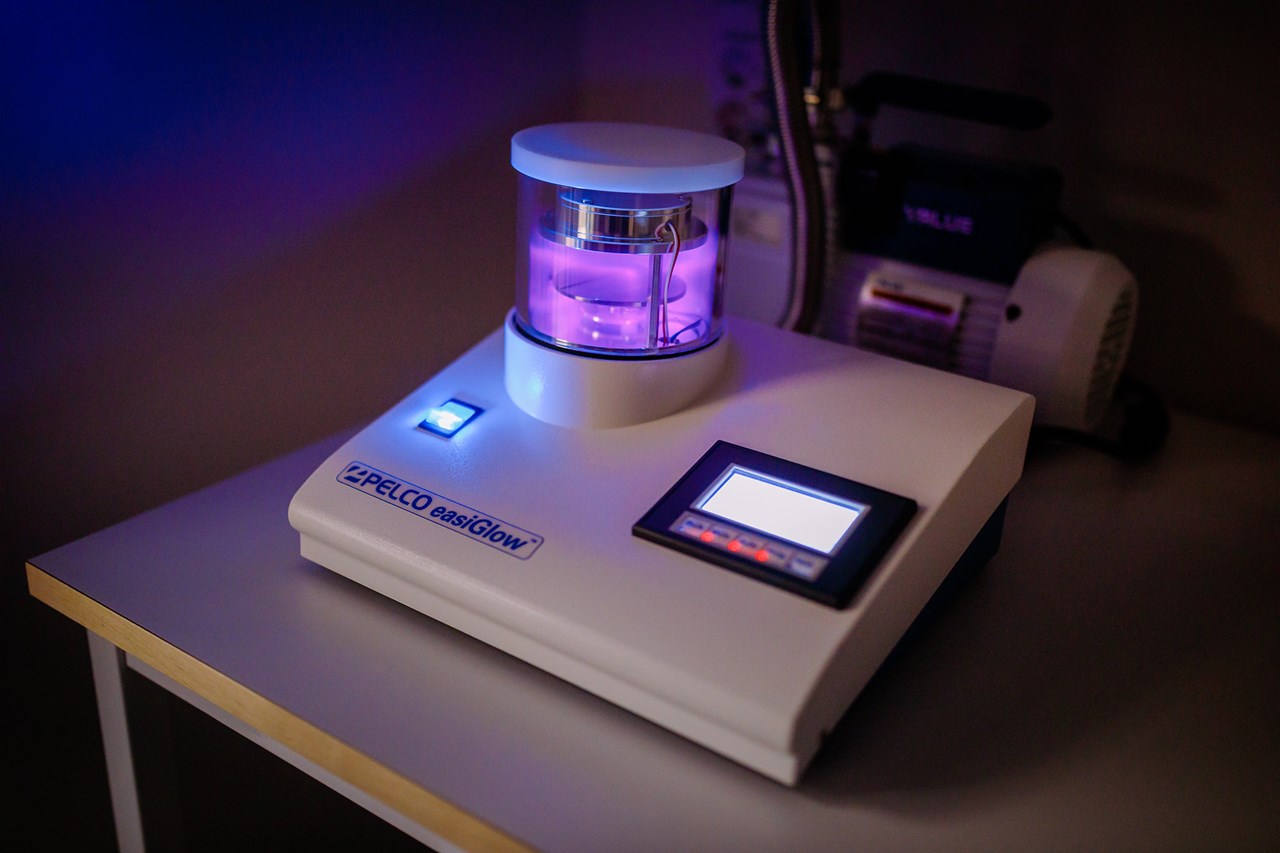 More Details
For one of the most common glow discharge applications, making TEM support films or grids hydrophilic using air, the PELCO easiGlow™ uses an automated and quick cycle with fully selectable parameters. The microprocessor controlled system also offers full manual control for all parameters and an advanced protocol programming feature for custom designed glow discharge applications. Parameters and protocols can be stored to facilitate consistent glow discharge results. Open the shipping box, plug it in, and you can start.

- Optimized for cleaning TEM grids
- Precise and easy vacuum setting
- Short cycle times
- Consistent results
- Auto, programmed and manual mode
- Intuitive touch screen for display and operation
- Supports hydrophilic/hydrophobic and negative/positive modes
- Affordable, compact, standalone system
PELCO BioWave® Pro+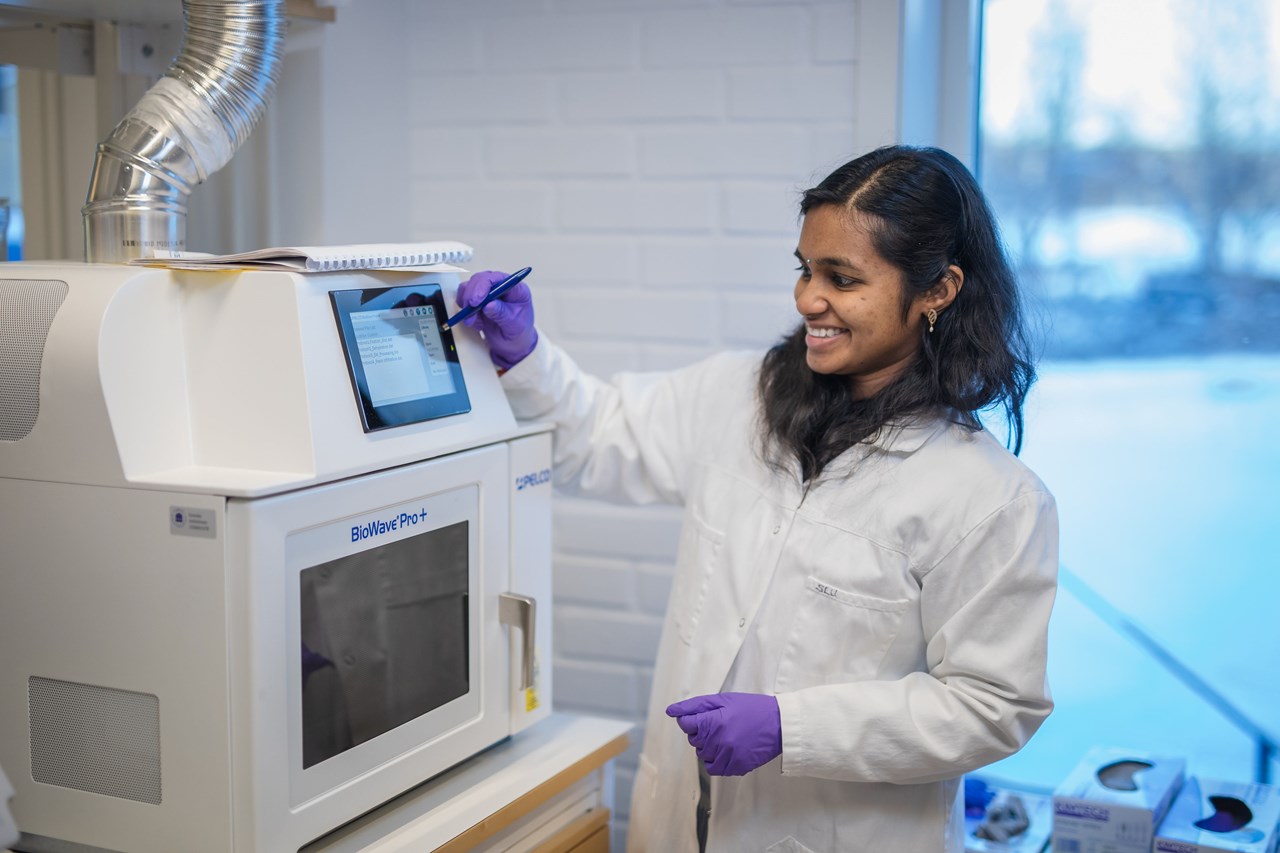 More Details

The new design of the PELCO BioWave® Pro+ introduces features that improve efficiency and streamline functionality. It is built on trusted technology and adds enhancements for efficient laboratory processing. This new tissue processor further enhances processing of tissue for diagnostic and research TEM, immunofluorescence and confocal specimen processing.
The PELCO BioWave® Pro+ meets the current needs of the modern laboratory with up-to-date technology. Clickable text navigation allows for simple and clear screen interaction. Live run-time graphs provide an easily accessible view of the current protocol in real-time. The simplified protocol selection screen allows one-touch access to loaded and custom protocols.
Low Vacuum Coater Leica EM ACE200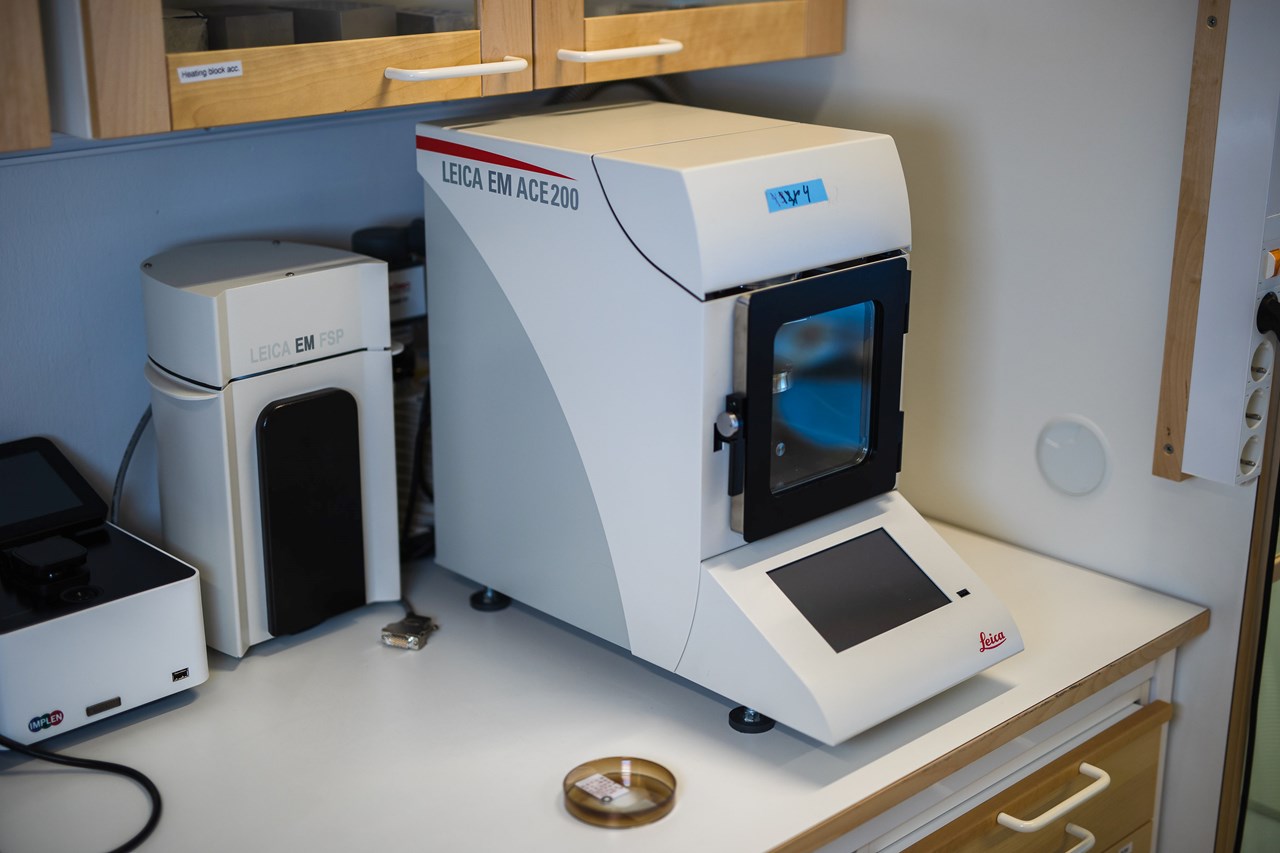 More Details
Producing homogenous and conductive metal or carbon coatings for SEM and TEM analysis was never before more convenient than with the Leica EM ACE200 coating system.
Configured as a sputter coater or carbon thread evaporation coater, perfectly reproducible results can be achieved in the fully automated system. If both methods are required for your analysis Leica Microsystems offers a combined instrument with interchangeable heads in one instrument.
Various options as Quartz Crystal Measurement, Planetary Rotation, Glow Discharge and Exchangeable Shielding complete this Low Vacuum Coater.
Implen NanoPhotometer N60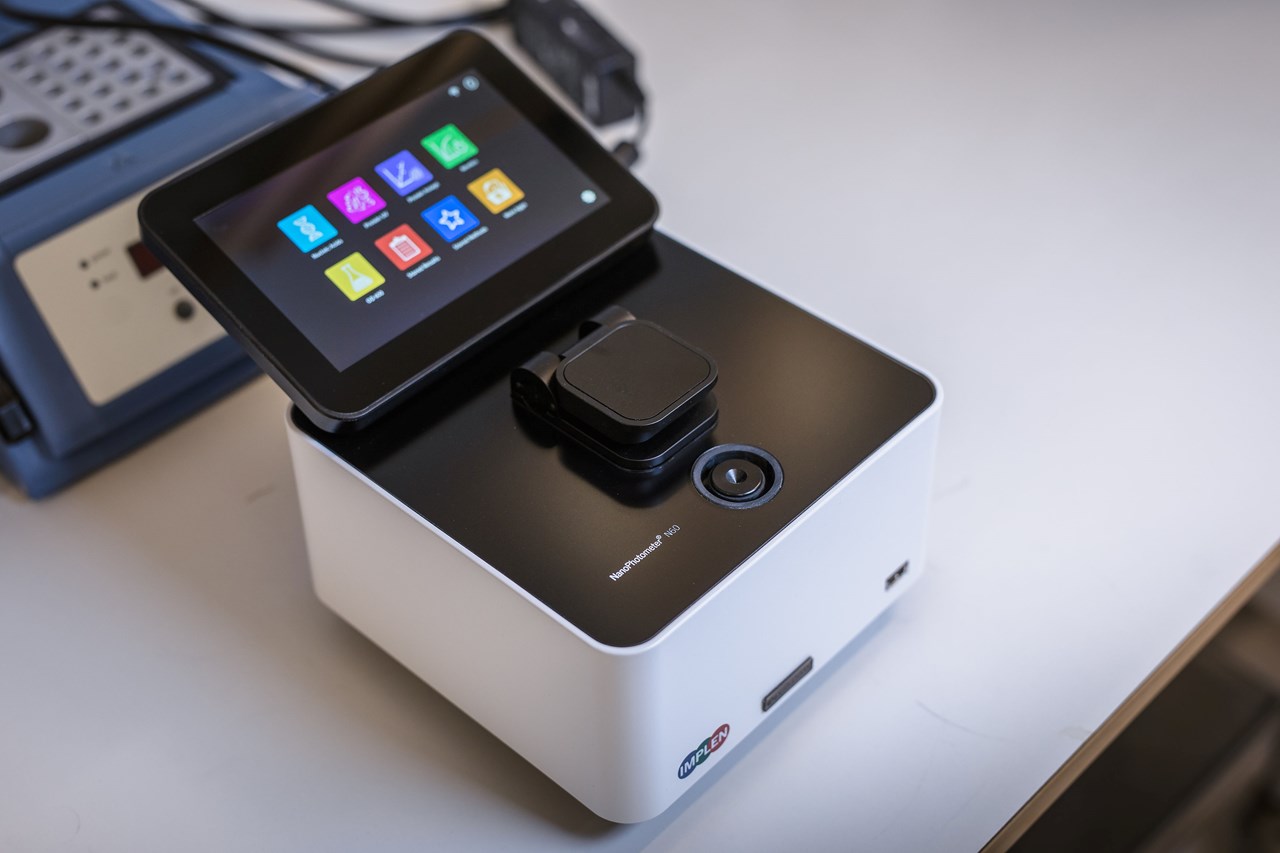 More Details
Best in class microvolume spectroscopy with the convenience of a lightweight portable instrument with a built-in 7 inch LCD glove compatible touchscreen with flexible unit control options. Built-in vortex provides sample uniformity of homogenous samples for the highest degree of accuracy with the smallest sample volume with as little as 0.3 µl. Illuminated quartz sample surface allows for easy sample application.
Reichert/Leica UltraCut S ultramicrotome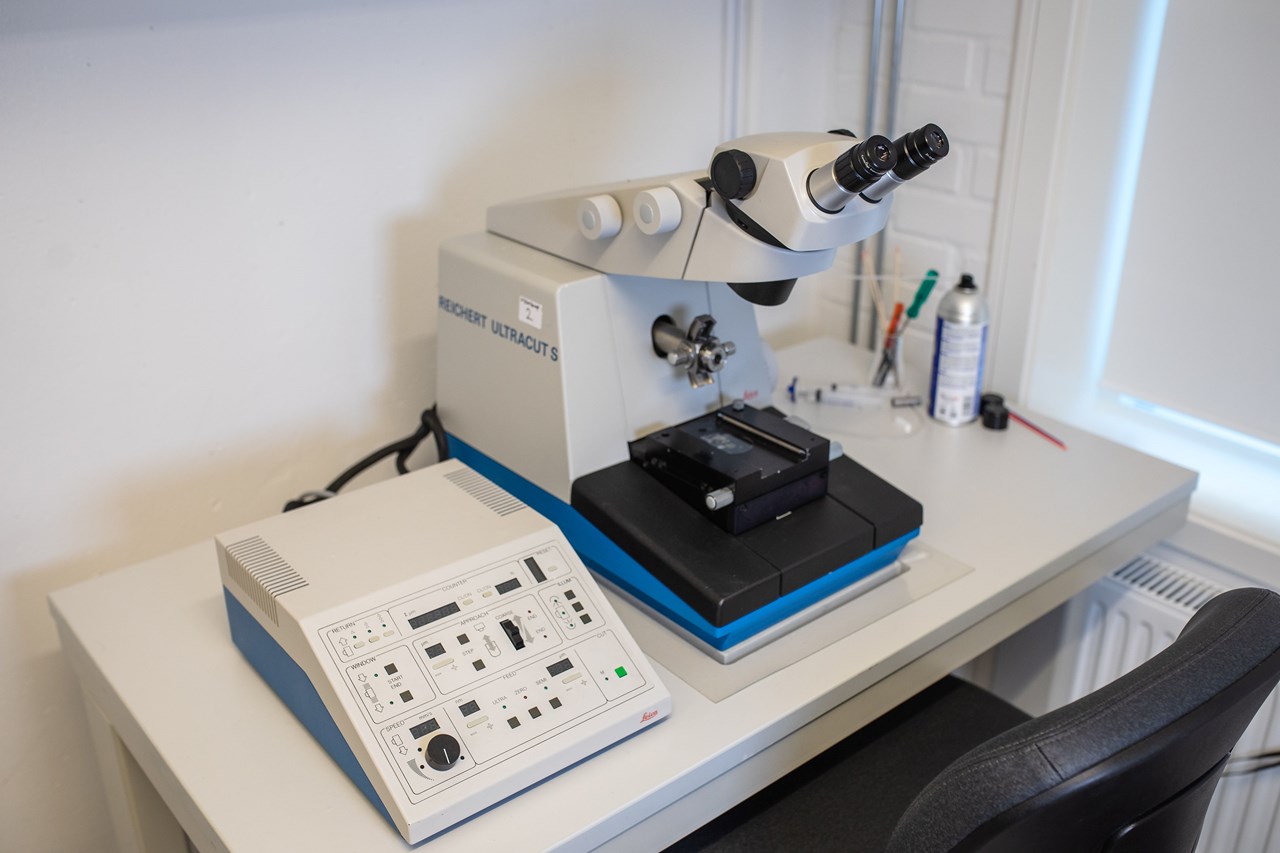 More Details
The Reichert/Leica UltraCut S ultramicrotome is designed for extremely precise cutting, and achieves consistent high quality ultra thin sections for electron microscopy, or semi-thin sections for light microscopy.
It features a continuous feed range from 0 to 2.5 microns and has adjustable cutting speeds of 0.1 to 50 mm/sec. It has a 6V, 10W halogen illumination system.
Glass Knifemaker Leica EM KMR3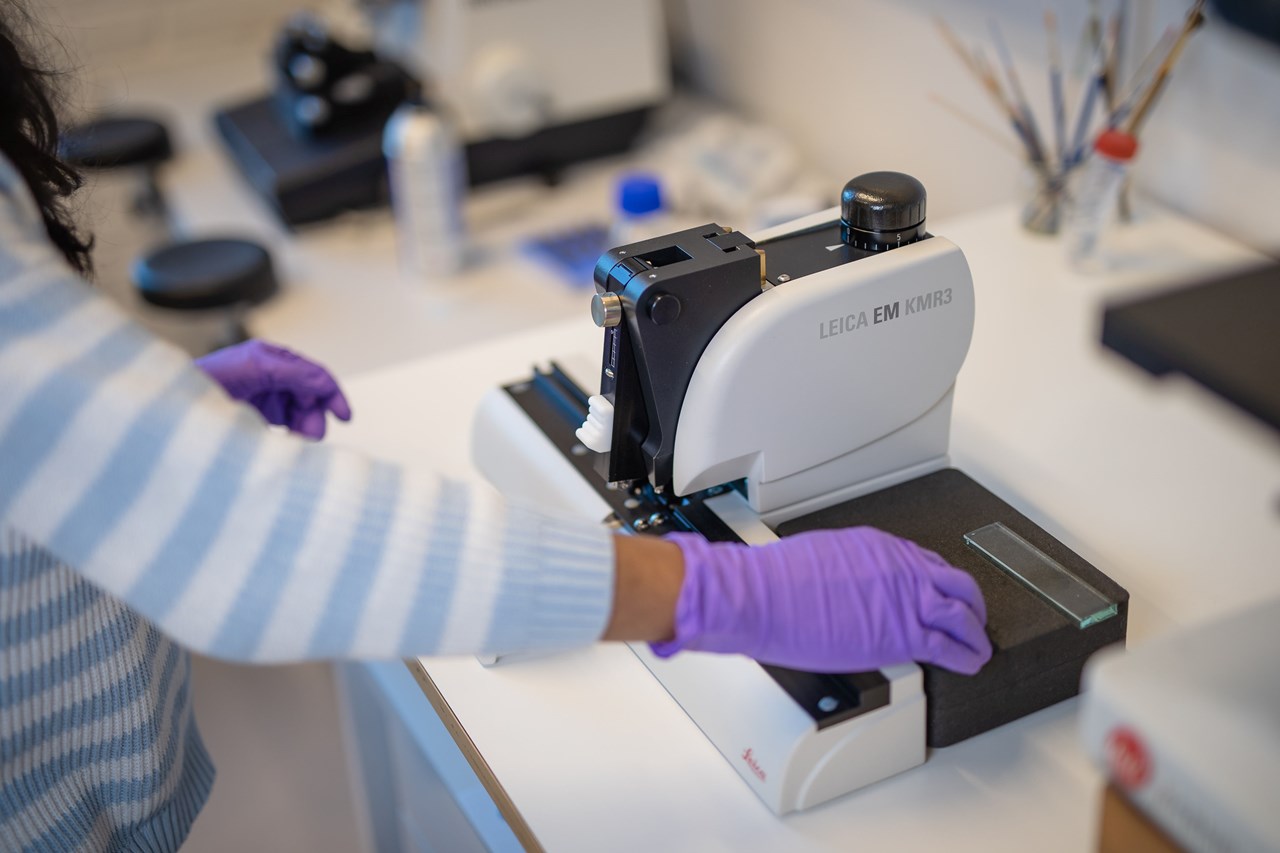 More Details
The balanced break method of the Leica EM KMR3 ensures perfect glass knives in three thicknesses 6,4 mm, 8 mm and 10 mm.
Ease of Use
The Leica EM KMR3 is easy to use and the automatic reset of breaking wheel and the scoring mechanism to "default" after a breaking cycle avoids handling errors.
Leica EM AFS2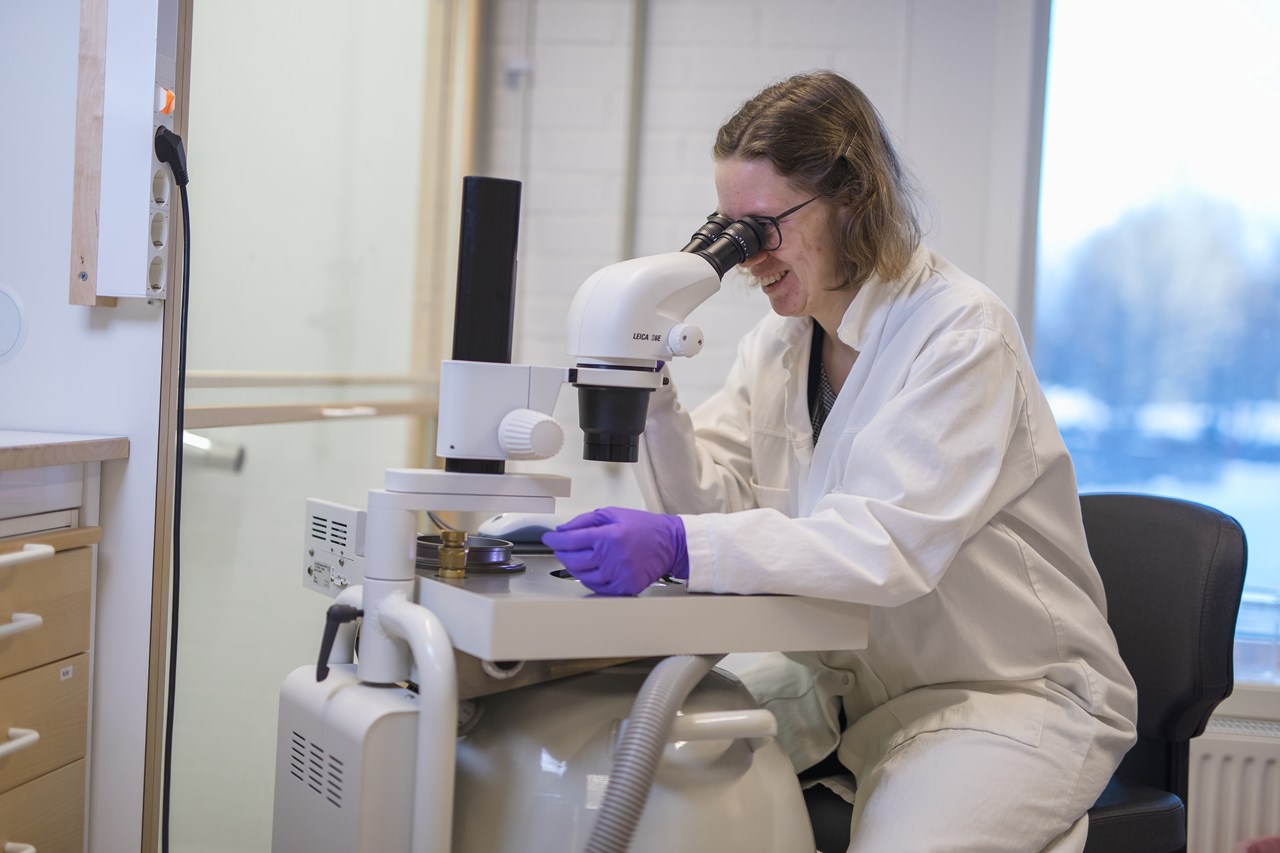 More Details
The Leica EM AFS2 performs freeze substitution and progressive lowering of temperature (PLT) techniques and allows low temperature embedding and polymerization of resins.
The Leica EM FSP (freeze substitution processor), an automatic reagent handling system combined with the Leica EM AFS2, dispenses reagents for both freeze substitution and PLT applications. The LED illumination from within the chamber and the attached stereomicroscope for viewing and positioning of samples ensures ease of use.