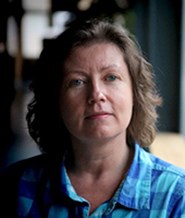 Berit Åström
Associate Professor of English Literature. My research is in gender studies and cultural studies with a focus on motherhood studies.
Contact
Works at
A, Humanisthuset, korridor HE2
Umeå universitet, 901 87 Umeå
I teach literature, language proficiency, academic writing and cultural studies, and supervise BA and MA theses. I also supervise doctoral students.
My research is in the fields of gender studies and cultural studies. In recent years I have mainly been working with motherhood studies, particularly the representation of mothers in literature, film and television. This has resulted in articles, for example, on the cultural suspicion towards breastmilk in advice literature for new mothers and on adulterous mothers in crime fiction.
The trope of the dead or absent mother has also fascinated me. I have published several articles on absent mothers in television melodrama and animated films. In June 2015, I organised an international conference on the subject, in which scholars from eleven countries and three continents participated. The project has resulted in an anthology, The Absent Mother in the Cultural Imagination: Missing, Presumed Dead, which was published by Palgrave in August 2017.
I am a member of the steering committe for The Swedish Network for Family and Kinship Studies.
Research projects
30 June 2014 until 31 December 2014
1 August 2011 until 31 July 2013