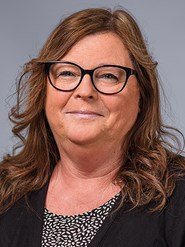 Britt-Marie Lindgren
I am a senior lecturer and associate professor in nursing at the department of nursing. I am also a psychiatric and mental health nurse.
Works at
Biologihuset, Hus C, plan 3, 4 och 5. Hus D2, plan 3.
Umeå universitet, 901 87 Umeå
My name is Britt-Marie and I am currently Head of the Department of Nursing. Basically, I have a job as a senior lecturer and I am also an associate professor of nursing. My background in healthcare is as a psychiatric and mental health nurse. I ...
have an assignment as head of the department,
teaches in several of the department's programs, preferably on psychiatric nursing but also on qualitative methods
conduct research on, among other things, self-harming behavior and mental ill-health and psychiatric nursing in various contexts.
My clinical experience as a nurse is mainly from a specialist unit for people with eating disorders but also from substance abuse care. My dissertation was about people with self-harming behavior, their relatives and carers' experiences from care. I defended my dissertation in November 2011 and have since then continued with mainly qualitative research in, among other things, psychiatric inpatient care. In January 2017, I was appointed associate professor of nursing and in December 2017, I was also appointed as a qualified teacher at Umeå University.
Since July 2015, I have had an assignment (70%) as Head of the Department of Nursing and it runs until June 2022.
Areas of research:

Self-harming behaviour among men; I am involved in a Nordic research group in a project including several studies about self-harm among men. I am responsible for the Swedish part.
Time Together - a nursing intervention targeting everyday life in psychiatric inpatient care. Patients' and staff's perspectives; the overall aim is to construct a theoretical understanding of everyday processes in psychiatric inpatient care and second, based on this develop, test, implement and evaluate a nursing intervention aiming at improving everyday life in psychiatric in-patient care.
POSA - Caring for people with mental ill-health in general emergency departments towards a recovery oriented and reflective practice; the overall aim of this project is to generate knowledge about how the nursing staff in general emergency departments can support recovery in persons with mental ill-health with focus on the significance of recovery oriented and reflective practices.
Organizational and social work environment and health among working municipal employees in rural areas in northern Sweden; the overall aim is to explore and describe experiences of the organizational and social work environment and health, and describe municipal employees and municipal managers experiences of organizational and work environment, stress and exhaustion disorder.
Improved care and pain management with femoral nerve blockade for patients with hip fracture; to evaluate if femoral nerve blockade in patients with hip fracture may reduce the pre-and perioperative need for systemic analgesics and also the number of postoperative complications.
Self-harm - hovering between hope and despair. expereinces and interactions in a helath care context; describe experiences of care among people who self-harm, professional caregivers, and close relatives (parents), and to explore interpretative repertoires that jointly construct the interaction between people who self-harm and their professional caregivers. Ended.
LARO - Medication assisted therapy for people with opioid dependence; describe experiences of living with, and taking part in medication assisted treatment among people with opioid dependence. Ended.
Research groups
Group member
Research projects
5 May 2009 until 30 June 2012
I mainly teach about self-harming behavior, eating disorders and psychiatric nursing in nursing programs at basic and advanced level. I also teaches qualitative method at basic, advanced and postgraduate level.