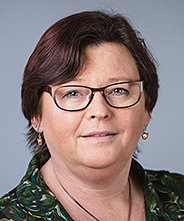 Britt-Marie Lindgren
Works at
vårdvetarhuset, Hus A, plan 5
Umeå universitet, 901 87 Umeå
Areas of education:
Psychiatric and mental health nursing, self-harm, eating disorders, qualitative methodology at basic and advanced level.
Areas of research:
Self-harm; describe experiences of care among people who self-harm, professional caregivers, and close relatives (parents), and to explore interpretative repertoires that jointly construct the interaction between people who self-harm and their professional caregivers.
Psychiatric in-patient care for people with mental ill-health – an intervention project; the overall aim is to construct a theoretical understanding of everyday processes in psychiatric inpatient care and second, based on this develop, test, implement and evaluate a nursing intervention aiming at improving everyday life in psychiatric in-patient care.
MAT-project - Medication Assisted Treatment for people with opioid dependence; describe experiences of living with, and taking part in medication assisted treatment among people with opioid dependence.
Femoral nerve blockade study; to evaluate if femoral nerve blockade in patients with hip fracture may reduce the pre-and perioperative need for systemic analgesics and also the number of postoperative complications.
Research groups
Group member
Research projects
5 May 2009 until 30 June 2012