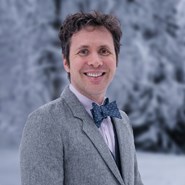 Erik Campano
Disseration: Artificially Intelligent Medical Technologies: Ethical Tools for Developers and Users
Erik Campano researches, strategizes, and implements solutions in artificial intelligence, emergency medicine, media and journalism, and ethics. He is a doctoral researcher in Informatics at Umeå University in Sweden, with a research proposal on the ethics of artificial intelligence in medicine. In May 2020, he obtained his Magister in Human-Computer Interaction and Social Media in Umeå, with a thesis on "Online Shaming: Ethical Tools for Human-Computer Interaction Designers". In May 2019, he obtained his Master's in Cognitive Science at Umeå, with a thesis on the ethics of artificial intelligence in emergency medicine. He is formerly Chief Research Associate at the Emergency Department of Columbia University-affiliated New York-Presbyterian Hospital, and a researcher at Columbia Health. He was Senior Producer of a 2015 long-form radio series, The Best Medicine, in New York City, on WKRC-Columbia University.
In January 2020, Erik founded and remains Publisher of the Umeå Today project, a multimedia news company for the city of Umeå. Earlier, Erik was local host of National Public Radio's All Things Considered at WSHU in Fairfield, Connecticut, anchored weekend news at WNYC Public Radio in New York City, and filed nationally for National Public Radio and Marketplace from American Public Media. Erik also served as afternoon news anchor at WSTC/WNLK in Norwalk, Connecticut, now owned by WSHU. He has also hosted and reported the world news and reported on French culture at Radio France Internationale, and contributed as an editor at France24 Television, both in Paris. Prior to this he was a reporter and host of the world news at Deutsche Welle Radio, the international wing of ARD (German Public Broadcasting).
A strong advocate for victim-survivors and the prevention of gender-based violence, Erik has been quoted in US national publications such as Newsweek, New York Magazine, the Christian Science Monitor, and the Huffington Post, as well as Italy's Corriere della Sera. He won a Columbia University Student Service Award "for contributing to the dialogue about sexual respect around campus." Erik has also won numerous awards for radio production from the Connecticut Associated Press and the Connecticut Society of Professional Journalists.
Erik's undergraduate degree is from Stanford University, a Bachelor of Science in Symbolic Systems, with a year abroad studying religion with University of Oxford, England professors.
Research groups
Group member
Artificial Intelligence in Future Society (Spring 2021)
Artificial Intelligence in Society (Autumn 2021)