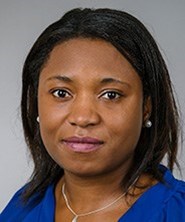 Fredinah Namatovu
Researcher in Epidemiology and Public Health. Main area of interest: gender-based violence, reproductive health, disability, and population ageing in Sweden and Sub-Saharan Africa.
Contact
Works at
Research fellow at Department of Epidemiology and Global Health
5B, Målpunkt P, Försörjningsvägen 7 B, Norrlands universitetssjukhus
Epidemiologi och global hälsa, Umeå Universitet, 90185 Umeå
Norra Beteendevetarhuset, 4 tr, Umeå universitet
Umeå universitet, 901 87 Umeå
I am the scientific leader of the Disability and Intimate Partner Violence (DIS-IPV) project a four-year Forte funded project 2019-2023 at Umeå University. This project seeks to contribute knowledge to improve health and social support available to people with disabilities exposed to intimate-partner violence.
I also contribute to the DISTIME project funded by the Marcus Foundation and the Amalia Wallenberg Memorial Fund. I use Sweden's world-unique population databases to carry out quantitative life course analyses and statistical comparisons over time and space.
Additionally, I also participate DISLIFE projects funded by the European Research Council. Using Sweden's national registers, I investigate the impact of disability on health, education, the labour market transition and family formation.
I defended my dissertation in 2015, my dissertation on the Etiology of for celiac disease during childhood.
Research projects
1 January 2020 until 31 December 2024
1 April 2019 until 30 April 2023
1 February 2016 until 31 August 2021
I teach Epidemiology and social pathways