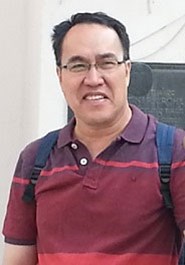 Ji-Guo Yu
Contact
Works at
Biologihuset hus B, plan 6, Umeå universitet, Avdelningen för Idrottsmedicin
Umeå universitet, 901 87 Umeå
Research

Project name: Muscular and nerve signal substance adaptations in the triceps surae muscle of rabbit – Evaluations of a model leading to muscle overuse
Summary of the project: The effects of muscle overuse are not fully known. Muscle overuse is related to pain signaling and to some extent inflammatory reactions. One approach applied in the project is the use of surface electrical stimulation (SES) on rabbit skeletal muscle. SES on human skeletal muscle has been used both for healthy active populations as a supplement to conventional conditioning training and for rehabilitation of persons with muscle functional loss. Evidence has shown that electrical stimulation is especially effective in increasing muscle strength when the SES is combined with simultaneous voluntary activity. However, long term of SES on muscular and nerve signal substance adaptation has hardly been approached.
A rabbit model with a specially constructed apparatus (a kicking machine) was used for the study of muscle overuse. Rabbit triceps surae muscle was applied with SES for 2 hour every other day for 1, 3 and 6 weeks. Muscle biopsy was taken after the last session of SES and analyzed for muscular and neuropeptides alterations.
The overall aims of this project were:
To evaluate the morphological changes, with particular emphasis on the muscle fiber type patterns and the blood vessel.
To study the distribution patterns of the neuropeptide SP and the NK-1 receptor in the experimental situation in comparison with that of the controls.
To compare the situation concerning aspects (1) and (2) in the two muscles comprising the triceps surae: the soleus and gastrocnemius muscles.
To evaluate the effects on the experimental leg in comparison with the contralateral control leg (the contralateral triceps surae muscle).
Research founding: CIF, Chinese government scholarship and Umeå University medical faculty
Collaborators: Yafeng Song, Per Stål, Sture Forsgren (IMB, Section for anatomy)
Ronny Lorentzon (IME)