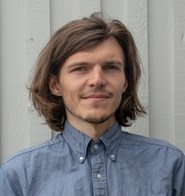 Maxim Vlasov
Lecturer in entrepreneurship with research interest for sustainability, degrowth and inner-transition
Contact
Works at
Samhällsvetarhuset, Biblioteksgränd 6, B30301
Umeå universitet, 901 87 Umeå
Maxim has recently defended his PhD dissertation on ecological entrepreneurship within the back-to-the-land movement in Sweden. His thesis starts with the premise that to address ecological and climate crises, we need to understand their psychological and cultural roots found in the separation of modern societies from the natural world. The thesis develops a process theory of ecological embedding by which an ecopreneur is becoming more rooted in the land and the non-human that provides the ecological conditions for life and economic activity. The overall contribution consists in using the voices of back-to-the-landers in order to present their everyday experiences and critical knowledges about ecological embedding and transitions to a society that lives within planetary boundaries.
Maxim's research interests include sustainability transition, degrowth, organization theory, ecopreneurship, grassroots movements, eco-philosophy, and qualitative methods. He is coordinator for Research Institute for Sustainability and Ethics in Business (RiseB) and member in Sustainable Change Research Network (SUCH).
Maxim is also educator and facilitator with experience from university and civil society, with great interest for co-creative processes, transformative learning, and transition to regenerative communities beyond economic growth.
Entrepreneurship, social entrepreneurship, sustainability