Solar literacy
The Internet is rapidly growing in complexity, with increasing negative environmental and social impact. While heating and lighting are tangible examples of energy consumption, internet usage is not perceived as such. Therefore, it opens up opportunities for new, energy-efficient, slower, resource-saving and mindful protocols for the Internet to emerge. I propose Glow OS - an operating system, enabling individuals and communities to align online activities with intermittent solar energy to accelerate the transition to a fossil-free internet in the spirit of joy. Through the mix of user-centred and speculative design methodologies, the project identifies design opportunities and creates concepts to map various facets of green Internet. I use joy as a driving force for addressing large-scale and sustainable change. Although the main deliverable of this project is a proposal of Glow OS, its value lies in mapping digital sustainability and visually representing its various values. By taking this step, the project addresses the perceived complexity that may have hindered progress in this area.
Project information
Solar Literacy addresses climate change as one of the planetary boundaries that human activity has overshot due to the energy mix (mostly fossil fuels) used to power our digital consumption. As such, it considers the entire planet and all life forms as stakeholders, with humans as active actors in a complex system.
During the initial stages of my research, I analyzed the environmental impact of computing on a planetary scale. This involved mapping the societal and ecological impacts of digital infrastructure and consumption. In the concept phase, I tested multiple sacrificial concepts with participants to explore various values.
This project poses the following questions:
How can design explore ways to reconnect digital experiences with the physical world to reflect ecological limits?
How can interaction design minimize consumption and create energy-efficient solutions?
How can we design digital experiences in the abundant present for a future of scarcity that is yet to come?
Methods
To be able to work on a holistic concept of environmentally-aware digital experiences which is highly systemic and complex, and also intrinsically human, I needed to gain a better understanding of different perspectives of consumers of digital experiences, their challenges, needs, hopes and limitations, therefore Human-Centred Design as a framework was at a foundation of my work.
User centred design methods: Expert Interviews + End-Users Interviews ○ Testing ○ Co-creation workshops ○ User stories
Considering that I was looking into the future of green Internet and critically on the current system of attention economy ingrained in the modern format of Internet consumption, I used speculative design methods to explore a preferable future scenario for people and the planet.
Speculative design methods: Design Fiction ○ Future Scenarios ○ Speculative Design Workshop
Result
The primary objective of Glow OS is to synchronize digital consumption with the availability of clean energy. This ensures that users can shift their digital consumption to times when there is abundant solar energy. The system also provides valuable insights into the energy's origin, fostering solar literacy and nurturing a deeper connection between users and the energy system.
Ultimately, this enhanced awareness facilitates a more rapid and comprehensive transition toward the widespread adoption of renewable energy sources on a systemic level. The second priority is to minimize energy consumption by avoiding unnecessary use.
The design proposal is both energy and carbon-efficient, minimal (using electricity with low carbon intensity), resourceful (designed to use the least amount of energy without compromising the experience), compatible with older hardware, demand-driven (shaping demand to match supply - solar energy on the grid), regenerative (designed to support an economy that nourishes people and the planet), and resilient (able to function when and where people need it the most - it explores low-energy alternatives available with slower networks or even offline).
On a systemic level, Glow OS has potential for transformative impact in several key areas: energy resilience, which prepares individuals for potential energy disruptions and gives them in-between functionalities while ensuring an enjoyable user experience. It encourages sustainable practices by integrating positive practices into users' daily lives. It empowers renewable energy use: by granting users agency over their energy sources and providing an entry point into the broader energy system.
Glow OS offers three main functionalities, which cover the most typical online activities: connect (video calls, chats), entertainment (social media, streaming services), and other basic functionalities, all presented in an energy-efficient version. Additionally, it offers a preparation experience that allows users to download desired content before the forecasted change in energy source supply.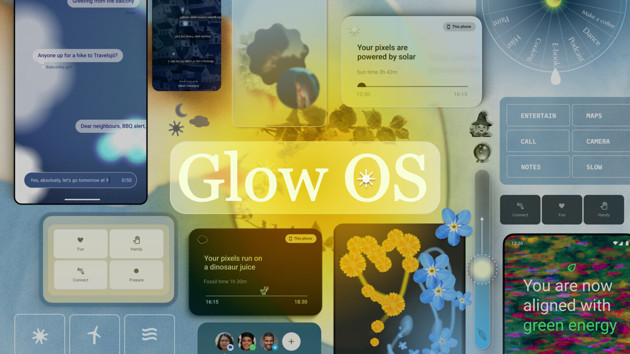 Image:
Umeå Institute of Design
Overview of functional features of Glow OS - the result of the project.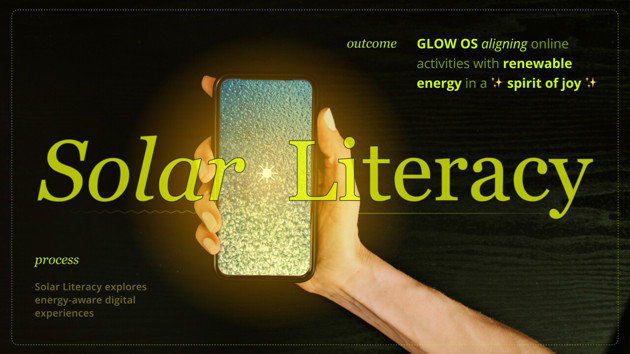 Image:
Umeå Institute of Design
Solar Literacy explores energy-aware digital experiences, and Glow OS contextualises and visualises them in the future scenario.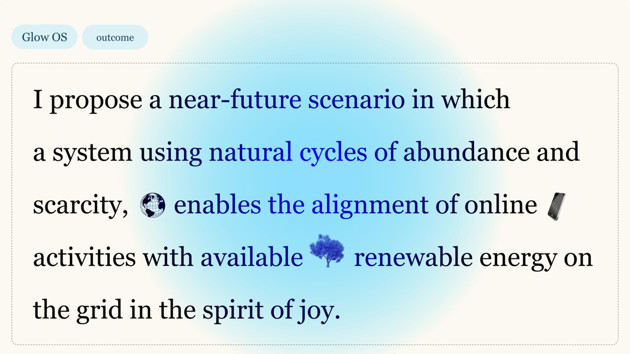 Image:
Umeå Institute of Design
The outcome of many explorations and concepts tested with users: Glow OS.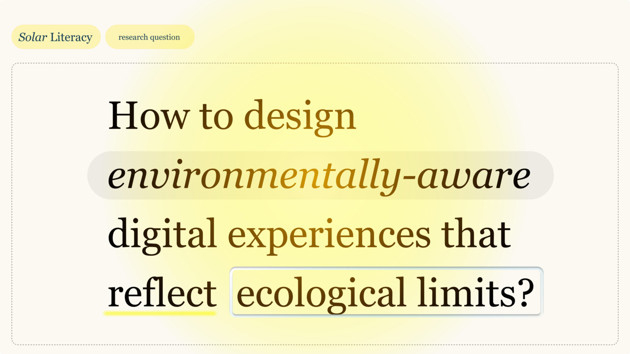 Image:
Umeå Institute of Design
Broad research question kickstarting the research phase.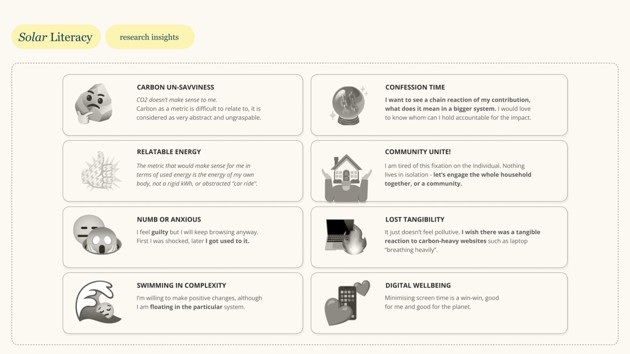 Image:
Umeå Institute of Design
Research insights exploring people's relation to their digital carbon footprint and digital consumption.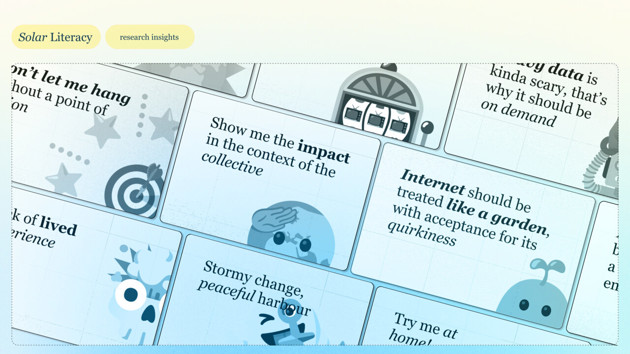 Image:
Umeå Institute of Design
Research insights based on testing 12 sacrificial concepts with participants.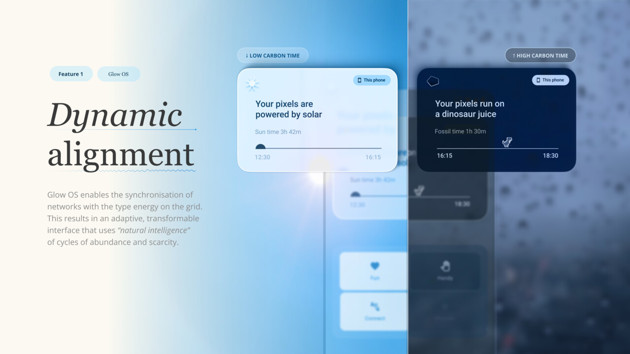 Image:
Umeå Institute of Design
Feature 1: Dynamic alignment.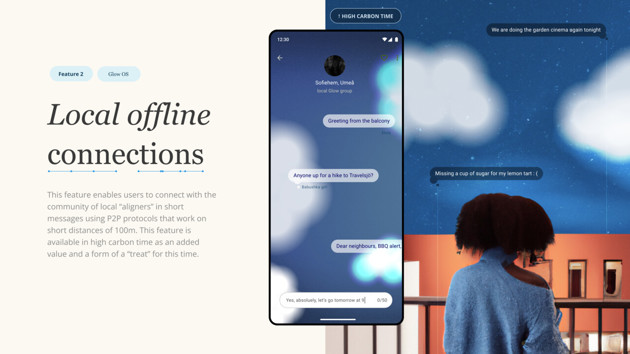 Image:
Umeå Institute of Design
Feature 2: Local offline connections.
Image:
Umeå Institute of Design
Feature 3: Low energy presence.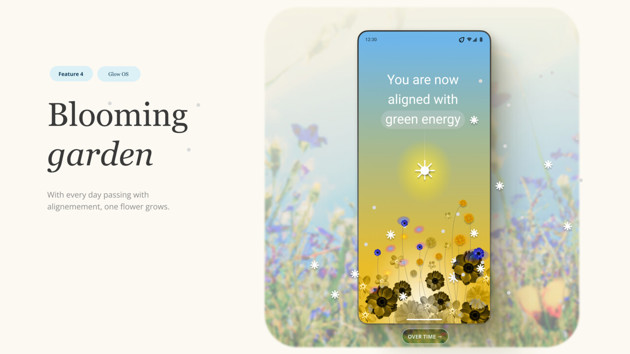 Image:
Umeå Institute of Design
Feature 4: Blooming garden.
Glow OS - interactive prototype.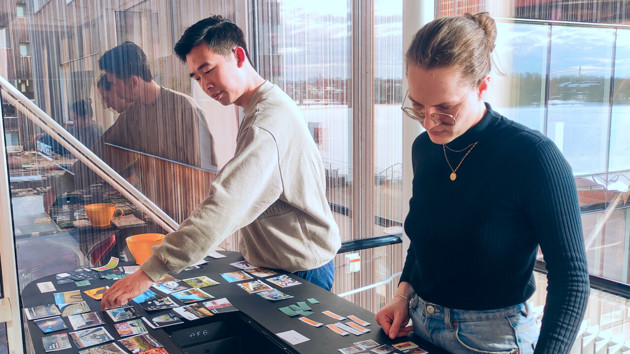 Image:
Umeå Institute of Design
Participants of a speculative design workshop focused on tangible interactions.