About the Department of Political Science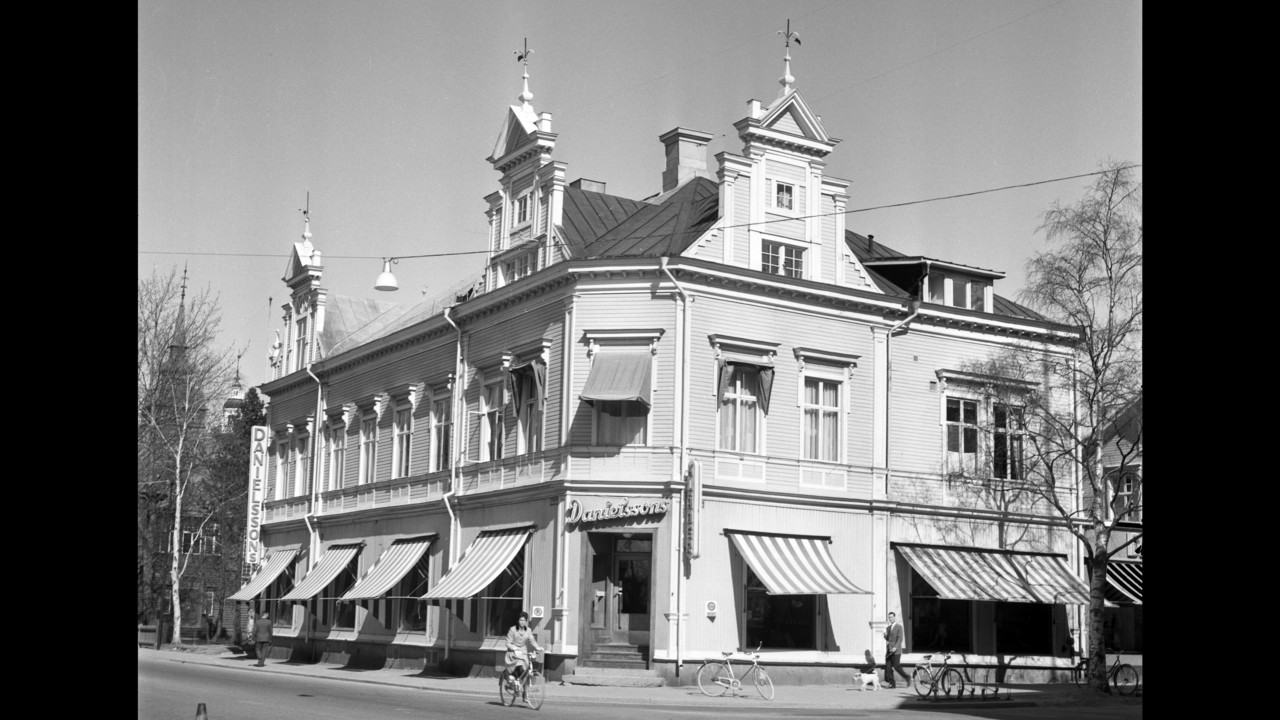 In the 1960s, the offices of The Department of Political Science were located in the former Danielssons children and men's outfitter store, Storgatan 55, Umeå.
1965
The Department of Political Science was one of the first departments to be established at Umeå University. At that time, there were three lecturers and Professor Per-Erik Back held the departmental chair. Professor Back had obtained his PhD from Lund University. Already from the start, the department was part of a national research programme on local government and researchers rapidly developed contacts with prominent international research environments.
1971
Gunnar Jervas and Dan Brändström were the first to defend their doctoral theses in Political Science.
1972
Gunnel Gustafsson was the first woman in the department to defend her doctoral thesis in Political Science.
Faculty members from the early 1970s. From left: Kjell Lundmark, Harry Forsell, Pär-Erik Back, Sten Markgren, Gunnel Gustafsson and Dan Brändström.
1970s 1980s
The department grew and the number of lecturers with a PhD increased and a more diversified range of courses was offered. In addition to political science, the department gave courses in public administration and public health administration. Research began in areas that would later become important profiles for the department. These included local and regional policy, comparative politics, political parties, public policy and implementation. Professor Gunnel Gustafsson became departmental chair in 1987.
1990s
At the start of the 90s, the department had over 40 members of staff. Research on the environment and sustainable growth gradually became one of the department's major research areas. An important study programme for the Political Science Department was the Master Programme in Public Administration, which also had an environmental profile.
1993
The Centre for Principal Development was established.
2000s
Research on the EU, political parties and political institutions grew further, and research on gender and gender-equality also became prominent.
2003
The department took over responsibility for the University's courses in Peace and Conflict Studies which were the major subjects in the Programme for International Crisis and Conflict Management (IKK). Gradually research was also built up in this area.
2017
The Department of Political Science had over 60 members of staff. Seven professors (Torbjörn Bergman, Katarina Eckerberg, Christine Hudson, Anna Jarstad, Olof Johansson, Anders Lidström and Camilla Sandström) were active at the department. 76 people (32 women) have successfully defended their PhDs in Political Science since the department was established. Internationalization has been strengthened through research co-operation, doctoral and post-doctoral research visits abroad and student and teacher exchanges.