Environmental Chemistry attracted Alexandra to Umeå
As a Master's student you get in close contact with research in your subject. Chemistry student Alexandra Charlson takes part in a large research project aiming at cleaning waste water with crop residue.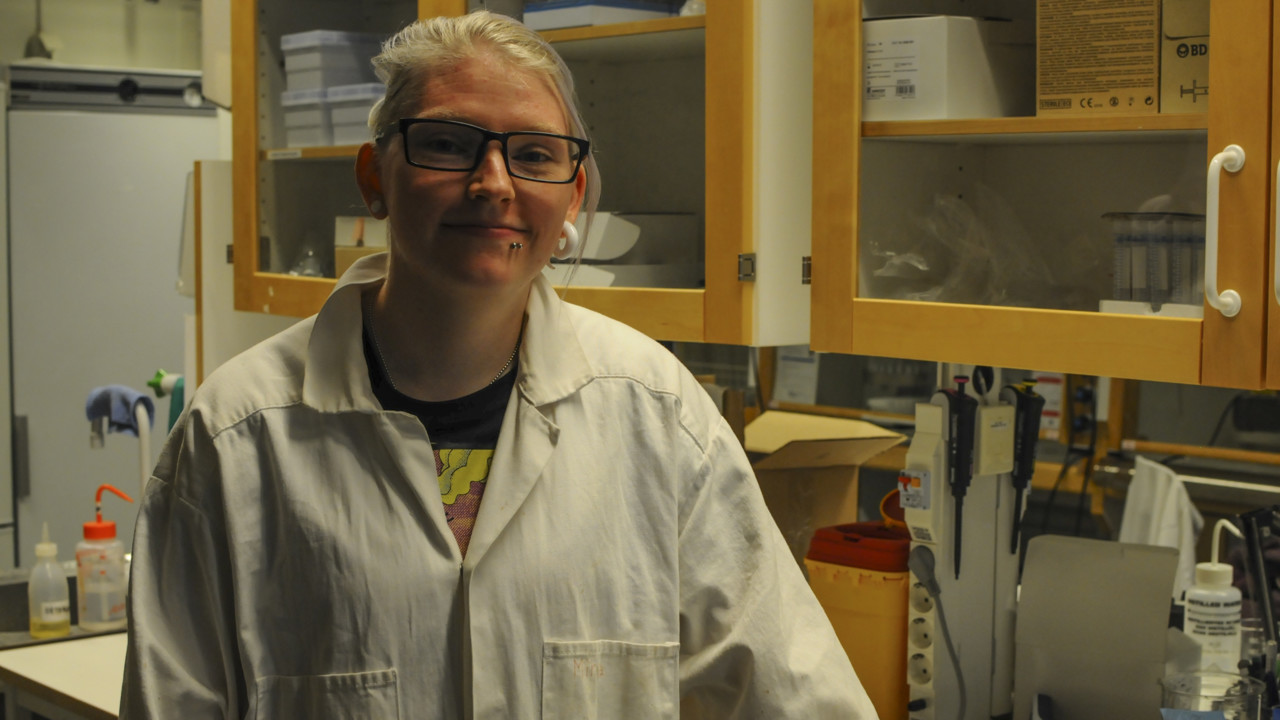 "It's a project led by the scientists Stina Jansson and Jerker Fick where they plan to clean water in Africa with biochar" she says. "My part contains of producing biochar from crop residue, for example coconut shells and horse manure or other types of manure".
Alexandra Charlson is from Stockholm, Sweden, and did her Bachelor of Science in Environmental studies at Halmstad University. When she decided to study further at advanced level she chose Umeå University.
"Umeå was more interesting"
"I looked at different chemistry educations in Sweden and the choice was between Stockholm and Umeå" she says. "Umeå was an easy choice for me, I needed to take some courses to gain eligibility and Umeå was far more interesting than Stockholm".
Because she has always been interested in environmental issues Alexandra wanted to specialize in Environmental Chemistry and Analytical Chemistry.
"Growing up I always found garbage handling very important. It started there and then I became a vegan and saw more and more that environmental impact is a huge issue where I wanted to play a part".
What's the difference between studying in Halmstad and Umeå?
"The biggest difference is that Umeå has a university and Halmstad doesn't have university status, so there are so many more opportunities here that don't exist in Halmstad" she says. "The teachers are much more involved here. They kan tie their lectures to their research. In Halmstad research is much more limited. We can do so many experiments here in Umeå and have a lot of equipment, I couldn't even dream about that in Halmstad, so I was very happy coming here."
How do you find living in Umeå?
"I like it a lot. You can ride your bike everywhere and there are a lot of activities for students, so it's easy to live here".
Did you find new friends quickly?
"Decently quick. I live together with four others, so you tend to stay at home a lot because there is always people to hang out with. During my first year here it wasn't as easy, since I didn't follow a programme my fellow students were mostly exchange students who were in Umeå only for a short time, but in my current Master's class we have become really good friends".
Close to the research environment
Studying at Master's level means being closer to the research environment. It affects the education, but differently in different courses, says Alexandra Charlson. In some courses traditional course books are mostly used, while in other courses the students read scientific articles which they then implement in the lab. The students are attached to ongoing research project for their exam projects. Alexandra found a close link to her main interest area since her project aims to clean waste water with the use of crop residue that normally become garbage.
"I'm going to make biochar from things that are left over from farms. We pyrolyse shells and manure to a coal, characterize it and add waste water to see how much is adsorbed and then we to conclude what works to clean certain substances and not others.
What is it like to be part of an actual research project?
"It's really exciting actually. It is so nice that what I do will be of use. It feels like I will be able to contribute a lot to the project.
What are your biggest challenges in the project?
"Right now it is figuring out how to do the experiments well".
What are your plans for the future?
"I have decided I want to become a PhD student. I don't want to work at a lab doing analyses, I think that would be tedious work. I like to have challenges and new projects and exciting things going on".
Are you hoping to do your doctoral studies in Umeå?
"Yes I do. I see a very good future and good opportunities here. Stockholm is my second choice. I don't want to do my PhD studies abroad, I have heard many horror stories about that, especially from the United States. I want to be where I feel secure and know that people work together as a team. Being a PhD is tough enough and I don't think you should make it harder on yourself than necessary!
Article & photo: Anna-Lena Lindskog
Name
Alexandra Charlson
Where are you from?
Stockholm, Sweden
Where do you live?
Ålidhem
Hobbies
Rollerderby (a contact sport on roller skates), music, travels and hanging out with friends.