Johannes enjoyed outdoor life in Umeå
Johannes Blum from Germany took a liking for Sweden as an exchange student and decided to come back for more. The fact that Umeå is a partner university to his home university in Würzburg, was an important part in his decision to come to Umeå for his Master's degree in Computing Science.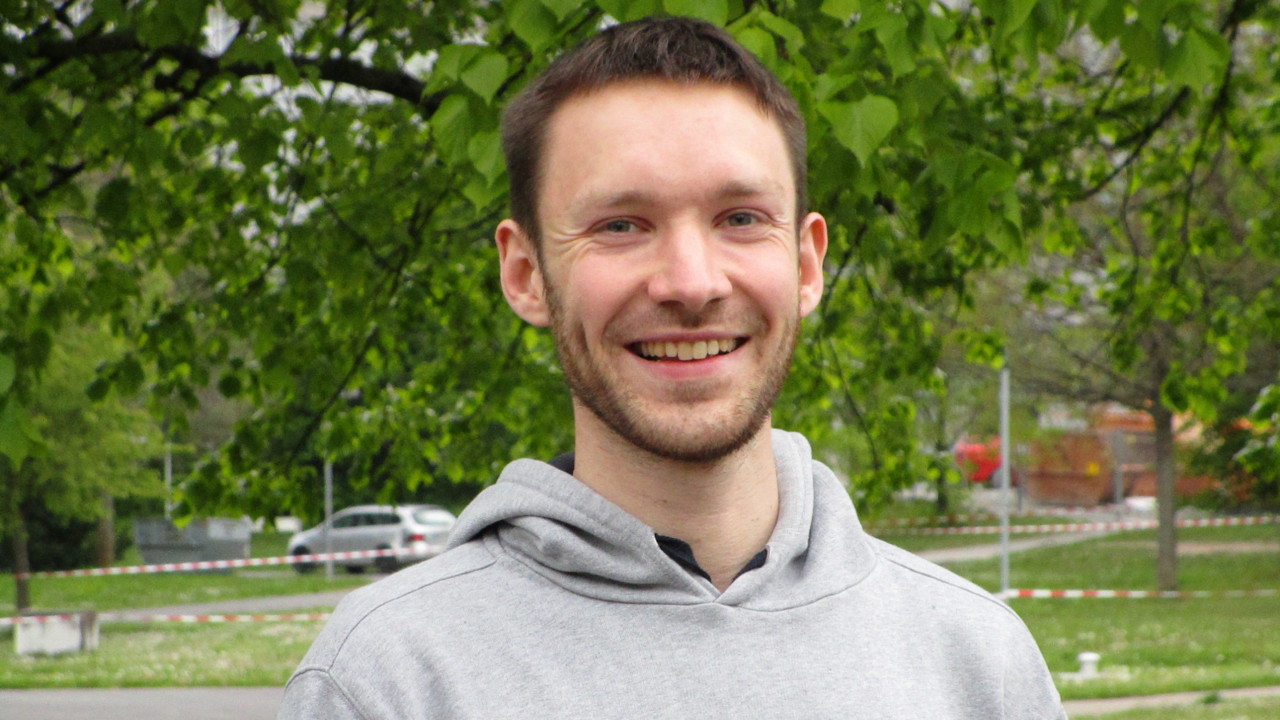 Johannes Blum chose Umeå University for his master's education
– I looked at the home page and it seemed really nice in Umeå, so I decided to apply there. Also I was a bit late applying and Umeå was one of the universities where I could actually still apply.
Johannes Blum had already visited Sweden on holidays a few times and during his Bachelor studies he took the chance to study abroad for a semester through the Erasmus exchange programme. He studied at Blekinge Institute of Technology in Karlskrona, which has a partnership in Computing Science with Würzburg.
– I really liked it a lot and wanted to stay in Sweden.
Running and frisbee
Next stop was Umeå where Johannes arrived just in time for 2014 when Umeå was a European Culture Capital, which meant a lot of cultural activities was on offer, one thing he appreciated greatly with Umeå.
– Almost every day there was something going on, it was really nice. I also did a lot of running in Umeå, it's very beautiful to go around the Nydala lake or the forest. I also joined the frisbee team and I went cross country skiing in the winter. I really like being outdoors a lot and liked the nature around Umeå.
For his Master's studies Johannes took courses in algorithms and complexity, computer organisation, artificial intelligence and parallel computing.
What are the differences between studying in Germany and Sweden?
– In general classes are smaller than in Germany, so it's a bit more personal. You know your teacher and call them by their first name and your teacher knows you. The lessons are more interactive in Sweden and you are expected to participate. You also do more projects where you do tasks on your own or in groups.
What about grants and student loans, how do you finance your studies in Germany?
– You can get a grant, but it depends on your parents income. It can range between 100 and 700 euros per month and you pay back about half after your studies. Not everyone gets it, I didn't, so I worked as a student research assistent and did stuff like grading exercise sheets. That's a common way for students to earn money.
Finding accommodation was difficult
Finding a place to live was the most difficult part of moving to Umeå, Johannes says. Since he came as a free mover he couldn't get a room or apartment arranged through the university. He applied with Bostaden for student accommodation just two months before arriving in Umeå, which didn't give him enough queuing time to get a room. He searched private ads and found a room with a family in Ersboda, where he stayed for a year before getting a room in a student corridor in Mariehem.
Did you find friends easily?
– Yes, the university has a buddy programme for international students which makes it easy to find people. It's a really cool thing this programme, they organize activities every weekend and sometimes twice a week.
Did you learn to know Swedish people as well?
– Yes, through the buddy programme, but it was easier to find contact with other international students. My class had already studied together a few years and knew each other while I was a newcomer, so it was a bit more difficult to get to know them.
Degree project on analysis of language
Johannes did his degree project with Frank Drewes' research group at the Department of Computing science. They deal with computer processing of natural languages and Johannes developed a new concept for the automatic analysis of language. He would have wanted to continue as a PhD student in Umeå and discussed the possibilities with his supervisor.
– But the financing wasn't clear, so I decided to go back to Würzburg and start on another Master's and maybe in the meantime something would open up. Last year I was offered a PhD position here in Würzburg. I could have started directly but wanted to finish my second Master's first.
Does having studied in Sweden give you an advantage in any way?
– Personally I think I have profited a lot. I could improve my English – and my Swedish, I have taken some Swedish classes. Also I really liked this international experience, it has been an important part of my personal development.
How did Computing Science become the subject of your choice? Did you study it in high school?
– No, we didn't have that as a subject, but I have always liked math and was always kind of interested in computers. When I was 14 I started learning programming by myself. I don't know why I like computer science, I just do!
Do you think you will stay in Germany after your PhD studies or do you have a desire to return to Sweden?
– I could definitely imagine going back to Sweden, but for the moment I'm here and it's ok, but I don't think I will stay here forever. When I went to Sweden I wanted to see something new and I think in a few years I will tire of being here and see if I can go somewhere else again.

ABOUT Johannes Blum
Age: 26.
From: Schweinfurt, near Würzburg, Germany.
Lives: in Würzburg, in a shared flat with two other students
Hobbies: running, ultimate frisbee, reading, listening to music, hanging out with friends.
Reading just now: Politi, a crime novel by Jo Nesbø, I like Nordic crime writers.
Unknown talent: ability to survive 35 hours in a train (as I don't like flying too much, I always went from Würzburg to Umeå by train)
Umeå in three words: nature, snow, fun.
Text: Anna-Lena Lindskog