Master's Programme in Environmental Archaeology
Investigate traces from the past and learn about the long-term history of people and environments. With expert knowledge of environmental archaeological methods, you can map prehistoric landscapes, climate change and understand past ways of life. Courses mix theory with practical exercises in the field and lab, and prepare you for a career as an archaeologist, environmental scientist, heritage guide or for laboratory or GIS oriented work.
While studying
During the degree programme you will build upon your existing knowledge of archaeology, Quaternary science, physical geography or related subjects. You will develop skills in methods for analysing environmental evidence in the form of plant and insect remains. You will also learn to read traces left in soils and sediments by studying their physical and chemical properties.
Environmental archaeology is about understanding how people have impacted on, and interacted with, environments. By studying organic and chemical remains or artefacts using methods from the natural sciences you can build a picture of the role humans have played in different ecosystems. Within the field we study long time perspectives, from the end of the Ice Age until historical times, and include farming as much as hunter gatherers.
Problem solving in real projects and excavations
When studying environmental archaeology, you mix theory with practice in the field and lab. You learn specialised methods to investigate questions such as what prehistoric people grew and ate, what the landscape looked like and how climate has changed. Teaching is mainly based around real problems, and during the programme you build up a toolbox of methods and skills for excavation, analysis, interpretation and presentation of archaeological and environmental data. You will work closely within a real life project and excavation environment.
Structure of the degree
During the first year of the programme, you will obtain a solid foundation in environmental archaeological field and lab methods, followed by more detailed theory and methods. In order to effectively map excavation sites, you will also learn Geographical Information Systems (GIS) for archaeology and environmental archaeology. The first year ends with an independent thesis (15ECTS), which allows you to apply for the degree of Magister.
During the second year, you may customize your degree according to your interests. If you choose a generalist profile, then you may take electives or traineeship for an entire term. If you choose a specialist profile, it is half a term of electives or traineeship followed by the Methodological specialisation course. The final term consists of a 30 ECTS Master's thesis.
Programme overview
Career opportunities
This degree prepares you for work as an archaeologist, environmental archaeologist, administrator or investigator at a heritage board, administrative organisation or museum. Other employment possibilities include those within landscape management and conservation, creating exhibitions, as a nature/heritage guide or museum curator.
The programme also prepares you for working with Geographical Information Systems (GIS) and various laboratory processes. Potential workplaces include administrative organisations, land survey agencies and forestry or conservation agencies. The degree is also highly appropriate for building a career in environmental archaeology, paleoecology, Quaternary science or similar research fields. You will also be eligible to apply for PhD studentships in archaeology, environmental archaeology and related subjects.
Interested in becoming a scientist?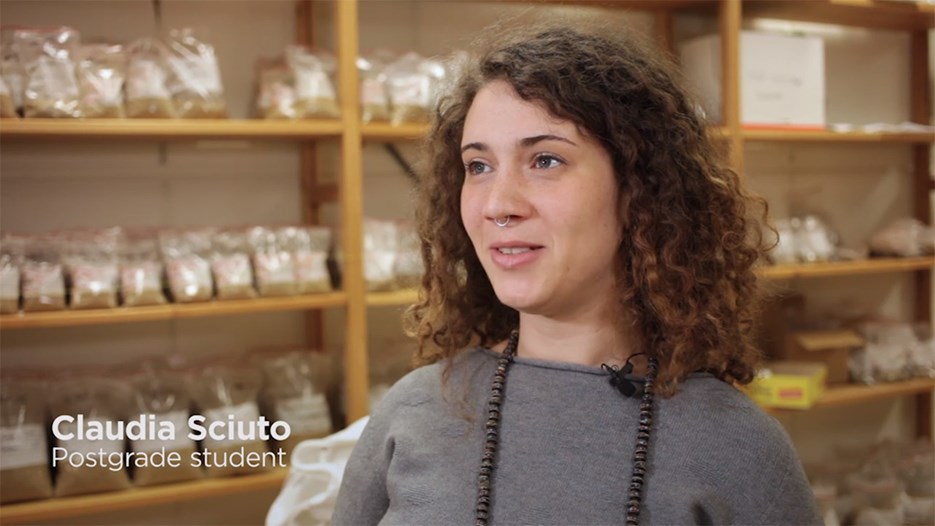 "As a PhD student in Umeå you have a lot of rights and very good conditions"
Watch the interview with Claudia Sciuto, PhD student in Environmental Archaeology at Umeå University.
During the degree you will develop your capacity for independent thinking and scientific writing – essential skills for moving on to a career in research. After having read the Master's degree in Environmental Archaeology, you will be eligible to apply for PhD positions in archaeology or environmental archaeology in Sweden and internationally.
Learn more about doctoral studies at Umeå University
Degree
Master or Arts degree in Environmental Archaeology.
Frequently asked questions
Contact us
Contact persons for the programme are:
Peter Holmblad, Student Counsellor