Master's Programme in Statistical Sciences
This one-year program offers broad and high-level training in both applied and computational statistics as well as in the foundations of statistical theory. You will gain solid knowledge in statistical methods and hone your skills to critically analyse and interpret data, and to communicate the results of your analysis. You can choose from elective courses in Statistics or Mathematical Statistics to tailor your degree. The program is offered by Umeå School of Business, Economics and Statistics.
"I think that the mix of courses, from theoretical to applied courses, was well balanced."

"To practice programming in statistical programming languages, mostly in R, over the course of several courses, has been most useful to me in my work life. "

"The best thing is that I have a degree that guarantees interesting and relevant jobs in an area that I think is both fun and challenging."
While studying
The first semester
During the first semester, you will learn statistical programming, a very important skill for a statistician or data scientist. The second half of the semester, you will learn how to infer the effects of treatments/interventions, both in randomized and observational (e.g., register based) studies when you take the course in causal inference. The teachers on this course are all recognized researchers within the field of causal inference. Parallel to these two courses, that are given on half-time, you tailor your degree by choosing among a selection of elective courses.
The second semester
During the second semester, you will develop your writing, analysis and research skills through writing a master's thesis. The master's thesis course is given on half-time during the whole semester and parallel to this course you take optional courses.
Optional courses during the second semester can be a course in any subject, incl. Statistics and Mathematical Statistics, as long as you meet the eligibility requirements. Optional courses are applied for in open competition.
Elective courses
The choice of electives the first semester is made after a discussion with the program coordinator or the study advisor after you have received information about admission to the program. You are guaranteed a place on elective courses equivalent of full-time studies, but there is no guarantee of first choice. Moreover, some of the electives require specific Mathematics courses or proficiency in Swedish (if the course is given in Swedish), which might limit your choices. The elective courses available this year are listed below together with the required knowledge for entry.
Elective courses 2019
During the first half of the semester, the following electives are offered: Probability Theory 2 (requires a course in basic calculus or equivalent knowledge), Multivariate Data Analysis (requires courses in basic calculus and linear algebra or equivalent knowledge), and Linear Algebra (requires proficiency in Swedish).
During the second half of the semester, these electives are offered: Big Data and high-dimensional data analysis, Inference Theory 2 (requires Probability Theory 2), Calculus for Engineers (requires proficiency in Swedish) and Linear Algebra (requires proficiency in Swedish) (video lectures).
All Mathematics courses offered are basic level courses given in Swedish.
Degree requirements on elective and optional courses
Both elective and optional courses can be master's (advanced) or undergraduate (basic) level courses. Of the elective and optional courses, at least 15 Credits has to be advanced level courses to fulfil the degree requirements for a Master of Science (6o Credits).
Sustainability perspective all the more important
Sustainability get a whole lot bigger attention in today's firms and organizations and we lifted these questions up early in our educational programs. Together with our students are we working for a more sustainable business school and to revise the courses to improve the education about, and for, sustainable development at the program. Our work on sustainability takes as a starting point the 17 sustainable development goals and Agenda 2030.
We are certified by the environmental management system ISO 14001 and we are members of the international networks GBSN, PRME and SDSN.
Read more about our work on sustainability
Programme overview
Semester 1
Programming in Statistics, 7.5 Credits
Causal inference, 7.5 Credits
Elective courses, 15 Credits
Semester 2
One Year Master Thesis in Statistics, 15 Credits
Optional courses, 15 Credits
Career opportunities
Statisticians and data scientist are in high demand on the labour market. You can work in many different areas, both private and public. Examples on work places for statisticians include banks, government agencies, insurance companies, manufacturing companies, medical companies, opinion polling organizations, and research institutions. The programme also gives you eligibility to apply for doctoral studies.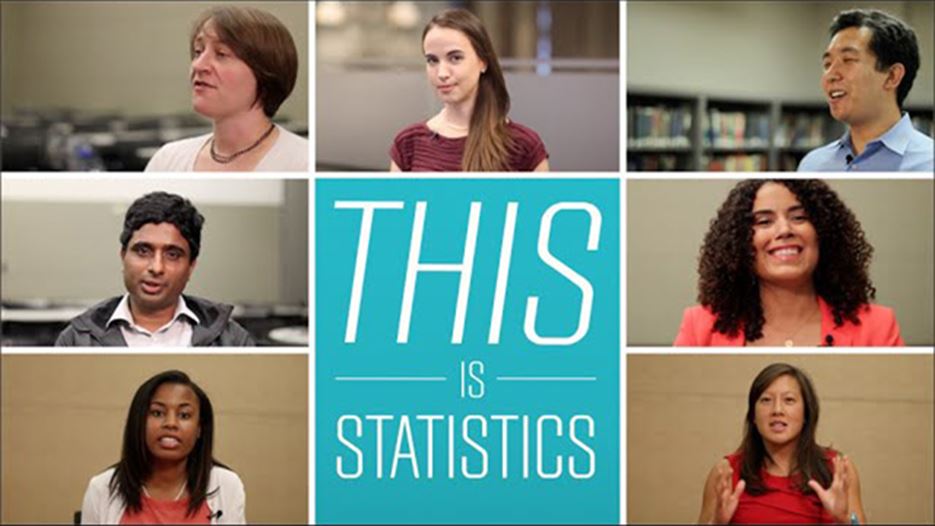 Why you need to study statistics
Successful statisticians talk about why they studied statistics and why you should too.
Degree
Degree of Master of Science (60 Credits). Main field of study: Statistics.
Contact us
Contact person for the programme is:
Maria Karlsson