Action to save bees and other insects in Northern Sweden!
NEWS The latest alarm reports about the decline of insects on earth have hardly escaped anyone. Several rescue operations are in progress around the world - both non-profit and commercial, such as the sale of insect hotels and special seed bags. Umeå University draws attention to the crisis situation by starting new research on insects in Northern Sweden. This summer, a number of information actions to the public are carried out.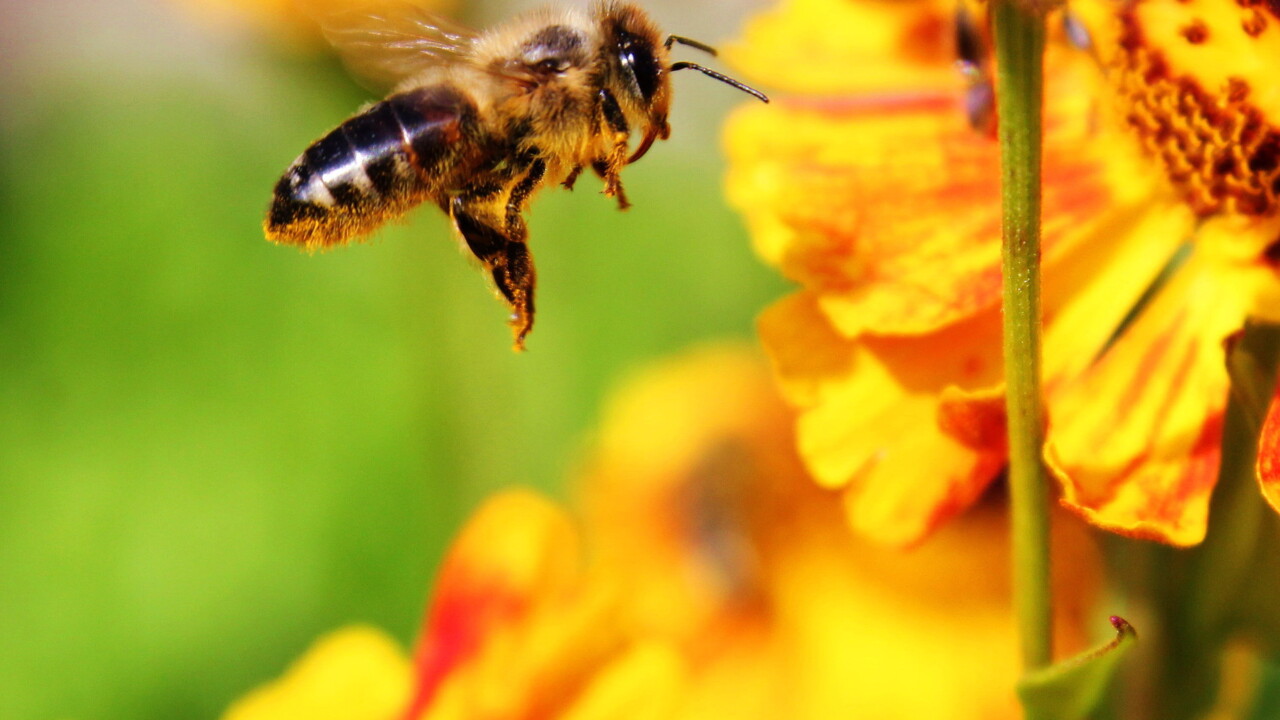 Honey bee hoovering in front of a flower.
Image
Mostphotos
Why are insects so important? One of the main arguments is that 80 percent of all flowering plants on earth depend on pollinating insects, such as honey bees, bumblebees, butterflies, and flower flies. This means that a large part of global food production depends on insects.
But in addition to this, insects have several other important functions in our ecosystems. For example, many animals such as birds and fish live on insects. It goes without saying that if the insects disappear, then several ecosystems will be destabilized.
There are indications that insects have decreased in numbers by 40-75 percent.
"There are several reasons why this has gone so far. Although it is easy to get drawn into desperate reactions, it is important to explore the phenomenon to see what really applies to our own surroundings here in Northern Sweden. The studies so far have been carried out in a selection of other places in the world. It is therefore not obvious that we can generalize certain observations in single places to all other places. Furthermore, it is not certain all rescue operations that are carried out in individual regions favor the insects in other regions. A better ecological understanding of the local environment is needed" says Natuschka Lee, researcher at the Department of Ecology and Environmental Sciences at Umeå University.
She and her colleagues have noticed that there is a lack of elementary knowledge and that more local research is needed on issues such as: What insects do we actually have in Northern Sweden? Which environments should we create in order to benefit precisely these? How does the health of insects stand?
In many places around the world, including southern and central Sweden, there are several serious insect diseases, for example in honey bees.
Unfortunately, it is also the case that basic research and teaching on insects and other arthropods have long been overshadowed by other priority areas.
"Now that disaster is almost at the door, we have gathered; A group of researchers and educators at Umeå University and SLU have recently started a network to gather expertise on insects and other arthropods in Västerbotten county and other parts of Northern Sweden. Together we will discuss and plan new research projects, lectures, forms of teaching and actions for the public about this theme" says Natuschka Lee.
"Different types of important research areas will be highlighted in several ways in the near future. One concrete example is our newly started project on pollinating insects, where we will present new types of research projects in Umeå and various actions for the public" says Natuschka Lee.
"We hope these actions will inform the public better about insects and about what measures are relevant for our own region. We would like to inspire the public to participate in the inventory of insects in our environment and hope that at least some will start thinking about how they want to shape their surroundings, balcony, garden and more, to create better environments for the pollinating insects and other insects in Umeå. Unfortunately in all our joy of expanding Umeå city, we have come a little behind with rebuilding favorable environments for the organisms that we have pushed away. For Umeå University campus, we are discussing together with Akademiska Hus how we can make our campus even more pollinated" says Natuschka Lee.
During summer, artistically designed insect hotels will be set up in a selection of places on the university's campus and in Umeå city. Hives will also be set up at the university's campus for both research and education purposes.