NEWS A modest still life is often the starting point in Anneli Furmark's watercolour paintings, but in combination with recurring images and notes from her personal sketchbook the motifs grows into imaginative and humorous worlds, where images and words merge into a poetic entity. The exhibition Mindmap at Bildmuseet exhibits a selection of Anneli Furmark's watercolour paintings and drawings from 2008-2010.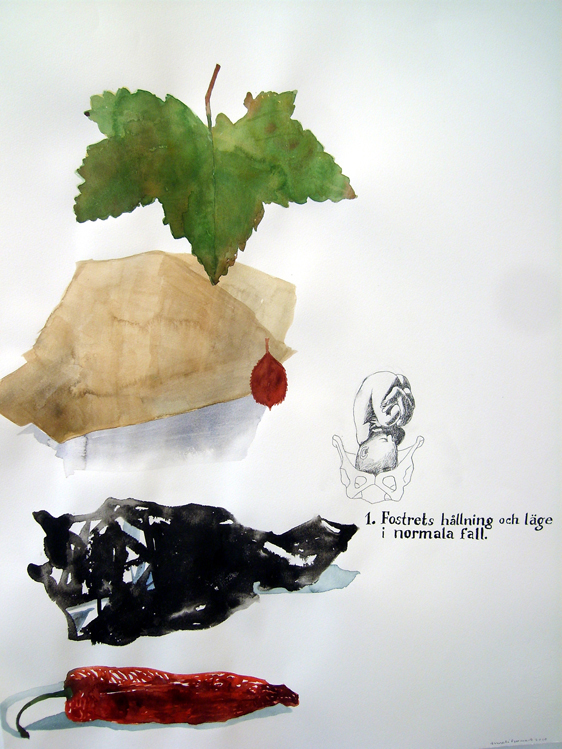 Bildmuseet Nov 21, 2010 – Jan 30, 2011
Press conference Friday, Nov 19th, 10 AM.Opening Sunday, Nov 21th, 2 PM.
Artist talk Tuesday, Nov 30th, 6.30 PM.
The exhibition Mindmap is about collecting, about sketches and notes which the artist Anneli Furmark have scribbled in sketchbooks alongside with her other work during a long period of time. Some words and images have kept coming back to her, time after time, and now she's examining what they really want to say.
The motifs often originate from still lifes, but grows into creative entities in juxtaposition with words and drawings from the artist's sketchbooks, impressions from her surroundings, nature, music and encyclopedias. Words and images are equally important in Furmark's work. Both the titles and some quotes from songs by Morrisey, PJ Harvey and Ron Sexsmith add meanings to the images, and reflect different states of mind.
Above: Anneli Furmark, I normala fall, 2010.
Anneli Furmark (b. 1962) grew up in Luleå and lives in Umeå. She graduated from Umeå Academy of Fine Arts in 1997 and she works with both painting and drawing, mostly watercolour, ink, pencil or crayon on paper. Anneli Furmark has published a number of critically acclaimed graphic novels, and her paintings and drawings have been exhibited in Finland, Germany, Iceland, Japan, South Korea, Poland, Scotland and Sweden.
More information about the exhibition
Sofia Johansson, curator Bildmuseetsofia.johansson@bildmuseet.umu.se,
+46(0)90 786 93 53, +46(0)90 786 52 27
Editor: Helena Vejbrink