Artists from four nations to instruct at Bildmuseet
NEWS The exhibition titled "Spare Time" opened at Umeå University's Bildmuseet to a large audience on Monday 6 June. The international project continues with educational workshops for pupils, teachers and artists.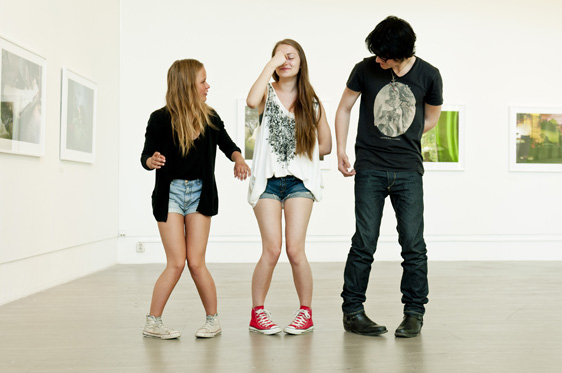 The Spare Time project at Bildmuseet is part of an international project with participating institutions from Latvia, Czech Republic and Bulgaria. The project has been funded with support from the European commission and includes artist exchange, art education activities and exhibitions that explore different types of leisure activities that are generally not seen as productive or influential in society, but that will undoubtedly affect people's lives.
Artists and educators will be collaborating at art education workshops that will take place in four nations. The first is currently on display in Umeå, and will run through the 15th of June. It is led by Iva Vladimirova from Bulgaria, Mark Divo from Czech Republic, Ilze Putnina and Ilze Breidaka from Latvia, Fanny Carinasdotter and Ida Hansson from Sweden. During weekdays from 12.00 to 14.00, students from three middle schools in Umeå (Carlshöjdsskolan, Hagaskolan and Midgårdsskolan) will be participating. On the weekend - 11th and 12th of June from 12.00 to 14.00 – workshops for educators and artists are offered.
Spare Time was initiated by the National Museum in Prague, Czech Republic. The other partners are Bidmuseet (Sweden), National Museum in Riga (Latvia) and Cultural Horizon 2007 Association (Bulgaria).
Exhibitions
• Riga: 20 May– 26 June 2011• Umeå: 6 June– 4 September 2011• Sofia: 6 – 26 July 2011
• Prague: 6 September – 13 November 2011
Art education workshops
• Riga: 19 - 29 May 2011• Umeå: 7 - 15 June 2011• Sofia: 23 June - 2 July 2011
• Prague: 5 - 15 September 2011
Contact information
Sofia JohanssonBildmuseet Curatorsofia.johansson@bildmuseet.umu.se
+46 (0)90-786 9353
Editor: Helena Vejbrink