Björn Berg / Not a Day Without a Line Drawn
NEWS On Wednesday 20 June at 17.00 Bildmuseet opens an exhibition with works by Björn Berg, the artist behind the illustrations in some of Sweden's most loved children's books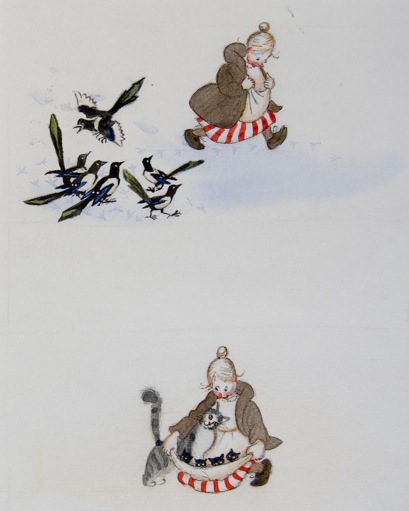 Björn Berg (1923-2008) made the well known illustration in Astrid Lindgrens Emil of Lönneberga and Alf Prøysens Mrs Pepperpot. He also illustrated poetry and history books by Alf Henrikson, and worked for many years as feature illustrator for Sweden's major daily, Dagens Nyheter. The exhibition presents us with Björn Berg's storybook world, full of trolls, princesses, cats, dogs, mice, little people and other creatures and doodles. All of it seen from the perspective of the playful child.
In Lennart Rudström's 2002 short film about Berg, Not a Day Without a Doodle (Inte en dag utan ett streck), we meet a man who is constantly creating, a man who always had pen and paper to hand. Björn Berg's images are characterised by humour and a keen sense of observation. Each individual gets his or her own specific expression and style, even in a crowd of people. Sometimes the images are photographically precise in certain details and sometimes they are soft and indistinct, but just as often they are revealing and candid contemporary reflections or historical burlesques, e.g. of popes, queens and slaves. He adapted his style to every purpose, and yet we recognise his unerring pen strokes in each work.
The exhibition was produced by Bildmuseet in collaboration with Björn Berg's children, Maja and Torbjörn, who hold the collection of drawings, paintings and sculptures in trust together with their other siblings, Sven, Nils and Olle.
Editor: Helena Vejbrink