Published: 22 Dec, 2017
Don't forget your five a day for Christmas
NEWS Jellied veal, pig's trotters and boiled ling. Traditional dishes that are becoming increasingly rare at Swedish Christmas buffets. Björn Norén at the School of Restaurant and Culinary Arts sees a greener trend arising among the otherwise so meat-focused Christmas dishes.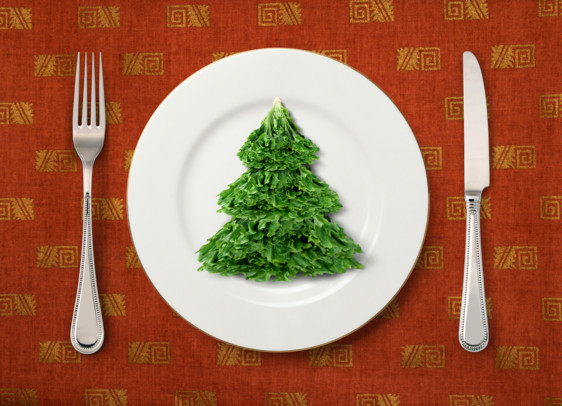 We are rapidly approaching one of the biggest festive periods in the Swedish society. To many, it's seen as a time for family fun, relaxation and not least — good food.
Björn Norén, university lecturer and deputy director of the School of Restaurant and Culinary Arts, finds the traditional Swedish Christmas buffet (julbord) as a fabulous tradition. Not least as it includes many of our traditional dishes, but it also opens up for contemporary food trends. More vegetables and, for instance.
"A modern Christmas buffet offers a reduced selection of dishes compared to previously. We're encouraged to separate the meal into courses and food is often served in individual portions instead of on piled plates. This feels promising from a sustainability perspective," says Björn Norén continuing with some fresh ideas for the buffet:
"A new approach to the Christmas buffet could be more vegetables, more local specialities, but also elements from other parts of the globe. New influences that have been introduced to more high-profile buffets are a vegetarian selection, shellfish and specialities from other countries."
"Don't hesitate to mix new flavours — an Asian touch to your spare ribs, for instance. Reduce the number of dishes and aim for quality and flavour. Present the dishes in small portions to make it easy to serve."
"There's a great variety of nice locally produced charcuteries that puts less focus on the ham. And particularly, don't forget to make coriander and tahini falafels. Pick a cabbage of your choice to boil, prepare a salad with or make crisps. Above all, black cabbage (svartkål) is delicious dried with olive oil and salt."
One of Björn Norén's personal favourites when it comes to more traditional Christmas food is risalamande (ris à la Malta), Christmas ham (julskinka) with a spicy mustard, and a particular rye bread called vörtbröd, Spanish nougat turrón* and the fizzy drink julmust.
"Having boiled ling (lutfisk) on Boxing Day is also a special event. It has a very unusual texture and the side dishes — petite peas, brown butter and white sauce ... Tasty!"
Last but not least, he adds that a Christmas buffet is about more than just food — it's about the community spirit experienced around food and festivities. This goes for family relations, colleagues and friends, which is worth remembering.
* A typical turrón is traditionally a form of Spanish nougat with almonds eaten around Christmas. Turrón is often eaten with a glass of sparkling wine.
The two most famous types are Turrón de Alicante (hard turrón) and Turrón de Jijona (soft turrón).
This article was published in the staff magazine Aktum 4 2017.
Text: Per Melander
Translation: Anna Lawrence
Photo: Mostphotos
Editor: Anna Lawrence