Entrepreneurial workshop series completed - Carbon catch are the winners of eXpress Your Idea 2017
NEWS The final of the workhop series "eXpress your idea", organized in collaboration between Umeå School of Business and Economics (USBE) and the Incubator Uminova Expression, has now been completed. The winning team, Carbon Catch, receives a scholarship of 10,000 SEK and a place in the incubator.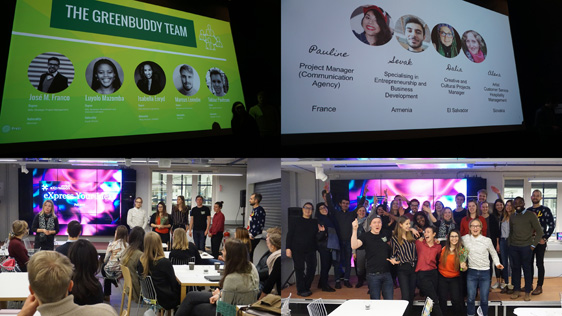 This year's theme has been the UN's global goal number 13 - climate action. 40 students from various study program at Umeå University have worked in interdisciplinary teams during 6 evening workshops with idea generation and creation of business ideas that was presented to a jury during the final.
21 students from USBE took part in the workshops together with students from Interaction and Design, Informatics, Architecture, Design, Cultural entrepreneurship, Engineering programs and more. eXpress Your Idea also attracted a good mix of different nationalities.
-These six weeks have been highly intensive but incredibly rewarding from start to finish. I was lucky enough to end up in a strong team with very different set of skills. It made it possible to lift the idea to a much higher level, says Emma Renman, student at the Business Administration and Economics Program and member of the winning team.
The winning teams idea in short:
• Carbon Catch – "making climate change more concrete and manageable"
Creating a game with aim to save the world from carbon where education is combined with real life sustainable actions supported by the game.
The other teams in the final had focuses ranging from solutions to reduce food waste via a technical solution to keep track of your grocery storage and its due date, producing and selling low carbon food, creating an arena for sustainable idea exchange, app to support recycling actions and a solution measuring household energy consumption in real time.