Fouad Elkoury / The Greatest Day
NEWS Two new exhibitions open at Bildmuseet on Sunday 12 June, one of them is a video installation on being in a time of war by French Lebanese artist Fouad Elkoury. Press preview on Thursday 9 June, at 10:00. Welcome!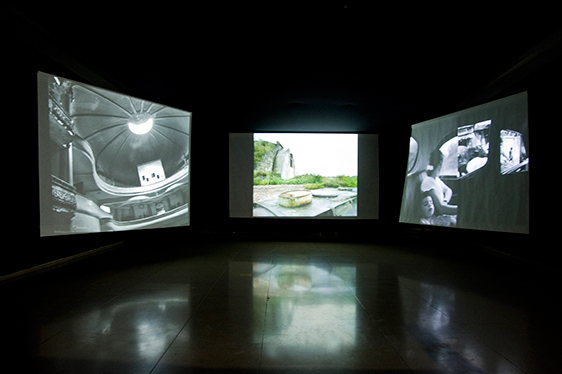 The exhibition Saara Ekström / Alchemy is presented to the media on the same occasion, and both artists will be present.
The Greatest Day. In the video installation Le plus beau jour [The Greatest Day] photographer and film-maker Fouad Elkoury couples his own images, from various times and geographical locations, with excerpts from the poem To Be in a Time of War by the Lebanese author and artist Etel Adnan.
To rise early, to hurry down to the driveway, to look for the paper, take it out from its yellow bag, to read on the front-page WAR, (…) To feel a shiver down the spine, to tell that that's it, to know that they dared, that they jumped the line, (…)
In a poetic interplay between image and text the work communicates experiences of a changing existence through parallel stories of war, daily life, love and despair. The video work is 21:38 minutes long.
In the 1980s, Fouad Elkoury documented the civil war in Lebanon. He has subsequently started to question the individual photographic image and now combines several media in order to create new meaning: photography, text, sound and video. Juxtaposing different layers of information evokes the viewer's associations and new stories are generated.
Fouad Elkoury (b. 1952, Paris) lives and works in Paris and Beirut, and he was one of the founders of the Arab Image Foundation. Elkoury has published a series of photo books, and his images have been exhibited at venues such as the Palais de Tokyo in Paris, the Venice Biennale and the Beirut Art Center.
Fouad Elkoury / The Greatest Day will be on view until 4 September. This is the artist's first exhibition in Scandinavia.
Press preview: Thursday 9 June, at 10:00-12:00
Press images: www.bildmuseet.umu.se/current_press_images
Opening: Sunday 12 June, at 14:00
Further information
Questions on the preview, images, slots for interviews etc.:Helena Vejbrink, Communications Officer Bildmuseet
helena.vejbrink@bildmuseet.umu.se, 090-786 9073
Questions on Fouad Elkoury's work:Sofia Johansson, Curator Bildmuseet
sofia.johansson@bildmuseet.umu.se, 090-786 9353
Editor: Helena Vejbrink