Heroic honorary doctor with strong ties to Umeå
NEWS As a side-event to the Annual Celebration, Umeå University will welcome honorary doctor Denis Mukwege who is fighting sexual violence in the Democratic Republic of Congo. During his visit, he will talk about the strive for peace in his home country and he will also participate in a film viewing.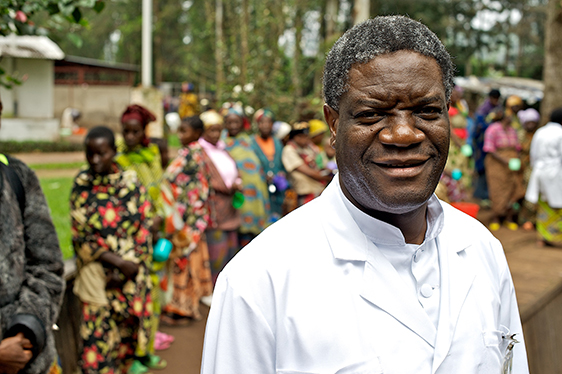 Denis Mukwege has been a strong candidate in the speculations of the 2016 Nobel Peace Prize. When you are reading this article, the announcement has already been made.
As a side-event to this year's Annual Celebration, Umeå University has invited Dr Denis Mukwege to talk about the fight for peace in the Democratic Republic of Congo in a lecture entitled A road to peace. The lecture will take place on Friday 21 October at 11:00. The film producer Thierry Michel and Ellinor Ädelroth, professor emerita at Umeå University, will also take part.
Denis Mukwege is chief physician and gynaecologist at the Panzi Hospital in eastern DR Congo in Central Africa and is since 1999 the leading force in the fight against sexual violence in a country that through history has been called both 'the heart of darkness' and 'the rape capital of the world'.
For years on end, Denis Mukwege has treated tens of thousands of women and children who have become victims of sexual abuse. He is highly respected, praised and awarded around the world for his fight. To many in his home country, he has become hope personified. In 2014, he received the prestigious Sakharov Prize by the European Parliament that is awarded to people who have contributed considerably to the fight for human rights.
Under threat to protect others
Denis Mukwege himself has lived under threat for a long time. In October 2012, something other than the usual phone and mail threats took place when a group of armed men broke into his house, held his family at gunpoint in the wait for Denis Mukwege to return from a quick errand. Denis Mukwege survived the assassination attempt all thanks to a heroic act by an employee who instead lost his life that dreadful evening.
Ellinor Ädelroth, professor emerita at the Department of Public Health and Clinical Medicine at Umeå University, commuted with Denis Mukwege back from the hospital shortly before the disastrous attack. She is a person who has become very important to Denis Mukwege's work. In his absence, she took the role as acting manager of the Panzi Hospital. At present, she is the administrative manager of the special unit at the hospital that treats and rehabilitates women who have been raped or suffer from birth trauma after mishandled deliveries.
It was also thanks to Ellinor Ädelroth that Denis Mukwege was promoted Honorary Doctor of Medicine at Umeå University in 2010. It took place after she had invited him to Umeå to account for his mission: to make the public and people in power around the world aware of what takes place in eastern Congo, and create a change.
The man who mends women
Denis Mukwege is currently in the spotlight with the documentary The man who mends women — the wrath of Hippocrates on his work. The film recently had its Swedish premiere and it has been viewed by politicians in the Riksdag. In conjunction with Denis Mukwege's visit to Umeå, the film will be shown at Väven on Friday 21 October at 16:00 and 20:00. Free tickets to the viewings can be picked up at Infocenter or at Kulturreceptionen (inside Umeå City Library) at Väven. 
This article has been published in the staff magazine Aktum no 3 2016.
Text by Anna Lawrence.
Editor: Anna Lawrence