Honorary doctors at the Faculty of Science and Technology 2015
NEWS Shirley Simon, prominent English researcher in didactics focusing on science education in the science classroom, and the agricultural researcher Francois Houllier, president of the French National Institute for Agricultural Research (INRA), have been appointed Honorary Doctors at the Faculty of Science and Technology in 2015.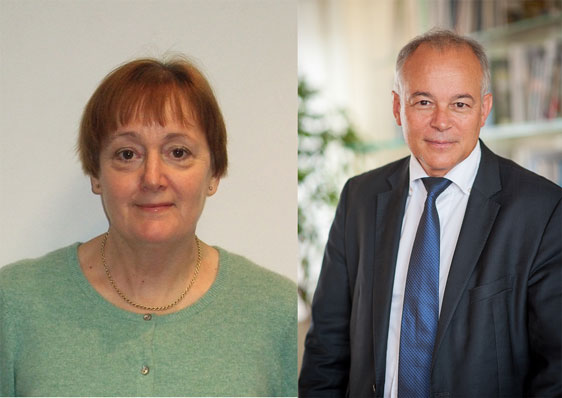 Professor Shirley Simon completed her doctoral degree in science education in 1989 and has since combined research with improving education, teacher training, and teacher education programmes. She has built up extensive experience through working at two distinguished research institutes in the United Kingdom – King's College London and the Institute of Education, University College London. In 2009, she was promoted as professor.
Professor Simon has contributed greatly to argumentation in the science classroom, and has also made an international impact through publications concerning how pupils' attitudes to science can be affected.
Professor Simon has been and still is involved in a number of organisations and has, thanks to her commitment, built up a wide circle of contacts and knowledge of various research areas within the scientific didactic field. She is visiting professor at Umeå University since 2011. During her time here, she has contributed to improving the quality of research, research programmes, teacher training and teacher education programmes by holding workshops, participating in strategic discussions and assisting in establishing international contacts.
Shirley Simon was born in 1952. Before launching her research career, she worked as a teacher for ten years. Over the last twelve years, water-colour painting has been one of her major interests, which is why she is now taking part in a two year diploma course in botanical art at the Chelsea School of Botanical Art.
Dr François Houllier specialised in agricultural science, ecosystems and forest biometrics during his studies and completed his doctoral degree in 1986 at the Université Claude Bernard – Lyon. Thereafter, his academic career boomed and he was appointed president of the French National Institute for Agricultural Research (INRA) in 2012. INRA manages scientific collaborations with large research institutes across the world, universities, agricultural and veterinary schools. He is also chair of AllEnvi, the French national alliance for research on the environment.
François Houllier has facilitated and supported the collaboration between INRA and Umeå Plant Science Centre, UPSC, which is now going on its thirteenth year. This has resulted in numerous joint conferences and countless collaborations between researchers. If you ask him, collaborations could be expanded to many more areas and departments at Umeå University.
François Houllier was born in 1959. His interests outside of the academy include skiing, mostly on holiday in the French Alps.
The two honorary doctors will be officially installed at the Umeå University Annual Celebration on 17 October.
For more information on Shirley Simon, please contact:
Christina Ottander, associate professor at the Department of Science and Mathematics Education, Umeå University
Phone: +46 90 786 71 24
Email: christina.ottander@umu.se
Portrait photo of Shirley Simon for download
For more information on François Houllier, please contact:
Catherine Bellini, professor at the Department of Plant Physiology, Umeå University
Phone: +46 90 786 96 24
Email: catherine.bellini@umu.se
Portrait photo of François Houllier for download. Credit: ©INRA
Editor: Anna Lawrence