Industrial Doctoral School: useful and collaborative
NEWS The successful Industrial Doctoral School for Research and Innovation at Umeå University is now kicking off twelve new doctoral projects with ten new industrial partners. Co-funded doctoral education is a win-win situation providing companies and doctoral students with valuable experience.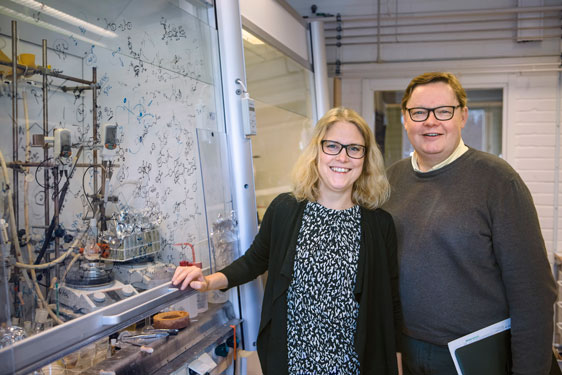 Industrial Doctoral School Director Anna Linusson and coordinator Benkt Wiklund. Photo: Mattias Pettersson
"Our doctoral students generally do very well after having completed their doctoral degree. Innovation abilities, broad-mindedness and openness are added values that make these students more applicable and valuable in the working life," says Director Anna Linusson, professor in chemistry at Umeå University.
The seventh admissions round to the Umeå University Industrial Doctoral School for Research and Innovation opens in April 2019. The idea of the Doctoral School is to create prerequisites for collaborations with doctoral students, the business and public sectors through co-funded research projects.
"The projects are of high scientific quality and generate new knowledge that in many cases can lead to the development of new products and contribute to benefits to society," says Bengt Wiklund, coordinator of the Industrial Doctoral School.
The doctoral students are provided tailored courses over four years with the aim to prepare them for future work outside of academia. This includes generic courses in subjects such as group dynamics, collaboration, sustainability, innovation and business law. They also participate in a number of workshops where they visit each other's industrial partners to gain insight into all projects.
The doctoral students have their workplaces at different faculties at the University. When they meet up for joint events, the environment is multidisciplinary where participants have a varied educational background and come from different countries.
"The doctoral students accompany each other through the years exchanging knowledge and experiences. This often creates a unique atmosphere in the group as discussions are initiated from a variety of approaches. Many moments of clarities are shared within these groups," says Benkt Wiklund.
The education also includes a three month industrial internship where the Industrial Doctoral School covers the salary.
"That gives the doctoral student a chance to widen the horizon outside the project and work with tasks that create new insights. The company gains a bonus labour force and also in-depth experience of what they can use the doctoral student's competence for," says Benkt Wiklund.
The Industrial Doctoral School has so far had 36 male and 14 female doctoral students. Out of the 26 students who by this spring will have completed their degrees, nine have found work in the business and industry sector, whereas fourteen have remained within the academic sphere. Since 2008, the Industrial Doctoral School has admitted 10–14 doctoral student every two years. This autumn, the Industrial Doctoral School celebrates its ten year anniversary.
Editor: Ingrid Söderbergh
Business partners 2018:
FOI, the Swedish Defence Research Agency, NIVA Norwegian Institute for Water research, Codemill, ABATEA, Vakin, Vård- och omsorgsförvaltningen i Östersunds kommun, The Centre for Rural Medicine in Storuman, Västerbotten County Council, Umeå Energi, Absolicon, MacGregor Sweden AB
Read more about the Industrial Doctoral School
The Industrial Doctoral School's website
ATEA stöttar doktorand (in Swedish)