KBC Stora hörsalen was renamed to Carl Kempe salen.
NEWS The researchers at Umeå Plant Science Centre (UPSC) and KBC surprised one of their honorary guests during the symposium "50 years of Plant Science in Umeå": The large auditorium Stora hörsalen at KBC got a new name.
[2017-08-20]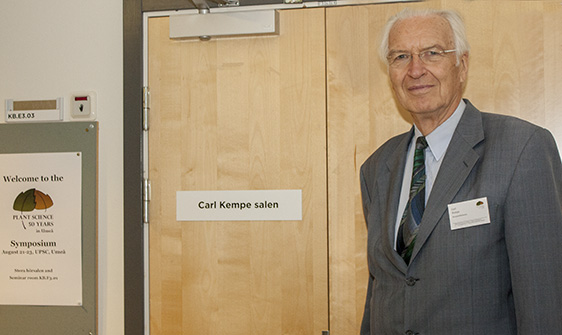 In order to pay attention to Carl Kempe and the Kempe Foundation's support for Umeå University and SLU, KBC and UPSC, the researchers had decided to rename the Stora hörsalen to "Carl Kempe salen". Carl Kempe, chairman of the Kempe Foundation's Board and honorary doctor at Umeå University, has with unique interest followed the development of basic research at KBC since the research centre was founded. Stefan Jansson, professor at UPSC and Department of Plant Physiology, announced the name change and met a long applause. "It's fun to come up with surprises, and Carl Kempe deserves attention for his commitment to our science," says Stefan Jansson.The Kempe Foundations were founded by Lotty Bruzelius in 1936 in memory of her father J.C. Kempe and her brother Seth M Kempe. Lotty Bruzelius decided that her shares in Mo och Domsjö AB, the company originally founded by J.C. Kempe, would form the Kempe Foundations.  The foundations are today mainly a research foundation and the company Mo och Domsjö AB is today called Holmen AB. 
At present, the Kempe Foundations is sharing about SEK 65 million per year for research in Norrland, primarily for equipment and scholarships. During the last 10 years, The Kempe Foundations have given over 270 million SEK in contract support for research to Umeå University. Until today, Umeå Plant Science Center was awarded around 35 million SEK.
Read more about "UPSC celebrates 50 years of Plant Science in Umeå"
Editor: Eva-Maria Diehl