Mario Merz / What Is to Be Done?
NEWS Wednesday 20 June at 17.00 Bildmuseet opens a major retrospective of 60s and 70s works by Mario Merz, a key figure of Arte Povera and renewer of sculpture.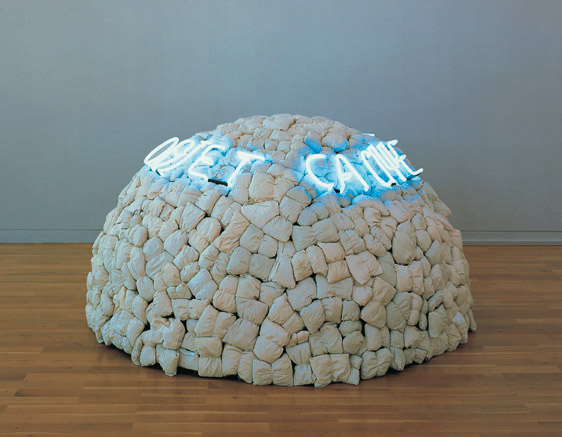 Mario Merz (1925 – 2003) rethought the possibilities of sculpture by observing the world around him. The exhibition Mario Merz / What Is to Be Done? focuses on works produced between 1966 and 1977, exploring the Italian artist's interest in process and proliferation. Here at Bildmuseet we present his igloo structures, his sculptures making use of 'poor', or ready-at-hand, materials, and works based on the Fibonacci sequence, a naturally occurring mathematical series first observed by Leonardo de Pisa in 1202.
Merz was a key figure of Arte Povera, a loose grouping of artists working in post-war Italy during the 1960s and 1970s. This was a time of great social, political and artistic upheaval. The question that forms the title of this exhibition, What Is to be Done?, is central to Merz's approach to art making. He was driven by asking what an artist can do in the face of a precarious future. This question is as relevant today as it was when these works were made.
In the aftermath of what became known as the the Italian economical miracle, a dynamic and critical environment emerged in northern Italy, resulting in a creative revolution in the field of fine art, design, architecture and film. This was a time when the definitions of what art could be were challenged, a moment when new materials were explored together with new ideas, concepts and practices. Art could be made from anything: natural products, industrially produced materials, as well as immaterial substances such as sound and energy equally be expressed through performances and actions.
The exhibition Mario Merz / What Is to Be Done? is the result of collaboration between Bildmuseet and the Henry Moore Institute in Leeds, a centre for the study of sculpture. Lisa Le Feuvre, Head of Sculpture Studies at the Institute, is the curator. This is an expanded version of the exhibition that premiered at the Institute in autumn of 2011, introducing a number of new key works.
The exhibition has been made possible through the generous loans from a number of European museums and private collectors. A special thank you is extended to Fondazione Merz in Turin for invaluable support towards the realisation of this exhibition.
The exhibition is accompanied by a fully illustrated catalogue in Swedish and English catalogue, available in the bookshop, featuring essays by Mario Boggia, Nicholas Cullinan, Lisa Le Feuvre and Katarina Pierre.
Image: Mario Merz, Objet Cache-Toi (1968). © Mario Merz and Kunstmuseum Wolfsburg. Photo Helge Mundt.
Editor: Helena Vejbrink