Master studies widens the perspectives on architecture
NEWS A year ago, architect student Lynda Mutesi Rwanyarare had never held a saw in her hand. Today, she has new skills and runs a blog about everything she designs and builds. Lynda is focused on using her new skills in practical and social architecture in her home country, Uganda. She just returned to Umeå from Uganda and a five-week project work.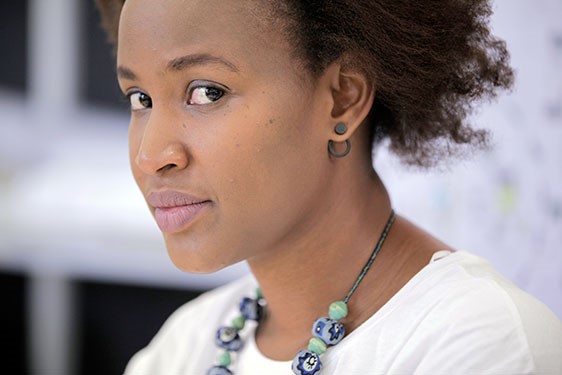 Lynda Mutesi Rwanyarare.
Foto: Per Melander
 
Lynda, in her plain white shirt with its large collar, makes a laidback and thoughtful impression. She talks with passion about her project that involves constructing protective wooden structures for newborn calves on farms in rural Uganda.
"Design to help poor people in Uganda have a better life – that is meaningful work to me," says Lynda Mutesi Rwanyarare, second-year Master's student at the Umeå School of Architecture.
The first 30 days of a calf's life is crucial. Many calves die of pneumonia or other diseases, and many farmers cannot afford to build sturdy barns using expensive concrete. With this problem in mind, Lynda interviewed a number of small cattle farmers in Uganda and listened to their needs, ideas and thoughts.
"My idea of a solution is to use wood. I've designed protective shelters that may not be long-lasting buildings, but they are functional and half as expensive. In these, the calves get to rest, sheltered from the sun, wind and rain, and don't need to lie on the damp grass."
As a model farm, she used her father's ranch.
"It's cool to carry out a social construction project from scratch, to test one's ideas in a real context, and see the good results. I recently came home from Uganda and will now be sharing my experiences with my classmates."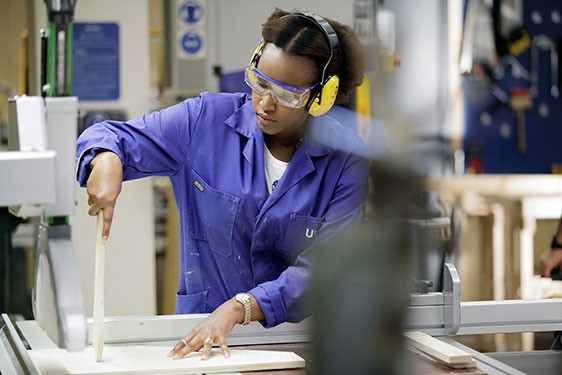 The fifth semester is coming to an end. What do you like about Umeå School of Architecture?
"They don't teach in a conventional manner, and that's just what I need! We experiment a lot with different materials and us students get a lot of freedom and time to test our ideas in the workshop. The hands-on exercises deepen our understanding, I think. It's not like at home where resources are limited. I also like the many international lecturers providing different perspectives on architecture, and our teachers offer good help in our individual projects. In Uganda there was no time for that."
Lynda Mutesi Rwanyarare had never held a saw before she came to Umeå. Now, she practically lives in the school's workshop, where she also appreciates that there are technical staff at hand if you need help.
"Now I can manage sawing, cutting and building and I've even started a blog where I write about stuff that I've designed and built."
Lynda has a Bachelor's degree in Architecture from Makerere University in Uganda. It is one of the oldest and most prestigious universities in Africa. It is situated near Kampala, the capital of Uganda with a 1.5 million population.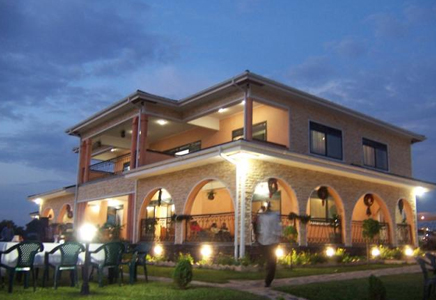 After having completed her degree, she worked as an architect in a small, private architectural office in Kampala. For the most part, the agency, consisting of three architects, designed expensive family homes for rich people.
After two years, the job began to seem rather futile to Lynda, who began to consider changing jobs or continuing with a Master's degree in architecture. By chance, she came to visit Umeå early in the summer of 2012.
"My husband took his Master's degree in public health so we came here for the festivities. I got to see Umeå University and also visit Umeå Arts Campus where Umeå School of Architecture is located in this amazing building in larch wood. Afterwards, we went to Stockholm for a week and I visited the Royal Institute of Technology that also seemed great."
Back home she went on the search for master's degrees in architecture, with Norway and England in sight. But Lynda's positive memories of Umeå lingered and she looked through the Umeå School of Architecture's programme plan and targets online. The decision started taking shape and she ended up applying to Umeå University as her first choice. She got accepted and revisited Umeå again for start of the school year in autumn 2015.
Although the School has an international character, Lynda is currently the only student at the school from an African country. She likes Umeå and experiences the environment as tranquil and calm. What she misses the most from Uganda is the warm weather, the sun (sitting in the shade of it) and hanging out with friends outdoors.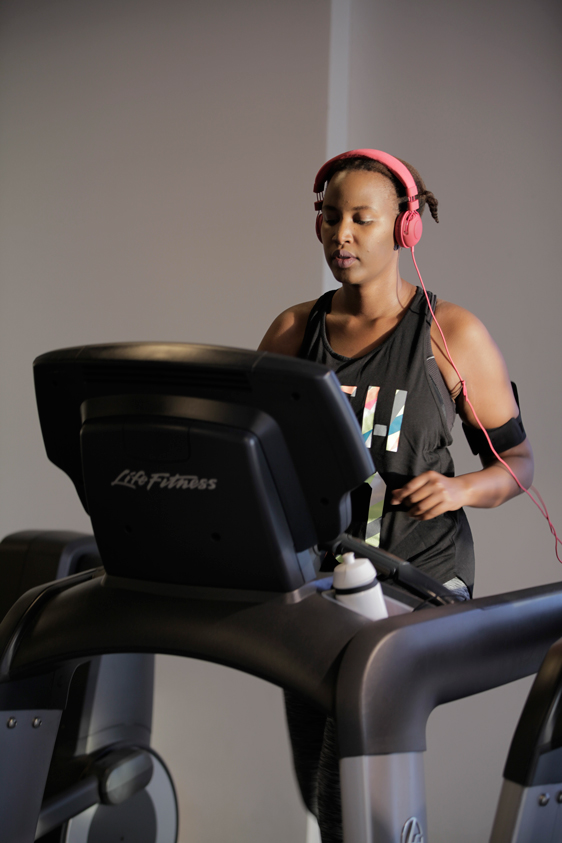 "Sometimes I feel a little lonely here, especially during the holidays. On the other hand, it gives me time to study, spend time in the workshop or exercise at IKSU sports centre. I'm a real IKSU-holic. If I'm really bored, I can go there twice a day!"
Next semester it is time for the final thesis project and Lynda will continue to develop her building project to help cattle farmers. She has started considering how to develop dairy sites and feeding sites for cows.
What future plans do you have?
"I would like to go home to Uganda, but no more projects with luxury villas and shopping malls for me! My latest project has inspired me and I would like to continue in a more social direction and see how far I can go. Social entrepreneurship seems to be my thing. The largest part of the population in Uganda are farmers so there should be a market for this type of alternative constructions. Previously, I didn't even know that architects could do this kind of work!"
Read Lynda Mutesi Rwanyarares blog "nkorera"
(Nkorera is a Bantu dialect and means 'doing it on your own')
Watch a film clip about Lynda's construction project in Uganda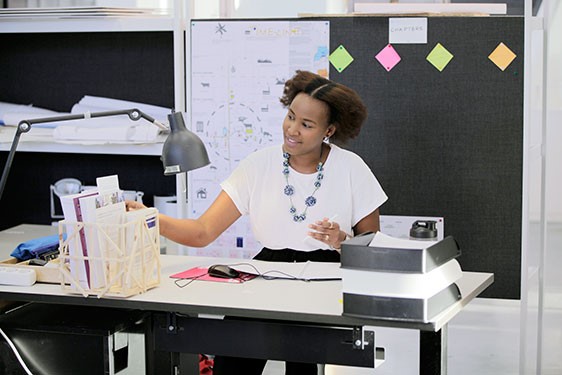 Facts
Name: Lynda Mutesi Rwanyarare
Age: 28 years
From: Uganda
Likes: The simplicity of Swedish architecture
Strange about Sweden: Coffee time! Anytime is coffee time (at home we only drink evening tea)
Interests: Sewing, blogging, reading, working out at IKSU
On the bedside table: "Make vision board work for you" by Terri Savelle Foy
Favorite architect: Danish Bjarke Ingels
Editor: Ingrid Söderbergh