New reports from Arcum-affiliated researchers
NEWS A workshop in Sámi culinary traditions, a research boarding activity about stress & health, and conference participation in Åbo. Read about what Arcum's strategic funds have made possible for our affiliated researchers, in three new reports from March 2020.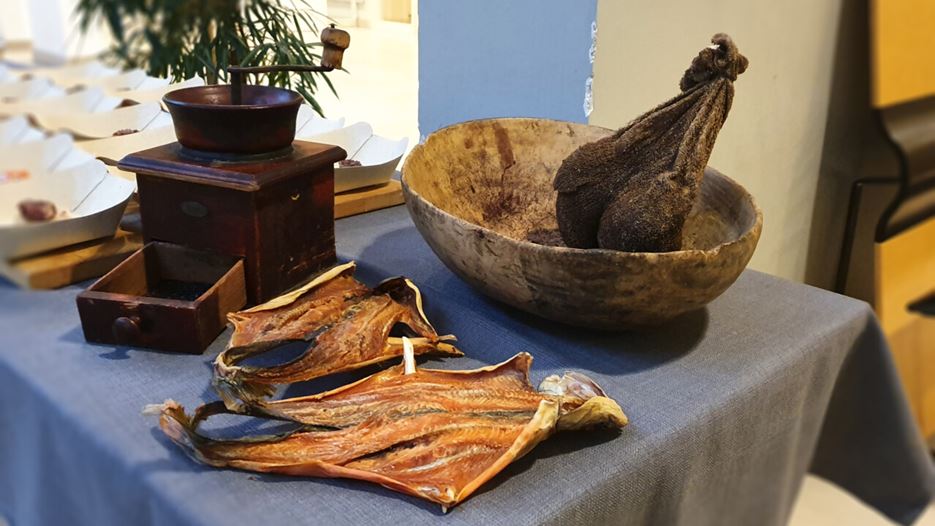 Image taken during day two of the workshop on Sámi cooking and culinary traditions. A handcranked coffe-mill, dried reindeer blood kept in a bag and dried mountain fish.
Image

Oscar Sedholm
Each year Arcum grants strategic funds to affiliated researchers who may apply once every semester, to strengthen Arctic research at Umeå University. During March 2020 we have recieved three reports from grantees.
Research boarding activity with the research team Stress and Health in Youth
Maria Wiklund, associate professor at the Department of Community Medicine and Rehabilitation, reports on a research boarding activity which took place in November 2019.
The research boarding activity was organized with the research team Stress and Health in Youth (Umeå SHY) within the Umeå SHY:s research project "It, she, him. Step by step development of health improving context- and gender aware actions for youth with mental health issues in Northern Sweden".
Participation at The Nordic Flame Days, in Turku, Finland
Anna Strandberg, Affiliated as senior research engineer at Department of Applied Physics and Electronics, reports on participating and presenting at a conference in August 2019.
I participated and presented results at a conference in Turku, Finland, The Nordic Flame Days, 28-29 August 2019. The title was: Characterization of porosity and microstructure of phosphorus-rich ash particles with X-ray micro-tomography.
It was an interesting conference and as a young researcher, it is important to present my work, meet other researchers in my field and discuss new research questions.
Workshop in Sámi cooking and culinary traditions
Maria Waling, head of the Department of Food, Nutrition and Culinary Science, reports on a two day workshop held in October 2019.
A two-day workshop with the theme Sami food culture, cooking and dining experiences was conducted 20191023-20191024 at the School of Restaurant Culinary and Arts. The purpose was to contribute to the utilization and dissemination of knowledge regarding Sami food culture, cooking and dining experiences with a specific focus on the art, foods, techniques and use of game, fish, herbs and berries. Both days were very successful and appreciated among students, teachers and other stakeholders who attended and were part of the workshop. The workshop also received media attention. P4 Västerbotten, Sami radio and internally at Umu.
Would you like to learn more about Arcum's strategic fund? Read more about us and our activities using the links below.