On the Conditions of Art in China
NEWS On Saturday 13 September, Bildmuseet - Umeå's contemporary art museum - is holding a conference in connection with its recent exhibition, Right is Wrong, an event which attracted great interest. Chinese artists and other movers and shakers in the Chinese art world will reflect on, and discuss, the conditions of art in China in relation to the country's political situation.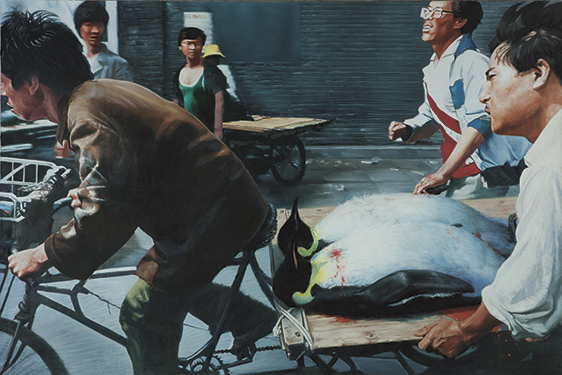 One hundred or so people have already registered to attend the conference whose main speakers are Zhang Peili, Cao Fei and Liu Heung Shing, three Chinese artists from different generations and backgrounds. Lars Nittve, Executive Director of the new museum for visual culture M+ in Hong Kong, will hold a discussion with the art collector Uli Sigg, the man behind the world's foremost collection of contemporary Chinese art. This will be followed by a panel discussion led by Pi Li, Senior Curator at M+ and Katarina Pierre, Director of Bildmuseet (Detailed programme).
The artist Cao Fei (born 1978) is active in Beijing. She is known for her video and multimedia installations as well as her work staged on the Internet, all of which reflects the rapid and chaotic urbanisation of China. The exhibition Right is Wrong shows her video work "Whose Utopia?" which reflects on the dreams and actual experience of Chinese factory workers.
The photographer Liu Heung Shing (born1951) works in Beijing too. He has previously worked as photo journalist for Time and AP, having been stationed in China, USA, India and the Soviet Union. He won the Pulitzer prize in 1992. In the exhibition Right is Wrong, his iconic series of photographs of the massacre on Tiananmen Square in 1989 are shown.
Lars Nittve is Executive Director for the museum M+ in Hong Kong, a major venue for visual culture planned to open in Hong Kong during 2017. Previously he has been the Director of Moderna Museet in Stockholm and Tate Modern in London. Lars Nittve is one of the curators of the exhibition Right is Wrong which is produced by Bildmuseet and M+ in collaboration.
Pi Li is the Senior Curator at M+ in Hong Kong. He has a background e.g. as independent curator and gallerist and has also been the head of department at the Central Academy of Fine Arts (CAFA) in Beijing. Pi Li is one of the three curators for the exhibition Right is Wrong, produced by Bildmuseet and M+ in collaboration.
Katarina Pierre is museum director at Bildmuseet, Umeå University. It was at her instigation that the exhibition Right is Wrong came about. She has also curated the exhibition together with Pi Li and Lars Nittve from M+.
Uli Sigg is the man behind the world's foremost collections of contemporary Chinese art. This collection has now largely been donated to M+ in Hong Kong, from where Bildmuseet has loaned works for Right is Wrong. From the 1970's and ever since, Ulf Sigg has been active in China as businessman, diplomat and art collector though he lives and works now in Switzerland.
The artist Zhang Peili (born 1957) is active in Hangzhou, China. He was one of the founders of the Pond Society (group of Chinese artists) and played a leading role within Hangzhou's avant-garde in the 1980's. At present, Zhang is working mainly with video and photography. In Right is Wrong works are shown from his series of latex glove paintings as well as the video work Water (Standard Pronunciation Ci Hai – Sea of Words).
Future programmes in connection with Right is Wrong include: 16/9, Bildmuseet is showing the documentary film Ai Weiwei: Never Sorry; 28/9, the China specialist Stig Valter Karlsson conducts a guest tour and gives his personal reflections; 5/10, Bildmuseet Director Katarina Pierre leads a curator's tour of the exhibition; 7/10, the architect Ma Yansong lectures on new architecture in China.
Right is Wrong is the result of collaboration between Bildmuseet Umeå University and M+, West Kowloon Cultural District, in Hong Kong. The exhibition had its premier during the European Capital of Culture Year in Umeå, 2014.
For further information, please contact
Katarina Pierre, Director of Bildmuseetkatarina.pierre@bildmuseet.umu.se
090-786 9632
Editor: Helena Vejbrink