Opening of summer exhibitions at Bildmuseet
NEWS On the 6th June, two new exhibitions will open at Bildmuseet, Umeå University's museum of international contemporary. The large exhibition for the summer features the artist Pia Arke (1958-2007), a distinguished explorer of the Danish-Greenland colonial history and its aftermath. Additionally, "Everyone has rights - What is a good life?", a question posed by Kulturverket to groups of Swedish and Italian children, will be on display.
A special exhibition for members of the media will take place on Thursday 3 June at 1:00 pm. A vernisage formal opening will be held on Sweden's National Day, Sunday 6 June at 2:00 pm
Tupilakosaurus 
Pia Arke's Issue with Art, Ethnicity and Colonialism, 1981-2006
Through innovative methods, Pia Arke (1958-2007) explored the colonial history of Danish-Greenland, which she was direct product of, having a mother from Greenland and a Danish father. During her life, the Nordic countries seemed not prepared to discuss the colonial history Danish-Greenland, and her artistry did not receive the recognition and the attention it deserved. This is hoped to be resolved with the exhibition "Tupilakosaurus - Pia Arke's Issue with Art, ethnicity and Colonialism, 1981-2006."
The exhibition will be on display at Bildmuseet from the 6th of June to 5 September 2010.
For further information about Pia Arke's exhibition, contact:Brita Täljedal, Curator Bildmuseet
brita.taljedal@bildmuseet.umu.se, +46 (0)90-786 77 14
Everyone has rights - What is a good life?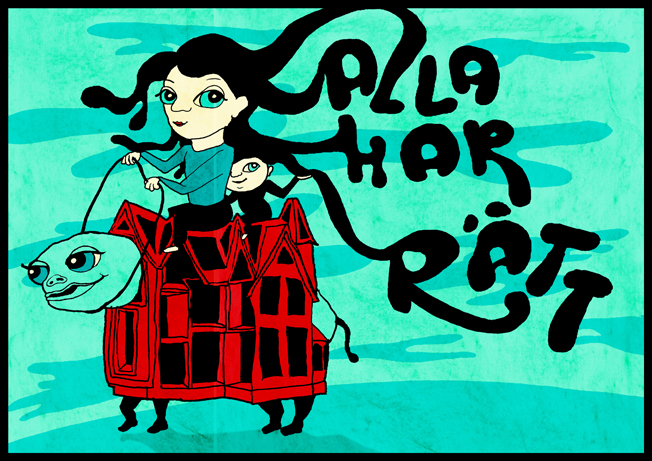 What is important for a good life? Kulturverket in Umeå posed the question to Swedish and Italian children and they knew exactly how to answer it. Now the children's views become art in collaboration with the artistic director. Discussions about a good life, on children's rights, on the architecture and art will be the starting point, and the children have expressed themselves in words and pictures, stories, films, modeling and music. Kulturverket has worked on the basis of students' ideas and thus created works in the exhibition. The exhibition title is taken from  the United Nations Universal Declaration of Human Rights, Article 25, "Every person has right to a suitable standard of living."
The exhibition opens on 6 June at Bildmuseet and runs until 5 September.
For further information about Everyone has rights, contact:
Margareta Ling, Kulturverket, margareta.ling@umea.se, +46 (0)70 - 361 32 27
Sofia Johansson, Bildmuseet, +46 (0)90 - 786 93 53
Editor: Helena Vejbrink